Community Day Block Party – A New Washington Tradition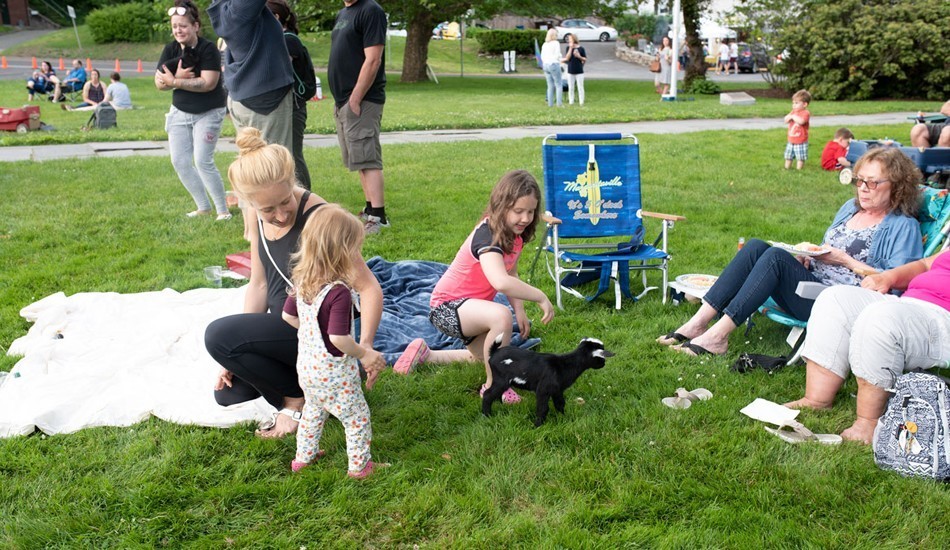 Enjoying the concert on the Town Hall lawn
A wonderful new summer tradition has begun in Washington – the Community Block Party! On Friday, June 7th, the Washington Business Association and First Fridays in the Depot came together to throw this first ever block party in the Depot. It was a splendid afternoon where neighbors gathered together to celebrate our wonderful town while enjoying live music, delicious food, special events for the kiddos, goodies and treats from local vendors, and Casablanca on the big screen at The Judy Black Memorial Park and Gardens.The event kicked off at Valley Spirit Wellness Center with a special Inaugural Community Day Leadership Award honoring the late John Payne.
Many businesses from Washington and New Preston were on hand to contribute to the fun. The evening was a great success and an occasion that we certainly look forward to next year! Read more about the evening's lineup of activities and the businesses who made it all happen.
We invite you to check out our gallery below. Feel free to tag your own photos #ExploreWashingtonCT to be featured.
Photo Credits: Kasia Moroz
John Bordeau & Kristin Kunhardt
Face painting and arts & crafts at WAA
Enjoying "Currents" by Mark Mennin in The Judy Black Park
Hilary Hopkins Criollo and George Criollo
The Owl at Valley Spirit Wellness Center
Jennifer Urquhart at The Judy Black Park
Lisa Stein serving BBQ and ice cream at the Washington Food Market
Heidi Johnson & Adam Woodruff from the Washington Ambulance Association
Steep Rock Association
Matilda Giampietro & John Kane
Phil Farmer and Sal Sorce
"Susan" by Philip Grausman
Amanda & Chris Pakula
Brandon Ferreira & Paolo Secchia of Grey New York Grey New England
Tony waiting for the outdoor movie to begin
Spring Hill Vineyards at Sotheby's
The Wool Hats String Band
Casablanca at The Judy Black Park