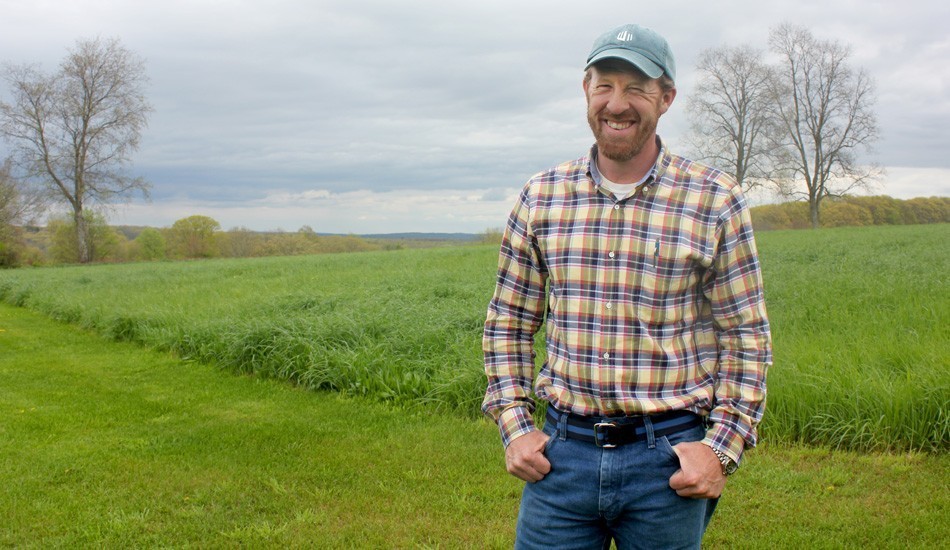 OCCUPATION: Builder & farmer
YEARS LIVED IN WASHINGTON, CT: 4 generations
We sat down to chat with Eliot Johnson at his family's beautiful farm on a quiet country road in the heart of Washington. He shared his thoughts on living and raising a family here and provided insightful recommendations for visitors.
Tell us about your family's long history in Washington.
I am the third generation of my family living in town and my sons are the fourth. My ancestors were dairy farmers and to this day we still reside on our family farm, although now we grow and supply hay for local equestrian clients and raise cattle. Raising grass fed beef and hay keeps me connected to the farm, my family, and the agricultural community. I also own West Mountain Builders, which is a business and tradition I am carrying on from my father. We build residential projects, from huge estates to small renovation projects.
What do you like most about living and raising your family here?
My wife Stephanie and I love raising our three young sons here and couldn't think of a better place to be. I grew up in Washington and of course feel very attached to the town. This truly is a great place to live. We chose to raise our family here because Washington offers a good school system and endless cultural and educational opportunities such as the Gunn Memorial Library and the ASAP! Program. I am a former board member of Steep Rock Association and currently, I am on the board of the Washington Art Association – two organizations at the heart of our community.
Washington is such a caring community. A telling example of the town's character was a few years back when a nor'easter knocked out power for days. Our local hardware store, Washington Supply Company, stayed open in the dark helping people get whatever they needed, helping everyone stay safe. Family owned-businesses prevail in this town and really set the tone for strong community connections.
What other qualities make Washington a great place to live?

Land conservation is a high priority here, with over 20% of land designated as permanently protected open space. Along with the preservation of historic districts and careful zoning, Washington has retained its distinctive New England character. In fact, the number of farms in town has increased over time; most are now small specialty farms.
Professionally, Washington offers a steady stream of work as a builder. Our large community of summer residents are very supportive of local businesses and are an important part of our unique and interesting community. There are such strong community connections here. People are very involved in public service, volunteering and supporting local causes, which makes for a wonderful community.
"We enjoy living in a close-knit community which is home to so many interesting people."
SPRING PICKS
Hiking at Steep Rock Preserve with our boys
Enjoying nature at Macricostas and Hidden Valley Preserve as well
SUMMER PICKS
Our boys love swimming at Washington Beach on Lake Waramaug
Picking peaches from Starberry Farm on Kielwasser Road
Making hay at the farm
FALL PICKS
Of course, picking apples and pumpkins at Averill Farm
Viewing the fall foliage all around town
WINTER PICKS
Christmas in the Depot
Ice skating at the Gunnery and Rumsey Hall family skates
Picking out our Christmas tree at Painter Ridge Farm