07jul1:00 pm4:00 pmFeatured2018 New Preston Summer Stroll1:00 pm - 4:00 pm New Preston Village, 13 East Shore Rd, New Preston, CT 06777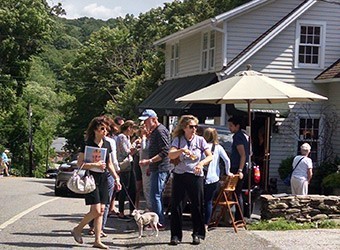 Event Details

FOR THE 2018 NEW PRESTON SUMMER STROLL

SATURDAY, JULY 7TH
1:00 TO 4:00 PM

VILLAGE EVENTS DURING THE STROLL

@ J. SEITZ
Vegan sips & bites overlooking the waterfall.
Henna body art by Elyse on the back deck with a portion of the proceeds going to After School Arts Program.
Enter a raffle for a selection of products from their new organic apothecary collection.
Summer clothing sale begins…
@ DAWN HILL ANTIQUES
Dawn Hill Antiques will be presenting a new collection of hand thrown pottery from Frances Palmer including bud vases, bowls, and pitchers.
Back by popular demand, "The Social Gents Club Band" will be playing LIVE next to Dawn Hill during the stroll, belting out summer favorites to be heard throughout town.
Refreshing Pink Champagne will be served in antique French Champagne flutes, along with French macaroons in delicious flavors.
@ THE SMITHY
Sample cool, refreshing No. 6 Depot iced tea and cookies fresh baked from The Smithy's own kitchen!
Meet Olivier Crosby, Chef & Founder of Good Bones for a tasting of his satisfying, hand-crafted bone broth. 1:00 to 4:00 PM.
Observe a live demonstration with Roxbury artist, Carol Brightman Johnson as she paints a charming local New Preston scene. 1:00 to 3:00 PM in the Loft Gallery.
@ PRIVET HOUSE and @ PRIVET LIVES will be serving chilled rose, lemonade, and chocolate chip and oatmeal cookies on the porch.
@ PERGOLA HOME will be serving refreshing Aperol Spritzers and Sweet Williams' min-scones under an umbrella out front, along with @ J. SEITZ's soft drinks.
@ DK SCHULMAN
DKS will be celebrating their 7th year in the Village with the unveiling of their new stationery section, filled with color and excitement, as well as their new baby department.
Refreshments will be served on the porch.
@ THE OWL will be serving special eats under an umbrella on the corner opposite their entrance.
@ NINE MAIN CAFE will be offering home-baked cookies and lemonade under their nice red umbrella out on Main Street.
@ SWEEETS will have Crispy Treats for the kids.
@ NEW PRESTON KITCHEN GOODS will be serving refreshments under their umbrella out front.
ALL PARTICIPATING BUSINESSES WILL DONATE A PERCENTAGE OF THE EVENT'S SALES TO ASAP!
Enjoy a relaxing stroll through charming New Preston Village shops.
Time

(Saturday) 1:00 pm - 4:00 pm
Location

New Preston Village

13 East Shore Rd, New Preston, CT 06777