08apralldayFeaturedASAP!'s Frank McCourt Prize for Excellence in TeachingSubmission Deadline: April 8th(All Day: friday) ASAP!, Online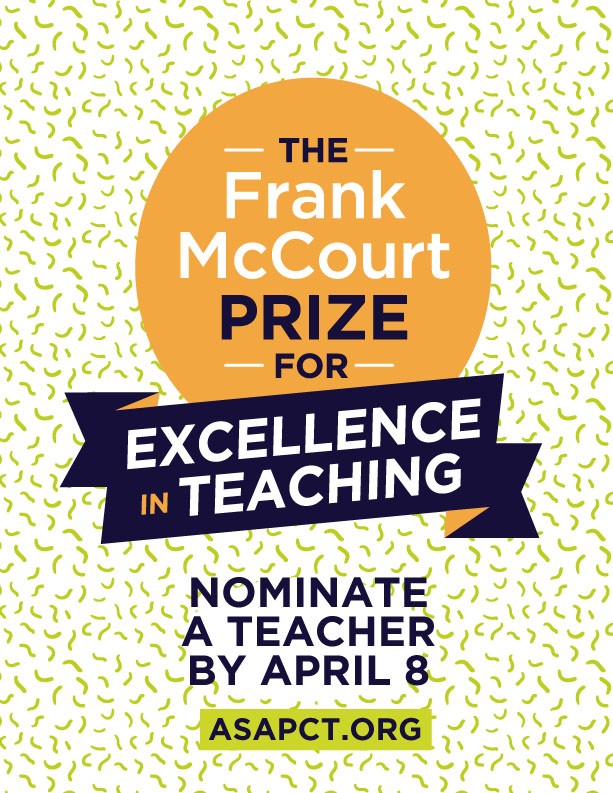 Event Details

Nominate a teacher by April 8th, 2022!

ASAP! is now accepting nominations for the Annual Frank McCourt Prize for Excellence in Teaching. This Award honors the spirit of Frank McCourt, who was a teacher himself in New York City schools for over thirty years before achieving fame with the publication of his Pulitzer Prize-winning memoir, Angela's Ashes. Despite the immense success of this book and its two sequels, 'Tis and Teacher Man, Frank McCourt remained a teacher at heart. As a resident of Roxbury, McCourt gave generously of his time, talents, and energy to ASAP! and other local causes. He was instrumental in establishing ASAP!'s Celebration of Young Writers and making it the wonderful and important event it is today.

The chief goal of the annually awarded Frank McCourt Prize for Excellence in Teaching is to recognize teachers whose imaginative assignments and techniques have inspired students to become enthusiastic learners. A secondary goal is to find and promote ideas and practices that can be adopted by other teachers.

This year's recipient will be presented an award at the Spring Hill Arts Gathering (SHAG) Festival on Friday, June 17 2022, and shared through ASAP!'s website. Nominations are open until April 8.
Organizer
ASAP!845-518-5859 6 Bee Brook Rd. Washington Depot CT 06794