01sepallday01octFeaturedCelebration of Young PhotographersSubmission Deadline: October 1st(All Day)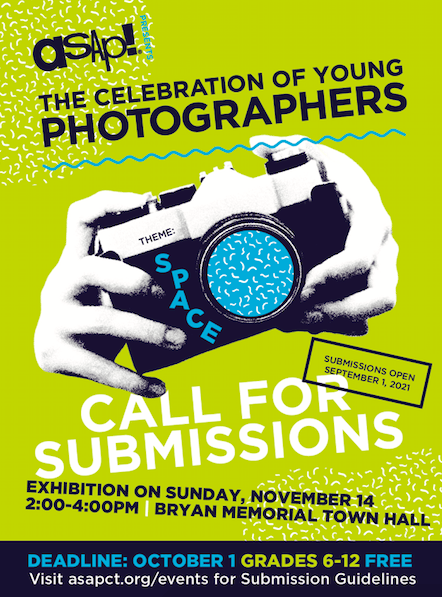 Event Details

ASAP!'s annual Celebration of Young Photographers provides students in grades 6-12 the opportunity to participate in a large-scale professional art exhibition and juried show. A panel of professional photographers selects 60 photos to be included in a unique exhibition. The top four photographers are recognized for their outstanding work and receive the Dylan's Wings Photography Award and a special prize.

This event is FREE and open to the public and all photographs are available for purchase. We look forward each year to celebrating Connecticut's talented photographers, providing creative opportunities, and helping to build a community of support around our emerging young artists. Submissions will open on September 1, 2021.
ASAP! 11TH ANNUAL CELEBRATION OF YOUNG PHOTOGRAPHERS
The theme for this year's Celebration of Young Photographers is: Space.
Guidelines:
Any type of camera can be used including traditional film cameras, pinhole cameras, phone cameras, etc. If using an iPhone or Smartphone, take the photo in HDR (High Dynamic Range).
Editing is allowed. Submit unedited images or use whatever tools you would like to add to the content, meaning, or impact of your image. If you do use editing tools please make note of them as you will be required to document them when you submit.
Photos must be original high-resolution JPEG files and must be at least 3200-4000 pixels on the longest side to be considered.
Up to two photographs per student may be submitted.
Submit 1 or 2 sentences that depict your photograph(s).
ASAP! will begin accepting submissions on September 1, 2021. The deadline for submissions is October 1, 2021.
Join us for an in-person exhibit on November 14 where the top 60 selected photos will be recognized, and the Top 4 honorees will be revealed. The top 2 photographers from middle and high school will receive the 2021 Dylan's Wings Photography Award, this award is presented by Ian Hockley, Executive Director of Dylan's Wings of Change, to the photographer whose piece most thoroughly embodies the criteria.
Time

September 1 (Wednesday) - October 1 (Friday)
Organizer
ASAP!845-518-5859 6 Bee Brook Rd. Washington Depot CT 06794