09jun10:00 am3:00 pmFeaturedCommunity Day10:00 am - 3:00 pm Bryan Memorial Town Hall, 2 Bryan Hall Plaza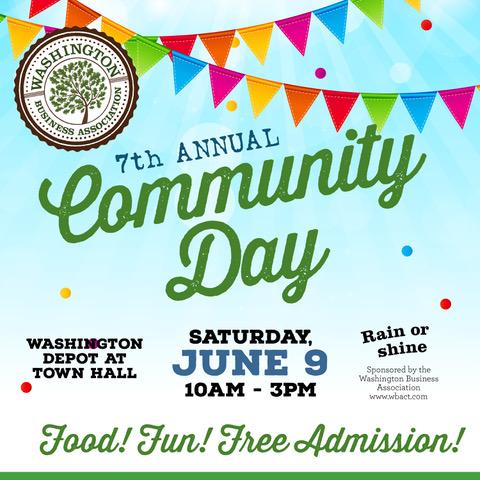 Event Details

Join us for a family fun Community Day hosted by the Washington Business Association.  More details to be posted as they become available.

Altorelli Health Bringing team to present new Preventive Program. They will have a quiz and related physical challenges, information on other programs and giveaways. Prizes for quick and challenge and a free session with health coach.
Arbor Services of CT, Inc. We will give away evergreen seedlings and have a swing in the historic Charter Oak.
Everything Botanical Our spaces will be filled with a variety of plant material grown on site. Will include perennials, shrubs, baskets, etc available for sale. Brochures and info to give out.
The Hickory Stick Bookshop We will have a book signing at 2pm with Abby Fabiaschi author of I Like My Life and Sally Koslow Another Side of Paradise
The Institute for American Indian Studies We will have information about the museum, our educational and family programming and summer events. Crafts will be offered for children of all ages with information about the Native Peoples of CT.
Litchfield Bancorp We will have pick a lollipop to win a free gift card. Cards for $25 for opening a personal checking or $75 for business. Giveaway items will include pens, frisbies, bottle openers, and usb chargers.
Matthews Group Sponsoring a treasure hunt. Visit the following locations Washington Food Market, Newbury Place, Arbor Services of CT and Washington Art Association. Find the hidden object in each location and bring your completed hunt card for a goodie bag.
Our Lady of Perpetual Help Information about church, free reading materials, games and giveaways for children of all ages.
Spring Hill Farm Wine tasting and raffle of 4 bottles of wine.
Steep Rock Association Trail maps for sale, Plant seedlings for sale, and meet some of the trustees.
Washington Housing Commission Information for first time home buyers to participate in our down payment assistance
Washington Republican Town Committee Information regarding candidates, free drawing and will hand out packets of 4 o'clock flower seeds.
Washington Food Market Free ice cream cones featuring Arethusa Farm ice cream, face painting by Marisabel Artieda 11-1pm and kids activities and giveaways!
Washington Liquor Store Summer wine tasting! We will also have a cake celebrating Wolf's 40 years with us!
Washington Supply Company We are celebrating 125 years! Stop in for free cake in the main store, meet The Gunnery Gear's Robot, Homeowner product information on the Town Hall lawn, and free organic gardening gift bags in Outdoor Living (while supplies last).

Steep Rock Association Lecture about invasive plants 11:00 – 12:00
A Place Called Hope Lecture 12:00-1:00
The Institute for American Indian Studies Talk about the Templeton Dig site and Native American Influence on Rock n'Roll 1:00 – 2:00

County Wine & Spirits and Washington Businesses Association are sponsoring Bill the Magician strolling around town will balloons and magic. 12:30-1:30

Please note the times of events are tentative and may be adjusted if needed.

There is no fee for this event, we hope to see you there!
Time

(Saturday) 10:00 am - 3:00 pm
Location

Bryan Memorial Town Hall

2 Bryan Hall Plaza
Organizer
Washington Business Association