15sep3:00 pm4:30 pmFeaturedConversations on the Green: Democracy In Danger? History's Lessons3:00 pm - 4:30 pm Washington Montessori School, 240 Litchfield Turnpike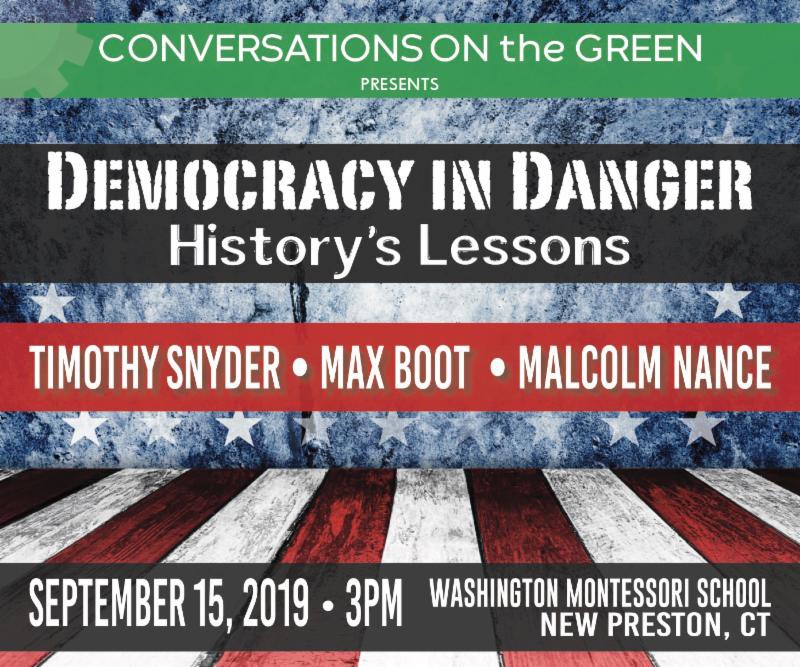 Event Details

This conversation is sold out. Click here to join the waiting list.

Unchallenged for so long, the primacy and legitimacy of the American system of checks and balances came to be accepted as political bedrock, certain to survive even the most severe earthquakes.

But the daily headlines show the guardrails of American democracy are under assault and, many analysts now warn, the entire American experiment is in danger of collapse – a majority of Republicans, polls have found, favor postponing the 2020 election if President Trump says it's the sole way to ensure that only eligible voters are allowed to cast ballots.

"History does not repeat, but it does instruct," notes the ominous first line of "On Tyranny," one of the hottest historical books of recent years. "The European history of the twentieth century shows us that societies can break, democracies can fall, ethics can collapse, and ordinary men can find themselves standing over death pits with guns in their hands."

The book's author, the noted Yale Historian Timothy Snyder, will discuss the state of the country's constitutional health at the September 15 Conversations On the Green with two celebrated observers of the American political scene, The Washington Post's illustrious columnist, Max Boot, a CNN analyst and one of the intellectual pillars of neo-conservative movement, and Malcolm Nance, MSNBC's renowned national security specialist.
A former Navy cryptologist and 20-year veteran, Nance is an author and media commentator on foreign policy, counter-terrorism, intelligence, and insurgency. Widely credited with convincing the Pentagon to renounce waterboarding, his most recent book, published last year, was "The Plot to Destroy Democracy: How Putin and His Spies Are Undermining America and Dismantling the West." He also is the founder and executive director of the Hudson, NY-based think tank Terror Asymmetrics Project on Strategy, Tactics and Racial Ideologies, TAPSTRI.
A finalist for this year's Pulitzer Prize in biography, Max Boot is ahistorian, best-selling author, foreign-policy analyst and a respected authority on armed conflict.  A Moscow native and senior foreign policy advisor to the late Senator John McCain, Boot's latest work of history, "The Road Not Taken: Edward Lansdale and the American Tragedy in Vietnam" was praised as an "epic and elegant biography"  by the Wall Street Journal and "judicious and absorbing" by the New York Times. He is also the author of another book released in 2018 — "The Corrosion of Conservatism: Why I Left the Right."
Proficient in 11 languages, Tim Snyder's most recent book, published last year, is "The Road to Unfreedom: Russia, Europe, America," an unsparing history on the threat to democracy and law. A prolific essayist for leading literary publications, he is the author of a series of sprawling books about war, genocide, and the descent into dictatorship in mid-20thcentury Europe but rocketed to prominence with the publication two years ago of the pamphlet-sized "On Tyranny," an international bestseller that is subtitled "Twenty Lessons From The Twentieth Century." His most recent titles before "On Tyranny," are "Black Earth: The Holocaust as History and Warning," which was published in 2015, and "Bloodlands: Europe Between Hitler and Stalin," published in 2010.
Moderated by Jane Whitney, former NBC News correspondent & talk show host. Audience members are encouraged to participate in the interactive town-hall style format.
All proceeds benefit:
Greenwoods Counseling Referrals, Inc. – Helping members of the Litchfield County Community and beyond find access to compassionate and high-quality mental health and related care.
New Milford Hospital – helping to secure the latest technology, attract the best medical staff and provide the compassionate, patient-centered care for which they are nationally recognized. 
Susan B. Anthony Project – promoting safety, healing, and growth for all survivors of domestic and sexual abuse and advocates for the autonomy of women and the end of interpersonal violence.
Tickets are available at two levels:
$45 – Individual tickets.

$250 per person – "Angels on the Green" tickets, include preferred seating and a chance to meet the speakers at a cocktail reception following the conversation at The Mayflower Inn & Spa.
Seating is limited. To reserve your place:
Email Conversations on the Green: Please let us know what type and how many tickets you'd like and how you prefer to be contacted. [email protected]
To buy tickets online with a Credit Card, click "Register Now!" below.
To buy tickets by mail, click on the MAIL IN RESPONSE FORM,print and fill out, and return it by email or regular mail as soon as possible.
Some portion of your payment is tax deductible.
We suggest you consult with your accountant or tax attorney.
We look forward to seeing you there!
** Continue the Conversation **

Everyone is invited to enjoy a
prix fixe, 3-course dinner at the
Mayflower Inn & Spa
Immediately following the "Angel's" reception
Time

(Sunday) 3:00 pm - 4:30 pm
Location

Washington Montessori School

240 Litchfield Turnpike