11oct3:00 pmFeaturedConversations on the Green "LGBTQ Rights: The Next Frontier"VIRTUAL EVENT3:00 pm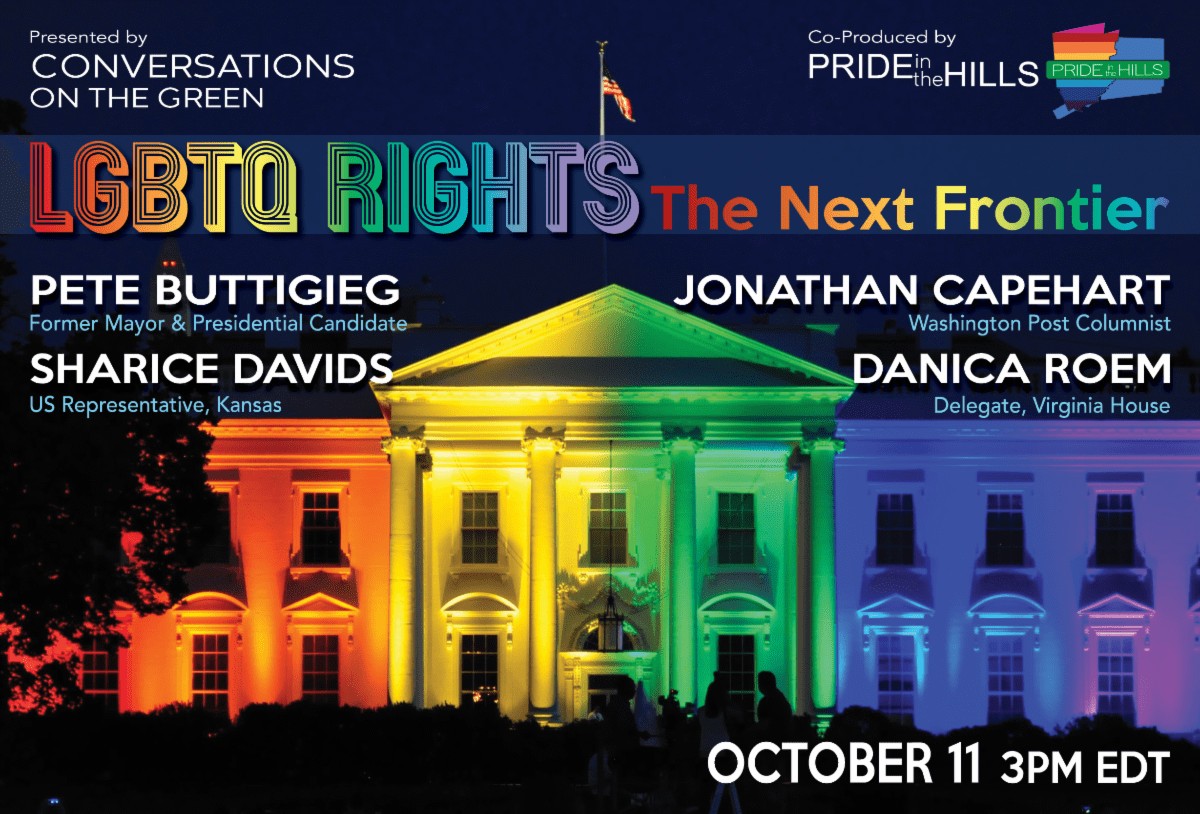 Event Details

The battle for lesbian, gay, bisexual, transgender, and queer (LGBTQ) rights has been won, right? Polls show about half of all Americans think so.

Wrong, say LGBTQ Americans. While much of the country sees this issue as "settled business," LGBTQ Americans say discrimination remains a part of their daily lives. They  chronicle much higher rates of being bullied – often violently, sometimes fatally – fired, or denied a job, housing or a promotion compared with heterosexual people.

Although same-sex marriage is the law of the land and there is growing cultural acceptance for LGBTQ people, an acrimonious legal battle over LGBTQ continues – specifically, whether federal law does, and should, protect LGBTQ people from being fired, denied a rental lease, or refused service because of their sexual orientation or gender identity.

That's provoked sharp debate about how the country should proceed. Many prominent pastors and conservative legal groups argue LGBTQ face little discernable discrimination and oppose any effort to provide formal legal protections for sexual orientation and gender identity. Meanwhile, in the face of a divisive national election, other right-wing political groups are seeking to turn LGBTQ rights, especially the rights of transgender people, into the latest cultural wedge as a way of motivating conservative voters to turn out to re-elect President Trump.

In its seventh event of the 2020 season, Conversations On the Green is assembling a panel of leading activists to discuss the landmark successes of the LGBTQ rights movement and to chart the remaining hurdles. A joint production with Pride In the Hills, which aims to celebrate and improve the lives of LGBTQ people, the group of pioneers will examine the ongoing legal battles, the outstanding social, cultural and political challenges and how the fight for LGBTQ rights dovetails with the broader civil rights movement and the cresting political mobilization.
The virtual symposium is led by Mayor Pete Buttigieg, the former midwestern, mid-city mayor who last year rocketed from obscurity to national prominence in a historic run as the first openly gay major presidential candidate. A veteran of the war in Afghanistan as well as a graduate of Harvard, where he was president of the Institute of Politics, and Oxford, which he attended as a Rhodes Scholar, Buttigieg spent eight years in office in South Bend.
When he first announced his candidacy for President last year, he was just 37 and was dismissed as a long shot, an unremarkable moderate whose conservative leanings were out of kilt in a progressive era. But his fluency in political language, his go-getter's resume and his ambition combined with an almost preternatural calmness to quickly capture attention. He was soon celebrated as perhaps the brightest, deepest, most thoughtful and most eloquent hopeful, singularly capable of moving an audience by capturing hearts and minds. He won the Iowa caucuses and tied for first in the New Hampshire primary. But his momentum stalled and he dropped out of the race after a crushing loss in the South Carolina primary.  
The second member of the panel is Johnathan Capehart, a Pulitzer Prize winning columnist for The Washington Post, where he has worked for almost 14 years. Previously, he was a researcher for NBC's "The Today Show" and for seven years served on the editorial board of The New York Daily News. He was a key contributor to the paper's staff entry that won the 1999 Pulitzer for a series of editorials condemning the financial mismanagement of Harlem's renowned Apollo Theater. 
He then joined Bloomberg News and, afterwards, advised and wrote speeches for Michael Bloomberg during his successful 2001 New York City mayoral run. He returned to the Daily News after the campaign as deputy editor of the editorial page and in 2004 joined the public relations company Hill & Knowlton before moving to The Post in 2007.
He was a 2011 Esteem Honoree, which is awarded in recognition of efforts to support African Americans and LGBTQ in entertainment, media, civil rights, business, and art. He was engaged four years ago to his boyfriend of over five years, Nick Schmit, who was the assistant chief of protocol at the State Department, and the couple was married the next year by former U.S. attorney general Eric Holder.
A community development specialist who has racked up so many "firsts" that the word almost has become part of her name, Sharice Davids is the third member of the panel. Raised by a single mother who served in the Army for 20 years, Davids was elected to the House from Kansas in the 2018 Blue Wave, becoming the first Democrat elected to represent a Kansas congressional district in a decade. She is the first openly LGBTQ Native American elected to Congress, the first openly LGBTQ person elected to Congress from Kansas and, along with Deb Haaland of New Mexico, one of the first two Native American women elected to Congress in the country's history.
A member of the Ho-Chunk people, she worked her way through Johnson County Community College and the University of Missouri-Kansas City before earning a law degree from Cornell Law School. While in school, she started to compete in MMA – Mixed Martial Arts – as an amateur and seven years ago turned professional. She auditioned for "The Ultimate Fighter" but, when she wasn't cast, shifted her focus to working with Native American communities on economic development programs.
A finalist for 2017 "Person of the Year" honors from The Advocate, Danica Roem is the fourth and final member of the panel. Elected to the Virginia House of Delegates in 2017, she is the first openly transgender person to win a seat in the state's General Assembly and the first to serve in any state legislature in American history.
An award-winning Virginia journalist, she became a national figure when Time Magazine included her on the January 2018 cover in a feature on "The Avengers," a roundup focusing on female candidates and elected officials from around the country.
The interactive symposium, which is moderated by former NBC correspondent and syndicated national talk show host Jane Whitney, begins at 3 p.m. on October 4 and runs 90 minutes. It will be live-streamed, allowing anyone with an internet-connected device to participate. Viewers will be able to ask panelists questions by calling in to the show by telephone or by posting them on the live-stream chat feature.
Moderated by former NBC correspondent and national talk show host Jane Whitney, this interactive symposium, which begins at 3 p.m. on October 11th and runs 90 minutes, will be live streamed, allowing anyone with an internet-connected device to participate and ask questions.
ALL PROCEEDS FROM THIS EVENT BENEFIT:
We look forward to seeing you!