25aug3:00 pm4:30 pmFeaturedConversations on the Green: New Kids on the Hill3:00 pm - 4:30 pm Washington Montessori School, 240 Litchfield Turnpike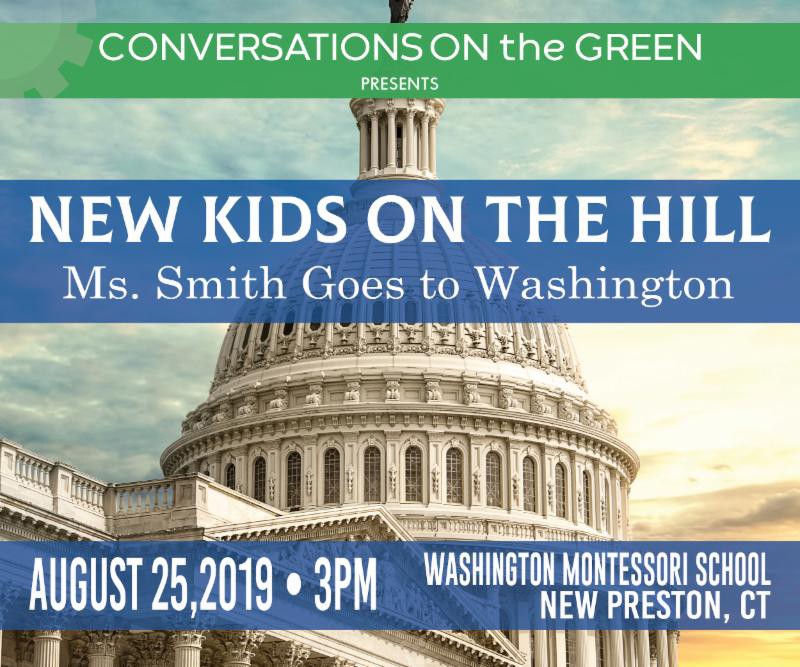 Event Details

When Americans awoke the morning after the midterm elections last November, they found the halls of Congress littered by the detritus of broken taboos and traditions.

In the most multicultural, multiracial democratic experiment in the country's history, the newly elected freshman class smashed stereotypes by including more women, people of color, young people or LGBTQ lawmakers than ever before.

This class of Democratic freshmen jumped in head first, shattering routines on the Hill and social media. But getting down to legislating was trickier — their first weeks were marred by the longest shutdown in U.S. history; between moving into their offices and finding the bathrooms, they had to endure a crash course in the roughhouse politics of partisan gridlock.

Now five of these outspoken "Freshmen Furies," as they've become known, are joining the August 25 Conversations On the Green to discuss their history-making experiences. The five Democrats –  New York's Antonio Delgado, Iowa's Abby Finkenauer, Connecticut's Jahana Hayes, Florida's Donna Shalala, and Michigan's Elissa Slotkin – will talk about what they expected and what they found, the jubilation of their election and the frustrations of the job, what they've accomplished and what's next on their agenda to move the country forward.
The first person of color to be elected to Congress from upstate New York, Antonio Delgado is a Rhodes Scholar, a graduate of Harvard Law School and a former Los Angeles-based rapper known as "AD The Voice." A rock star among the freshman, his magnetic personality catapulted him to triumph over six other candidates in the Democratic primary of his overwhelmingly white swing district before defeating the favored Republican incumbent John Faso in the November general election.
Abby Finkenauer, who was 29-years-old when elected, is the second youngest person – behind New York's Alexandria Ocasio-Cortez – to ever serve in Congress and along with Cindy Axne the first women to represent Iowa in the House. The daughter of a welder and a school employee, she won a seat in the state House when she was 25 and defeated two opponents in the 2018 Democratic primary before retiring incumbent Republican Representative Rod Blum in the general election.
The first African American woman to represent Connecticut in the House, Jahana Hayes seemed destined to follow a familial pattern when, like her mother and grandmother, she became pregnant as a 17-year-old and dropped out. But she returned to school and, while working, earned college and teaching degrees before being named 2016 National Teacher of Year. She ran on her dedication to education and her trials growing up in the Waterbury projects, which she said gave her special insight into how policy affects people. "I know what it's like to go to bed to gunshots outside," she said at a candidate forum. "I know what it's like to wake up in the morning to a dead body in the hallway."
A standout in the 2019 class of youthful Democratic freshmen, Florida's Donna Shalala is an academic and Washington veteran who served for eight years as President Bill Clinton's Secretary of Health and Human Services, the longest tenure of any of the department's leaders. The former head of the Children's Defense Fund, she was president of the Clinton Foundation from 2015 to 2017 and headed the University of Miami for 14 years. Previously she was the President of Hunter College and chancellor of the University of Wisconsin-Madison and served as Trustee Professor of Political Science and Health Policy at the University of Miami.
A former CIA analyst and senior staffer for the Director of National Intelligence, Elissa Slotkin said she was spurred to challenge two-term Republican incumbent Mike Bishop when she saw him smile at a White House celebration after he and the Republicans in the House of Representatives voted to repeal the Affordable Care Act. A native New Yorker, she grew up in Holly, halfway between Flint and Detroit, and graduated from Cornell University before becoming a community organizer. She won the general election with a bare majority of the vote, 50.6 percent, becoming the first Democrat to represent the district since 2001.
Moderated by Jane Whitney, former NBC News correspondent & talk show host. Audience members will be encouraged to participate in the interactive town-hall style format. 
All proceeds benefit:
Greenwoods Counseling Referrals, Inc. – Helping members of the Litchfield County Community and beyond find access to compassionate and high-quality mental health and related care.
New Milford Hospital – helping to secure the latest technology, attract the best medical staff and provide the compassionate, patient-centered care for which they are nationally recognized. 
Susan B. Anthony Project – promoting safety, healing, and growth for all survivors of domestic and sexual abuse and advocates for the autonomy of women and the end of interpersonal violence.
Tickets are available at two levels:
$45 – Individual tickets.

$250 per person – "Angels on the Green" tickets, include preferred seating and a chance to meet the speakers at a cocktail reception following the conversation at The Mayflower Inn & Spa.
Seating is limited. To reserve your place:
Email Conversations on the Green: Please let us know what type and how many tickets you'd like and how you prefer to be contacted. [email protected]
To buy tickets online with a Credit Card, click "Register Now!" below.
To buy tickets by mail, click on the MAIL IN RESPONSE FORM,print and fill out, and return it by email or regular mail as soon as possible.
Some portion of your payment is tax deductible.
We suggest you consult with your accountant or attorney.
We look forward to seeing you there!
** Continue the Conversation **

Everyone is invited to enjoy a
prix fixe, 3-course dinner at the
Mayflower Inn & Spa
Immediately following the "Angel's" reception
 
Includes select wine, tax and gratuities.
Time

(Sunday) 3:00 pm - 4:30 pm
Location

Washington Montessori School

240 Litchfield Turnpike