27oct3:00 pm4:30 pmFeaturedConversations on the GreenWorking Without A Net-On Air In The Age of Trump3:00 pm - 4:30 pm Washington Montessori School, 240 Litchfield Turnpike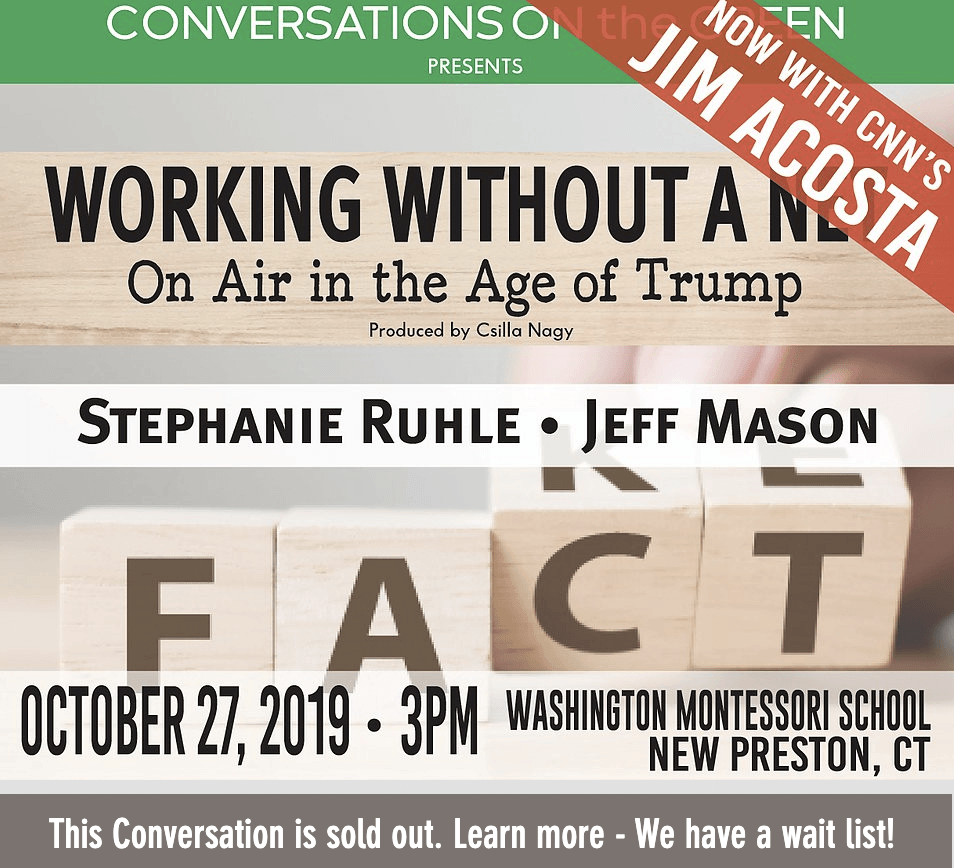 Event Details

This event is sold out. A waitlist is available here.

Since the time of the Roman Empire, the fourth estate has been celebrated as a pillar of democracy, a guardian of the separation of powers and a systemic counterbalance of the natural propensity of power to corrupt.


But in a challenge to the American system of checks and balances, it has become a recurrent theme of the daily news cycle for President Trump and his allies to marshal their base under the banner of "Fake News" and to accuse journalists of being "enemies of the people," a phrase with grim historical roots dating to Joseph Stalin and The Terror of the Jacobin dictatorship of the 1700s.


All presidents spar with the press. Richard Nixon pioneered the depiction of the media as liberal bogeymen, "nattering nabobs of negativism" in the immortal phrase of William Safire, an administration speechwriter who later became famous as a New York Times columnist. But a president schooled in the ways of entertainment sleight-of-hand has mutated what was an accepted parlor trick to rally conservatives into a full-blown assault on the American press.

The administration has stopped holding regular press briefings and when it does pass out information, it frequently lies; Trump himself has been documented telling more than 10,000 lies, reporters now do their jobs in an unprecedented climate of intimidation and fear. Many are bullied or harassed — online or in real life. And in Annapolis, a man with a gun walked into a newsroom and slaughtered five staffers.

In response, the Main Stream Media has galvanized a range of norm shattering strategies as the spearhead of civil society. Once defined by its fierce independence, the press has banded together in collective solidarity, publishing mass editorials. Breaking with tradition, it has done away with diplomatic double-speak in calling out mendacity and tries to confront falsehoods with an army of fact-checkers charged with defending delegitimized facts.

Now two of the leading journalists covering the Trump administration – MSNBC's Stephanie Ruhle and Reuters' Jeff Mason – will discuss the trials, tribulations and constitutional imperatives of covering The White House as headliners of the October 27 Conversations On the Green, "Working Without A Net: On Air In The Age Of Trump."
A
n activist for advancing women, Stephanie Ruhle is a former investment banker who now anchors "MSNBC Live with Stephanie Ruhle" and "MSNBC Live with Velshi & Ruhle." An icon of the network, she also appears across all NBC News and MSNBC platforms, including "NBC Nightly News with Lester Holt," "TODAY," and NBCNews.com.
Before joining the network three years ago, she was an anchor and managing editor for Bloomberg Television and editor-at-large for Bloomberg News. A New Jersey native and mother of three, she began her career at Credit Suisse and worked at Deutsche Bank, where she was a managing director in Global Markets Senior Relationship Management.
CNN's Chief White House Correspondent, Jim Acosta is President Trump's chief whipping boy in his war against the press, the face of Trump's effort to go over the media's collective talking head in an attempt to mobilize his base by demonizing the press, a part of his campaign to deliver an unvarnished political message.

A 48-year-old veteran journalist, whose family immigrated from Cuba days ahead of the Cuban Missile Crisis, Acosta shares a showman's sense of the theatrical with Trump and has bickered on air with the president so frequently and so bitterly that the White House briefly revoked his credentials.

The author of the best-selling book about the Trump Administration, "The Enemy of the People: A Dangerous Time to Tell the Truth in America," Acosta began his career in radio and worked as a correspondent for CBS News before joining CNN in 2007.  Five years later, he was promoted to national political correspondent and then to chief White House correspondent, where he covered the Obama administration.
Preternaturally calm and known for his adherence to traditional, down-the-middle wire service reporting, Jeff Mason is a veteran Reuters White House correspondent and the former chairman of The White House Correspondents' Association (WHCA). In that position, he was the leader of the team that negotiated with the administration in its efforts to banish the press from The White House and rewrite the rules governing media accessibility to the administration.
A Colorado native, he parlayed contacts made as a Fulbright Scholar into a Reuters job covering the airline industry in Frankfurt. He was then assigned to Brussels as a general reporter for European Union before moving to Washington in 2008 to cover the presidential race pitting Barack Obama against John McCain. He was promoted in 2012 to Reuters' Lead Correspondent and four years later became the voice of White House reporters as the chairman of the WHCA.
Moderated by
Jane Whitney, former NBC News correspondent & talk show host. Audience members are encouraged to participate in the interactive town-hall style format.
All proceeds benefit:
Greenwoods Counseling Referrals, Inc. – Helping members of the Litchfield County Community and beyond find access to compassionate and high-quality mental health and related care.
New Milford Hospital – helping to secure the latest technology, attract the best medical staff and provide the compassionate, patient-centered care for which they are nationally recognized.
Susan B. Anthony Project – promoting safety, healing, and growth for all survivors of domestic and sexual abuse and advocates for the autonomy of women and the end of interpersonal violence.
Tickets are available at two levels:
$45 – Individual tickets.
$250 per person – "Angels on the Green" tickets, include preferred seating and a chance to meet the speakers at a cocktail reception following the conversation at The Mayflower Inn & Spa.
Seating is limited. To reserve your place, go to our website, conversationsonthegreen.com or email [email protected]com
Some portion of your payment is tax-deductible.
We suggest you consult with your accountant or tax attorney.
We look forward to seeing you there!
** Continue the Conversation **
Everyone is invited to enjoy a
prix fixe, 3-course dinner at the
Mayflower Inn & Spa
Immediately following the "Angel's" reception
Add the dinner for an additional $88.50 per person
Includes select wine, tax, and gratuities.
Time

(Sunday) 3:00 pm - 4:30 pm
Location

Washington Montessori School

240 Litchfield Turnpike