10jun2:00 pmDiscussion & Signing with author Cortney Davis - Taking Care of Time2:00 pm Hickory Stick Bookshop, 2 Green Hill Road Washington Depot, CT 06793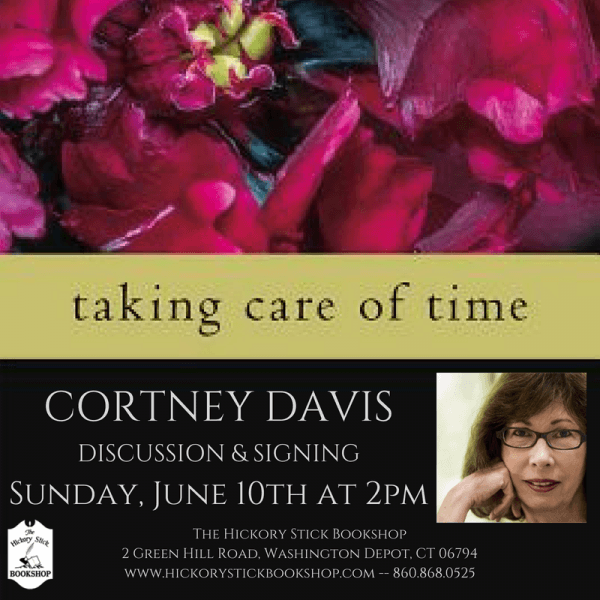 Event Details

For poet and nurse practitioner Cortney Davis, the truth revealed through poetry is similar to what she has experienced in the heightened and urgent drama that occurs in health care-those suspended moments in which a dying heart might be revived  or unbearable suffering relieved.

We are vulnerable, her poems say, and we are dependent on one another–on the ways in which we care or fail to care for one another, in how we love or fail to love. In poems that are sensual, emotionally searing, and yet unfailingly tender, Davis shines a caregiver's light on the most intimate details of the human body and the spirit within–how the flesh might betray, how it endures, and how ultimately it triumphs.

"Perhaps not since Whitman has anyone like Cortney Davis practiced the two professions of nursing and poetry with such eminence." –Michael Saleman, MD, former chair of neurosurgery, University of Maryland; winner of the 2015 Sinclair Poetry Prize

"Nursing is the poetry of medicine, and Cortney Davis is unafraid to lay bare the intimate, the messy, and the beautiful. In poems that are simultaneously lilting and wrenching, Davis pins us to our seats for 70 pages. We come up for air at the end – grateful, haunted, awed, and uplifted." –Danielle Ofri, MD, PhD, author of What Patients Say, What Doctors Hear

Cortney Davis is a nurse practitioner and the author of Details of Flesh and Leopold's Maneuvers, winner of the Prairie Schooner Book Prize in Poetry. Her honors include an NEA Poetry Fellowship; three Connecticut Commission on the Arts poetry grants; an Independent Publisher's Silver Medal; a Living Now Body Award; the Connecticut Center for the Book Award in Non-Fiction; an Independent Book Publishers Association's Benjamin Franklin Gold Medal in Body, Mind & Spirit; and four Book of the Year awards from the American Journal of Nursing.

This event is free and open to the public.  If you are unable to attend this event, you may reserve a signed copy of Taking Care of Time by calling The Hickory Stick Bookshop at (860) 868 0525.