04nov3:00 pmFeaturedGetting Real with Memoirist-DynamosSpring Hill Vineyards3:00 pm Spring Hill Vineyards, 292 Bee Brook Rd, New Preston, CT 06777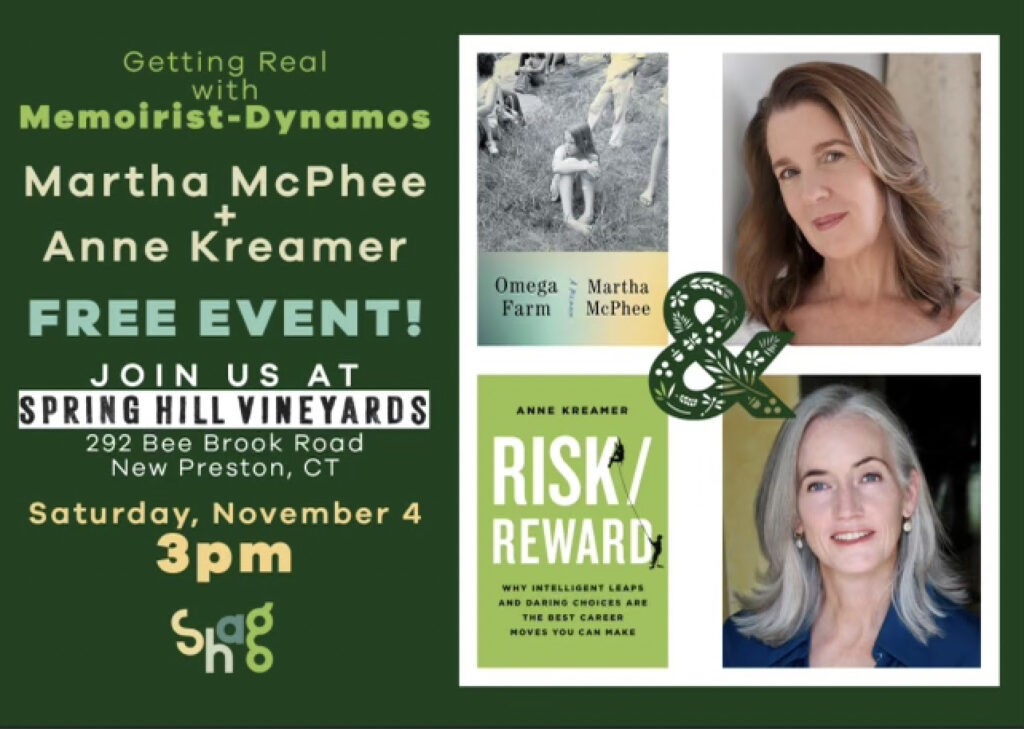 Event Details

This one-time-only meeting with these most memorable creatives will be on Saturday 4 November 2023 at 3pm. This is a free event! Registration required.

A local friend of SHAG recently connected us to Martha McPhee, the award-winning novelist who just published her first memoir, Omega Farm. Martha grew up at Omega Farm with her four sisters, five step siblings, mother, and stepfather, in a house filled with art, people, and the kind of chaos that was sometimes benevolent, sometimes more sinister. Caring for her mother and her children, struggling to save their ailing forest, the past relentlessly asserts itself—even as Martha's mother, the person she might share her memories with or even try to hold to account, no longer knows who Martha is. A masterful exploration of a complicated family legacy and a powerful story of environmental and personal repair, we felt this candid account would be one our community would find relatable as it raises so many urgent issues that impact women, teens, parents, families and backyard ecosystems everywhere. In our Barn, Martha will be premiering a live-narration of family photo album images of the world that made her the riveting truth-teller she is today.

We are pairing her with another multihyphenate from our area: Anne Kreamer. Before Anne became a writer, she was part of the team that produced Sesame Street around the world in the 1970s and 80s. Later, she helped launch SPY magazine. In the 1990s, she was the Worldwide Creative Director for Nickelodeon and Nick at Nite, where she created Nickelodeon magazine. At the turn of the century, Anne switched careers, writing columns for Fast Company and Martha Stewart Living. Her three books are: Going Gray: What I Learned about Beauty, Sex, Work, Motherhood, Authenticity, and Everything Else That Really Matters, It's Always Personal: Navigating Emotion in the New Workplace, and Risk/Reward: Why Intelligent Leaps and Daring Choices Are the Best Career Moves You Can Make Right Now. In 2019, Anne launched with her daughter, the designer Lucy Andersen, WildAndRare.com, an accessories line that shines a light on our planet's biodiversity crisis. Her latest professional adventure is modeling with We Speak management.

Happy to add that Victoria C. Rowan, Chair of Washington, CT's Arts Council and the Creatrix behind Ideasmyth.com, is partnering with us on this event and will be facilitating this discussion.

We SO look forward to seeing you!
Location

Spring Hill Vineyards

292 Bee Brook Rd, New Preston, CT 06777