mayalldayFeaturedSpring Challenge with the Gunn Memorial LibraryVIRTUAL EVENTMonth Long Event (may)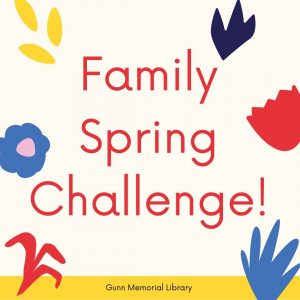 Event Details

Break out of the "isolation doldrums!" Take part in a contest for the whole family. Take our Family Spring Challenge – complete as many challenges as you wish and send in a video, picture, or document. Each completed challenge earns one entry to win a prize!

Individuals or families are welcome to participate. Visit the Gunn Memorial Library website to see the list of challenges and to complete the submission form.

Challenges: 
Review a book or movie.
Find your favorite reading spot and share a picture with us!
Act or recreate a scene from a favorite movie. Send us a video clip.
Draw or paint a picture of something you see everyday.
Make something good to eat.
Read a book to someone else.
Send us a picture of your pet, an animal or bird!
Take a walk outside and look for signs of spring.
Play a board game. Who won?
Share one of your favorite poems or write your own- or try a book spine poem!
Time

Month Long Event (may)