27aug(aug 27)8:00 pm28(aug 28)5:00 pmFeaturedTheatre for Good Presents "The Revolutionists"Judy Black Memorial Park and Gardens8:00 pm - 5:00 pm (28) Judy Black Memorial Park and Gardens, 1 Green Hill Road, Washington, CT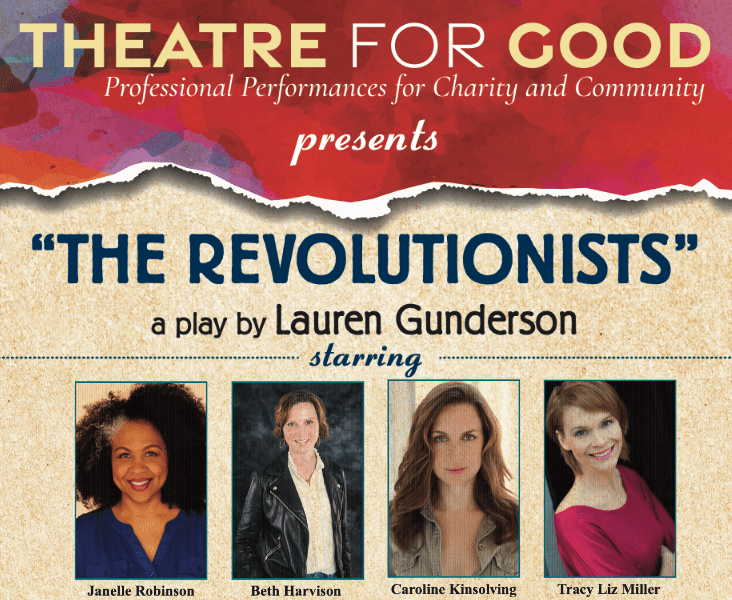 Event Details

Join Theatre for Good for Lauren Gunderson's The Revolutionists on August 27th @ 8:00pm and August 28th @ 5:00pm! For more information and to reserve your tickets ($30 suggested donation through PayPal, Venmo, or check), please contact Caroline at [email protected].

The Revolutionists is a grand, hilarious, and dream-tweaked comedy is about how we actually go about changing the world.

About Theatre for Good:

Theatre for Good brings thought provoking theatre that entertains while exposing social issues to the public, with a goal of fundraising for good causes by paying forward the donations at the end of each performance to various charities and organizations that are working to make the world better. Theatre for Good is about coming together, giving back, and being a good neighbor, something to encourage as communities develop and grow.

Through Theatre for Good, we've donated over $15,000 through performances of Chekhov's "The Cherry Orchard," Shakespeare's "Much Ado About Nothing," and "A Midsummer Night's Dream," Noel Coward's "Private Lives," Thornton Wilder's "Our Town," Dianne Nora's "Monica,"Molly Smith Metzler's "Cry It Out,""Shakespeare's Women" with screen actor, Anjali Bhimani, "Almost, Maine" starring the playwright and Broadway star, John Cariani, and, most recently, Dickens' "A Christmas Carol" and "The Maids." Professional actors from out of town as well as locals donate their time and talents through performance. Charities include emergency humanitarian efforts, local food banks, volunteer ambulance and fire organizations, animal shelters, arts programs, environmental associations, Native American Indian institutions, public libraries and parks, women's shelters, non-violence collectives, racial equality efforts, and minority educational support.
Time

27 (Saturday) 8:00 pm - 28 (Sunday) 5:00 pm
Location

Judy Black Memorial Park and Gardens

1 Green Hill Road, Washington, CT