20sep6:30 pmFeatured"William Hamilton Gibson: 19th Century Renaissance Man for the 21st Century"Zoom with Gunn Historical Museum6:30 pm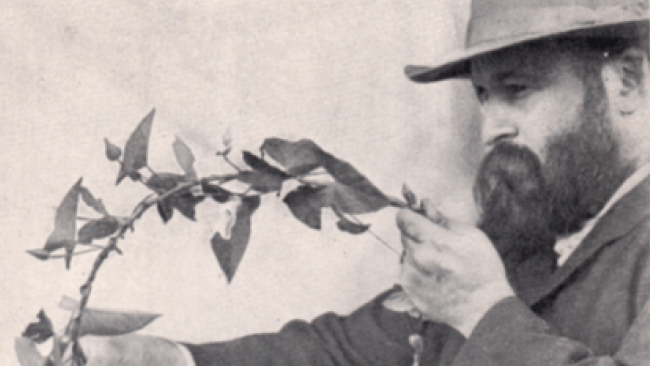 Event Details

Please join us on Zoom on Tuesday, September 20, 2022 at 6:30 pm for the illustrated presentation "William Hamilton Gibson: 19th Century Renaissance Man for the 21st Century" with scientific and botanical illustrator and art educator, Mary Ellen Carsley. This program is hosted by the Gunn Historical Museum and co-sponsored by The Frederick Gunn School and Washington Art Association.

William Hamilton Gibson is part of a uniquely American tradition of art inspired by the natural world. Active during the latter half of the 19th century in what has been called the "Golden Age of American Illustration," Gibson's artwork and books expanded far beyond creating a visual narrative of the natural world for audiences of the new and growing popular press.

A native of Sandy Hook, CT, Gibson first discovered his passion for nature in botany classes at the Gunnery School and then in the Washington hills. Through his illustrations, he sought to inspire others with his love of nature. He was brilliant, multi-talented, prolific and wildly popular in his day. He published a series of ten illustrated books that earned him international success; exhibited ten watercolors at the 1893 World's Columbian Exhibition; and lectured extensively across the country. A contemporary credited Gibson, along with Henry D. Thoreau and John Burroughs as "having done more to inspire our generation with the love of Nature than others". In 1895, Gibson built a house, "The Sumacs", in Washington that was designed by Ehrick Rossiter, a former classmate at the Gunnery. A year later, Gibson was stricken down unexpectedly and tragically passed away in his prime at the age of 46. Reexamining his works in the 21st century provides an important perspective and depth into not only American Art but also the Environmental Movement and the popularity of engaging in the natural world in America today.

ABOUT THE LECTURER
Mary Ellen Carsley is a scientific and botanical illustrator, as well as an art educator. A former practicing architect, she has illustrated eight books and numerous articles for national and international journals. Her works have been included in the collections of the National Building Museum and the Library of Congress. She is a member of the Guild of Natural Science Illustrators, Maryland Federation of Art, The Art League at The Torpedo Factory, Washington Calligrapher's Guild, and Guild of Book Workers.

For more information visit gunnmuseum.org or contact the Gunn Historical Museum in Washington at 860-868-7756.