jun10:30 amFeaturedYoga for GoodSundays, Wednesdays, and ThursdaysMonth Long Event (june)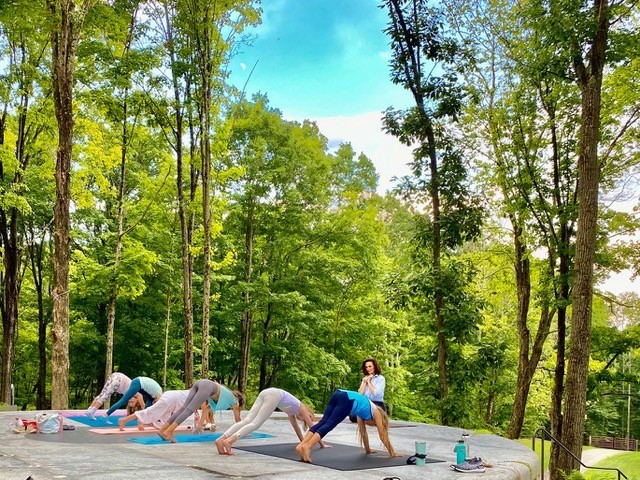 Event Details

Join us for Yoga for Good this summer! Classes will be held weekly on Sunday mornings, Wednesday evenings, and Thursday evenings. Classes have no fee, but a suggested donation of $20. All donations are pooled at the end of each class and paid forward to local causes and charities. The total amount raised and given to various charities through Yoga for Good is over $31,000.

Sundays at 10:30am
The Silo
44 Upland Rd, New Milford, CT 06776
rain or shine, outdoor/indoor, art + community + observing cows

Wednesdays at 6:30pm
March Farm
160 Munger Ln, Bethlehem, CT 06751
sunset views from the orchard top

Thursday Socials at 5:00pm
South Farms
21 Higbie Rd, Morris, CT 06763
Food trucks, special guest Brews, Ice Cream, Live Music, and Yoga!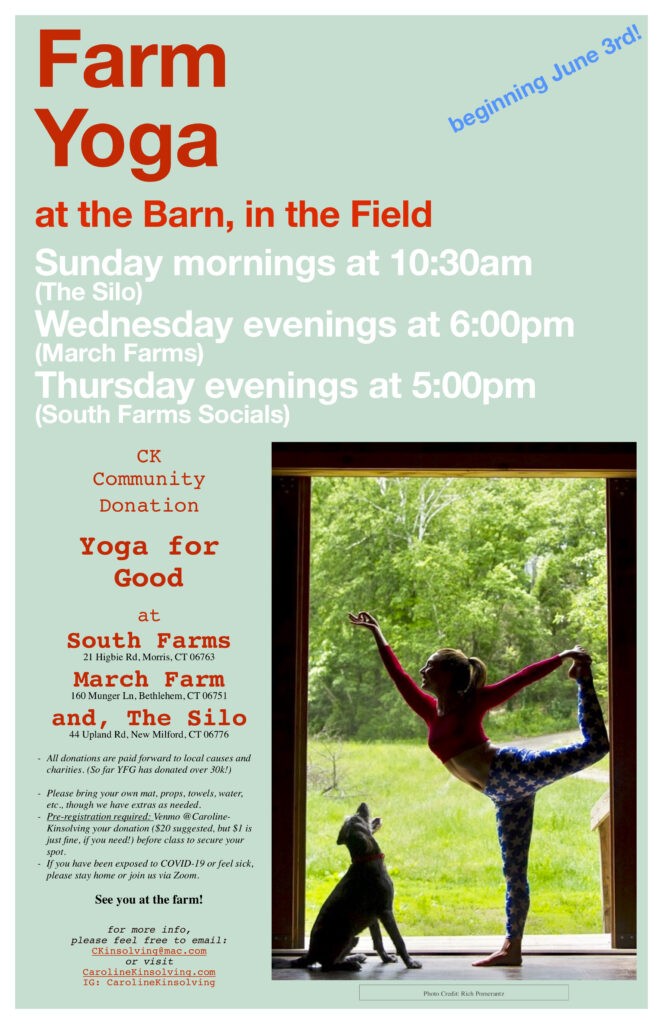 All proceeds are donated to local charities, including:
The Washington Art Association
The Steep Rock Land Trust
the New Milford Animal Shelter
a local Food Bank for families in need
the Institute for American Indian Studies
the Litchfield Jazz Scholarship program
a beloved local's cancer treatment GoFundMe
the Susan B. Anthony Recovery Center for women and children
Martin Luther King CT Nonviolence Center
Jewish Center Sharon
CT NOFA
CT Young Farmers
GoFundMe to support a small business' victims of a hate-crime in New Milford
Danbury Animal Welfare
Safe Haven Farm Sanctuary
Women's March CT
WMS Fund
Little Britches
Catherine Hubbard Foundation
Greenwoods
Washington Environmental Council
Judy Black Park & Gardens
Prime Time House
CT Votes for Animals
WEC
Washington Ambulance Assoc.
ASAP!
WMNR radio
Little Guild,
the Jewish Coalition for Literacy of New Haven,
GoFundMe for a local couple who lost everything in a fire before Christmas in New Preston
Women's Support Services of Sharon
Susan B. Anthony Project COVID-19 Fund
Conversations on the Green
Washington Fire Department
danbury animal welfare society
Gunn Memorial Library
Hartford Symphony Orchestra
Susan B. Anthony Project
Time

Month Long Event (june)