Explore the Local Farms of Washington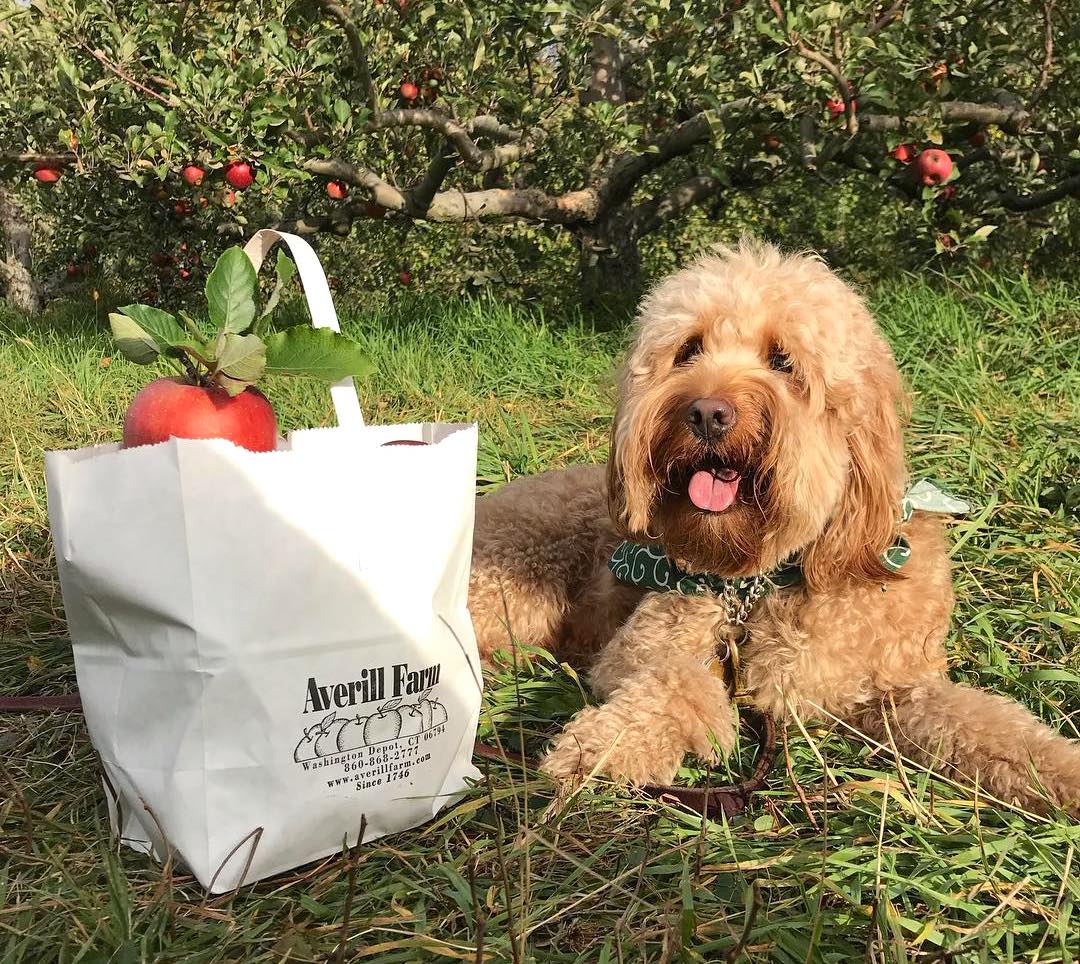 Averill Farm by @milo_the_aussie_dood
Washington is home to many incredible farms, fresh produce stands, and pick-your-own experiences to enjoy with the family! We are lucky to have access to so much fresh and organic fruit, vegetables, and homemade goods here in Litchfield County and we hope you get a chance to visit some of our favorite local farms this fall. Take a look at what's in season and open for picking. Enjoy!
Averill Farm
Averill Farm is one of the most popular destinations in town, known for its scenic hilltop views and pick-your-own apples and pears. Now in its 10th generation, the family farm offers homemade cider, jams, jellies, honey, donuts, pies, and more at their farm stand. Averill Farm is now open for the season for pick-your-own fruit, starting August 15th through December 24th. For the latest, follow them at @averillfarm.
Starberry Farm
Starberry Farm is best known for their delicious varieties of peaches! Their farm stand is open daily from 11-5pm and from 1-5pm on Sundays for peaches. They will have apples available after Labor Day. Please follow their Facebook page for updates or call them at (860) 868-2863 for the latest hours and availability.
Averill Farm: @_emmaleung_
Starberry Farm
Waldingfield Farm
Waldingfield Farm is a certified organic vegetable farm offering all the colors of the rainbow when it comes to fresh produce. Visit the farm stand for salad greens, rainbow carrots, kale, arugula, celeriac, beets, watermelon radishes, potatoes, and more. The farm stand is open Tuesday through Sunday from 12pm-4pm. You can also experience Farm to Plates Summer Suppers on Wednesday nights through September 28th. Learn more: waldingfieldfarm.com.
Judy Black Farmers' Market
For a variety of fresh weekly produce, be sure to visit the Washington Farmers' Market at Judy Black Memorial Park and Gardens every Saturday 10am-1pm, through November 19th. The market features a diverse set of vendors offering locally grown fruits and vegetables, pasture-raised meats, specialty cheeses, fresh seafood, gourmet prepared foods, breads and baked goods, and more. For the latest updates, follow them at @thejudyblackpark.
Waldingfield Farm
Farmers Market at Judy Black Park @byalexandrabarnes
Farmers & Cooks
Farmers & Cooks is known for their delicious sourdough breads! Their Artisan Levain Sourdough Breads are made with local organic grain that has been freshly milled for optimal freshness and nutrient absorption. You can purchase their sourdough breads at The Smithy in New Preston, CT. Their breads and other prepared foods are also available for pickup at the Washington Farmers Market at Judy Black Memorial Park and Gardens every Saturday. For the latest, follow them @farmersandcooks.
The Smithy
The Smithy Market sources organic produce, meats, and specialty grocery items from local farms and purveyors, quaintly housed in the village's historic blacksmith barn. Enjoy weekly fresh produce, delivered every Thursday and Friday, or pick up a ready-to-eat lunch or dinner or a quick bite from their market and cafe. Visit thesmithystore.com to view their latest offerings or follow them at @thesmithymarket.
Farmers & Cooks
The Smithy
Hopkins Vineyard
This beloved vineyard overlooking Lake Waramaug has been owned and run by the Hopkins family for over 225 years! Enjoy a tasting of wine flights with their friendly and knowledgeable staff who will guide you with your wine selections and hear an explanation of the ingredients, winemaking techniques, and suggestions for food accompaniments. Plus enjoy live music at the vineyard every Saturday and Sunday! For the latest updates, visit hopkinsvineyard.com or follow them at @hopkinsvineyard.
Spring Hill Vineyards
Spring Hill Vineyards is offering wine tastings every weekend through Columbus Day. Enjoy house wines by the glass or bottle and while you're there, be sure to view the Bee Brook Grotto immersive art installation at the top of the repurposed Spring Hill Silo – a destination unto itself. Their award-winning wines are also available for purchase at the Washington Liquor Store, County Wine & Spirits, The 202 Tavern, and The Owl Wine & Food Bar. Follow the vineyard at @springhillvineyards for the latest.
Hopkins Vineyard
Spring Hill Vineyards
Loam Floral Design
Find a beautiful selection of flowers, floral arrangements, and decorative containers at Loam Floral Design in New Preston. Visit "Flora", the floral van at the Elephant's Trunk in New Milford on Sundays for fresh-cut flowers and arrangements. For design work or special requests, contact Loam Floral Design. View their latest designs at @loamfloraldesign.
Everything Botanical
Everything Botanical grows a variety of trees, shrubs, annuals, and perennials. This year, they will be available by appointment only for in-person sales. View their latest offerings in their online shop. Please email [email protected] to request an appointment at their greenhouse, arrange to pick up an online order, or with any other questions you may have. For updates, follow them at @everything_botanical_llc.
Loam Floral Design
Everything Botanical
Let us know about your favorite finds at our local farms in Washington! Tag us at @explorewashingtonct