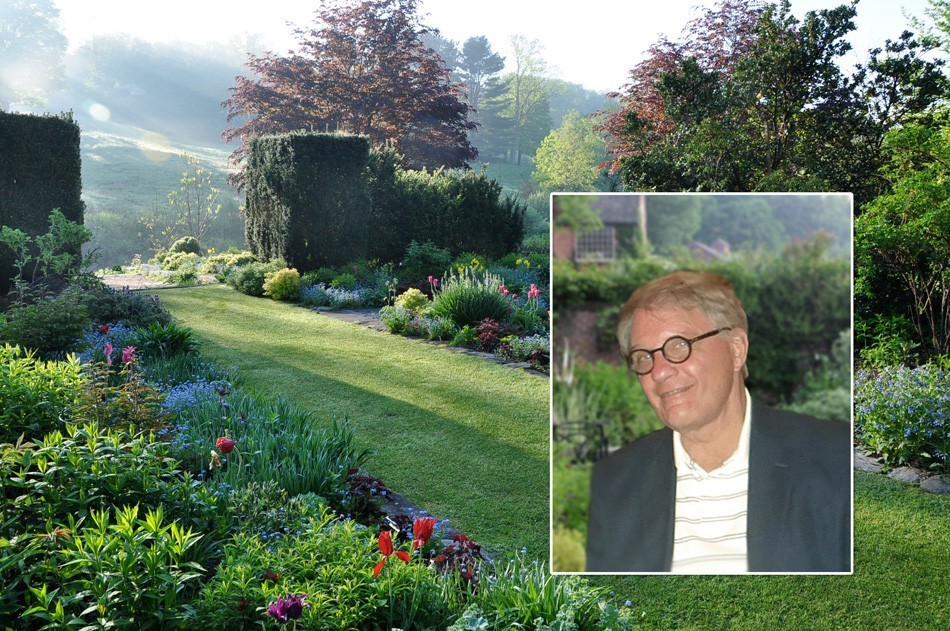 Occupation: President, Hollister House Garden
Years Lived in Washington, CT: 40 years
In anticipation of their opening weekend on April 27th, we took a trip to Hollister House Garden and spoke with its founder and President, George Schoellkopf. He graciously invited us into his lovely 18th century home and shared with us the riveting stories behind his garden and its creation. We were lucky enough to have a personal tour of the gardens, breathtaking even with nary a spring bloom in sight. We could have stayed for days listening to George's fascinating stories.
How did you find Washington?
By accident! Well, I am originally from Texas.  I was born in Dallas and I came to Connecticut as a teenager to attend The Hotchkiss School. During my time at Hotchkiss and then at Yale, I just fell in love with the state and I knew one day that I wanted to live here. But, I ended up in New York City and I opened an antique gallery on Madison Avenue, specializing in 18th and 19th century American folk art and furniture.
However, I began to grow a bit weary of city life and I wanted a weekend place away from my business. I was looking for an old house out in the countryside and I answered an ad in the Litchfield County area. After seeing an initial property, I was then serendipitously taken to Nettleton Hollow Road in Washington where Hollister House awaited. That was forty years ago – and the rest is history! I immediately bought it and for years it was my summer escape. When I closed my gallery in the city, I made the decision to move to Washington full-time – and have never looked back.
What was it about this house on Nettleton Hollow that made you want to immediately jump and buy it?
This house was exactly what I was looking for at the time. I wanted a classic early house that was tucked into the countryside. The house is actually a classic saltbox with two stories in the front and a roof that goes down to one story in the back. When I saw the house for the first time, I just fell in love with how it was situated. It is on the side of a hill that slopes down to a pond and then it has additional land that slopes back up again. You get this sort of dramatic embrace in the view, rather than just looking down at it from afar.
Did you want to make it into a garden when you first laid eyes on it?
Actually, no. I had no clue that I was going to build an elaborate garden on these grounds. In fact, when I bought the land, none of what you see here today was present. It was mostly wooded countryside with this house at the center, a few barns, and a couple of outbuildings. I tell this to the tour groups that come through the gardens and show them a historic photo of nothing at all around the house. So, everything that you see, I have added to the property over the years.
What inspired you to start planning the garden?
A year after I bought the house I took a trip to England. While I was there I visited several English Gardens and I just fell in love. I never was the same after seeing those magnificent gardens and, I guess you can say, I still have not recovered. When I got back from my trip, I looked out at the countryside and the area around my house and I decided to plan the gardens. I wanted to create a classic garden inspired by those I became enamored with on my travels through England. I knew this was going to be tricky because I did not have a castle or a manor to build around. But, to me, 18th century American buildings have a certain dignity to them and this house absolutely possesses that quality. I thought it would look striking and quite impressive surrounded by an English-styled garden, so I started planning.
It was a challenge trying to fit an English garden into the landscape here that would also sit well next to the house. I had a lot of designs and plans, but nothing seemed to work. Then, finally my partner in this endeavor and I made a 3D model out of clay, as it was getting harder and harder to envision a garden just on paper. From that simple model everything just came together and we were able to start building what we envisioned.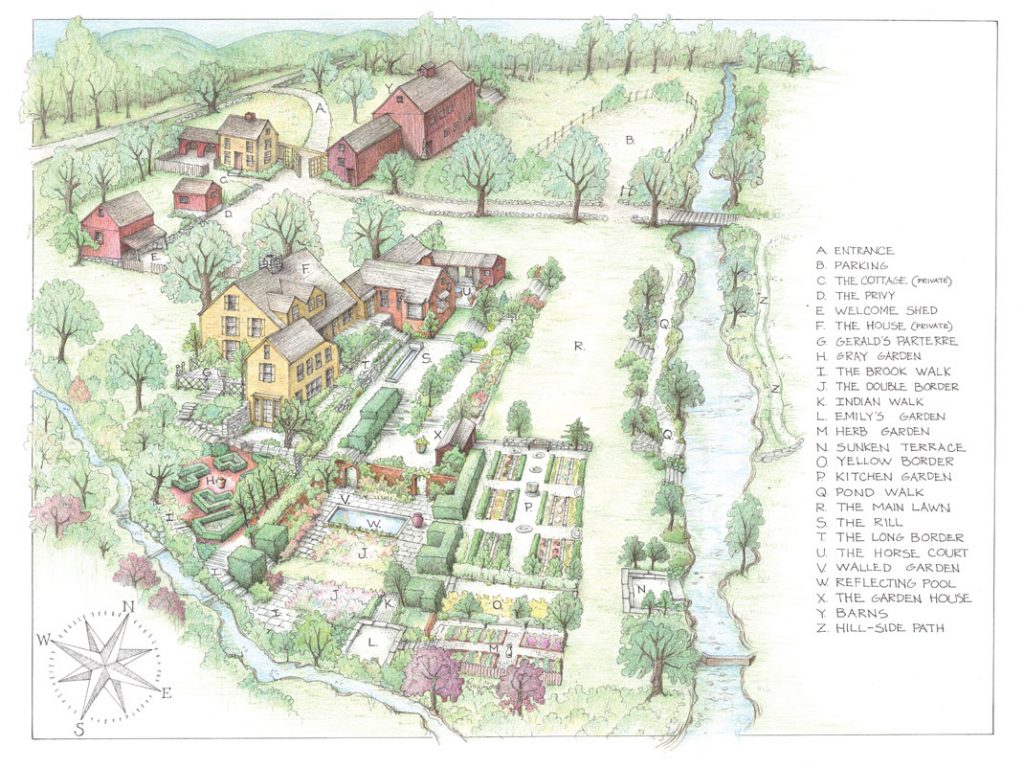 Garden Map-a gift made by George's friend Philip Stone
(Garden Map, above, was a gift created by George's friend Philip Stone)
Tell us about the English inspiration for Hollister House Garden
As I said, I wanted to create the garden after those I experienced in England. Typically, an English garden is quite structured with walls and hedges that create unique "rooms". Within the structure of these rooms, you have these elaborate plantings that can be quite wild, which is something that I really gravitate towards. I like to have structure then shake it up with plants flopping out and breaking the lines.
For me, the real excitement of this garden, or any garden for that matter, is being able to run out and see what is in bloom at the moment. This garden is constantly changing. You never truly know what and when something will bloom and that unexpected element creates excitement. There is a true spirit of adventure here! Krista Adams, our Head Gardener, works tirelessly to keep the gardens at top form.
When did you begin sharing the garden with the public?
The garden opened to the public about 10 years ago. In 2005, I made an agreement with The Garden Conservancy and Hollister House Garden Inc. to donate the entire 25 acres of this land to the Hollister House organization. The Hollister House Garden, Inc. is a 501 3 (c) non-profit that is dedicated to preserving the house and the garden. At the moment, they own 67% of the property and I am still responsible for the maintenance and operation of the garden.
That was quite a decision to open the garden to the public.
I have always enjoyed sharing my garden with others. It is not your typical American garden, but there is also nothing un-American about it. It is not something that people usually see in a backyard or bordering the sides of a house. It is quite unique and it seems to resonate with people. I have visitors all the time tell me that it is the most beautiful garden that they have ever seen and this is a compliment I really take to heart!
So, I wanted to make sure the garden and the house would be taken care of and preserved long after I was gone. I wanted the house and garden to be a permanent fixture in Washington and something that visitors could enjoy for generations. We are thrilled to be able to welcome visitors from all over the world, as well as from right here in Washington and neighboring towns.
What do you do when not out in the garden?
For years I was President of the museum committee at the Gunn Historical Museum and helped to create the Antique Show that they hold every year. In the winter, I switch coasts and reside in Santa Barbara, California. I just love the weather out there and, of course, I have a little garden in my backyard. I know that I am quite lucky to be able to go back and forth, as well as escape the New England winters.
What advice do you have for one who is new to gardening, or is simply trying to become a better gardener?
For the first time this year, we are holding a new series called Barn Talks. We recently renovated the large barn at the north end of the property and turned it into a venue for educational events, demonstrations, and plant sales. Barn Talks will be held in this space and will feature several workshops and lectures that are designed to educate both amateur and professionals on gardening. I suggest that one checks out this series as we have some excellent and knowledgeable speakers lined up to present.
Also, I suggest frequent visits to our gardens to see how the plantings evolve by season. I am always willing to answer questions. Just from touring the grounds, one is able to see what is blooming and which plants work well in this climate. For my garden, I try to grow plants that can take care of themselves and need little maintenance, and I recommend the same to others.
Do tell us about Evita.
Evita the cat is our little garden protector and mascot. She enjoys interacting with visitors, loves to walk along the garden walls, roam from room to room, and lounge in the sun. What a life she has!
"This garden resonates in people's sensibilities. It just seems to grab people. And I am always amazed and humbled when visitors tell me that it is the most beautiful garden that they have ever seen." – George Schoellkopf
George's Favorite Hollister House Events
Barn Talks
Music in the Garden
Plein air painting
Twilight in the Garden on July 14th
Plant sales in spring and fall
Must See in Washington CT
Costume collection at the Gunn Historical Museum
Views from the scenic roads
Hollister House Garden (of course!)
Other Gardens to Visit in the Area
Glebe House Museum & Gertrude Jekyll Garden (Woodbury)
Bellamy-Ferriday House and Garden (Bethlehem)
White Flower Farm (Morris)
Hollister House Garden will be celebrating their opening weekend on April 27th and 28th. Garden visiting hours are every Friday from 1-4 and every Saturday from 10-4, until October 6th. Suggested donation is $5 per person. Be sure to check out this amazing garden – and come to their fabulous events and Barn Talks planned during their open season.