Get a Fresh Start this New Year in Washington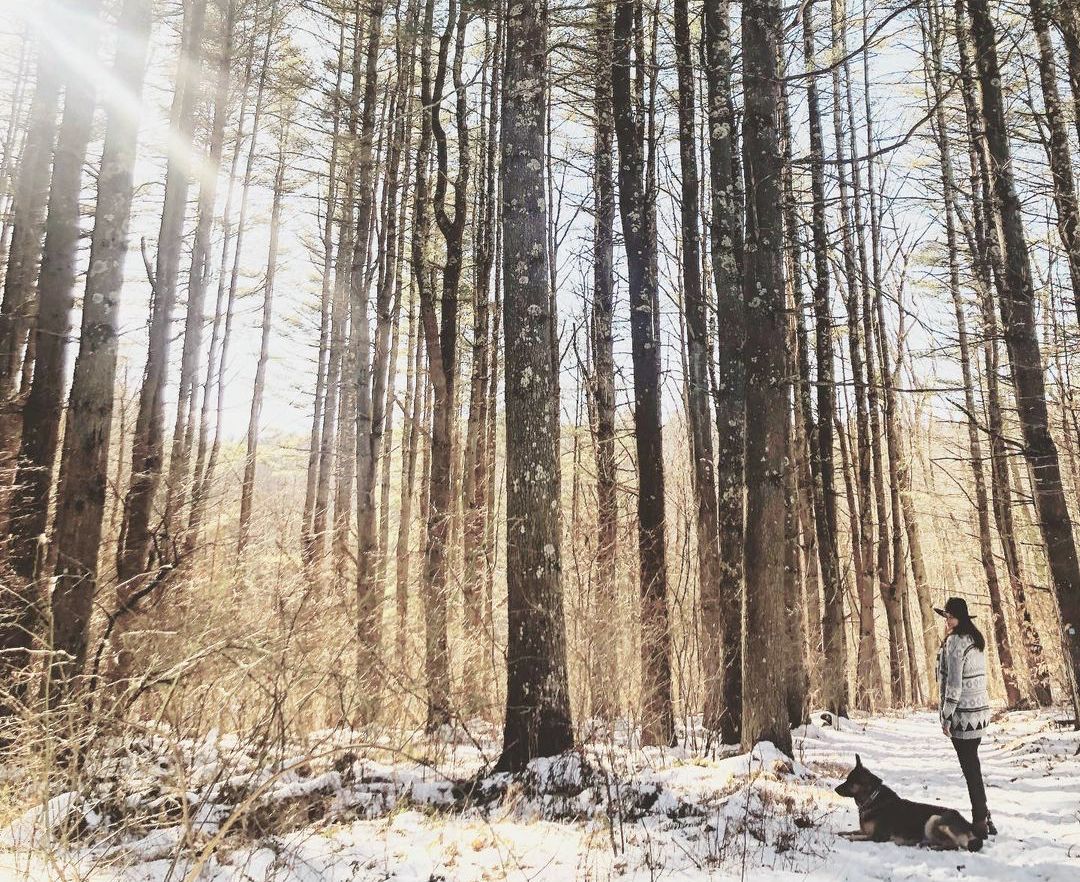 Hidden Valley Preserve. Photo credit: @jenshens87
New year. New beginning. We are all undoubtedly looking forward to starting afresh in 2021. This is a special time to explore new goals, new habits, new hobbies – and new ways to find joy. Here are some ideas to kickstart 2021 on a fresh note. Have a happy journey!
Fresh Air
Washington is blessed with beautiful nature trails and pristine spots to enjoy the fresh air while fitting in exercise in an inspiring setting. Bundle up and bring the family (or fur babies!) to hike Steep Rock's nature preserves. You'll enjoy the perfect backdrop to get your heart rate going while taking in some of the most breathtaking views in New England. If you prefer to stay indoors, try a virtual session of Yoga for Good or a class with ASAP! and Pilobolus instructors and get moving from the comfort of your home.
Steep Rock Preserve. Photo credit: @beingdareful
Yoga for Good. Photo credit: @carolinekinsolving
Fresh Perspective
Make time for learning something new this year! Venture out and gain a fresh perspective on a completely new topic, or dig deep to learn more about something that already interests you. Washington has just the resources for you to get started, beginning with the Gunn Memorial Library's and the Gunn Historical Museum's frequent virtual events. You can also check out new books from the library or stop by Hickory Stick Bookshop to get personal reading recommendations. Or get inspired by attending a virtual event:
Photo credit: @hickorystickbookshop
Fresh Food
There are many great things about the Washington food scene, and the fresh options from local farms and eateries make healthy eating accessible. Consider the benefits of organic and locally grown food readily available at the Smithy, Washington Food Market, and when the season begins at the Farmers Market and roadside farm stands. Our local farms also have CSA programs where you can sign up to get produce directly from our farms. Explore our local farms and their offerings.
Photo credit: @waldingfieldfarmct
Photo credit: @farmersandcooks
Fresh Eyes
Washington is known for its rich arts and cultural life, and there are many wonderful options for enjoying the arts. The Washington Art Association has its 2021 Member Show starting on Saturday, January 16th. The Gunn Memorial Library's Stairwell Gallery is exhibiting Megan Marden's "Recent Paintings" and KMR Arts has on view Christopher Russell's unique exhibit of abstract work. Looking to get started on some art projects yourself? The Washington Art Association also has workshops and classes that will get your creativity flowing.
Photo credit: @kmrarts
Photo credit: @washingtonartassociation
Fresh Nest
As you take down your holiday decor and open the chapter on a new year, consider a new look for your interiors – especially as we are spending much more time indoors these days! The home decor shops in New Preston and the Depot are a veritable design mecca, with an abundance of one-of-a-kind pieces, antiques, and art. These curated collections offer a range of styles and aesthetics. Not sure where to start? The shops offer interior design services, as do the talented designers in town, who can help you transform your space to suit your needs and personal style.
Photo credit: @privethouse
Photo credit: @dawnhillantiques
Fresh Style
Fashion is not only about how we look, but also about how we feel. Take the time to infuse some excitement into your wardrobe and have a fresh fashion start to the year. Try a new look, or just a little fashion zhuzh, with the help of our fashionista shop owners. There's a new style out there for everyone, and there's no better time than now to add a little flair to your look.
Photo credit: @plaingoodsshop
Photo credit: @jseitzco
Fresh You
Especially after the challenges of 2020, let's not forget about our own self-care. Say goodbye to that quarantine haircut – you'll be in good hands at our local salons and spas. Start the year with a refreshing facial or body treatment. Get a transforming cut and color at Salvatore Anthony's or Byrde + the b. Build and support your immune system for a healthier and more balanced lifestyle with treatments and classes at Valley Spirit Wellness Center. The Mayflower Inn & Spa's new holistic wellness experience at THE WELL offers body, skin, and chinese medicine treatments that take a fresh approach to all things beauty and wellness. And for those planning a restorative visit to Washington, THE WELL offers a 4-day Release & Reset Retreat. Washington is the ideal wellness destination for body and soul!
Photo credit: @mayflowerinnandspa
Wishing everyone a Happy and Healthy New Year!
We'd love to see how you're kicking off the new year in Washington – tag us @explorewashingtonct