Jazz is Back! Litchfield Jazz Festival Returns to Washington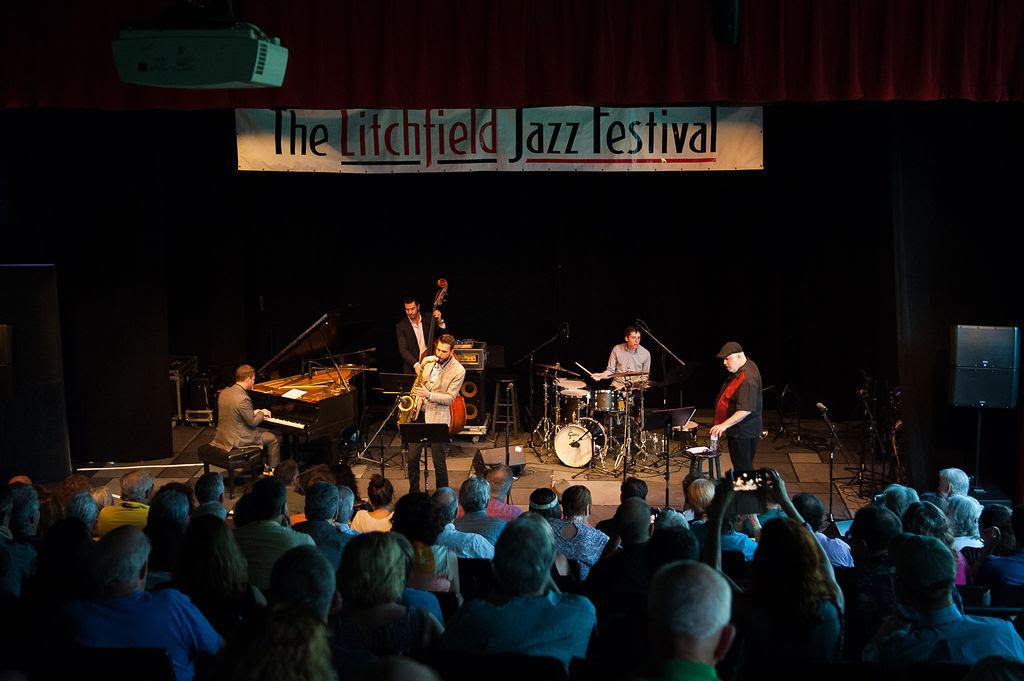 Photo credits: Lindsey Victoria Photography
A summer in the Litchfield Hills is always green and glorious, but how much sweeter it becomes when the strains of jazz, pure and beautiful, are carried on the summer wind. We're very excited to welcome the internationally acclaimed Litchfield Jazz Festival to Washington this July 29th – July 31st!
The Festival presents high-quality music concerts featuring top jazz artists and up and coming musical talent. Join us for an amazing weekend of live music, art exhibits, artist talks, and more. The Festival is a proud production of the not-for-profit Litchfield Performing Arts. As we get ready to enjoy this unrivaled cultural experience right here in Washington, we had an inspiring conversation with Vita Muir, Litchfield Performing Arts Founder, Executive & Artistic Director, and doyenne of jazz.
How did the Litchfield Jazz Festival start?
Back in 1981, my husband and I began to invite friends into our home to enjoy concerts and it just grew from there. In 1983, we became a 501(c)(3) dedicated to changing lives through the arts. We brought classical and other concerts to schools and churches. From those early roots, we went on to found the Litchfield Jazz Festival in 1996 and Litchfield Jazz Camp in 1997.
What brought the festival to Washington?
After many years in an outdoor setting, we were scouting for a new location that would accommodate indoor concerts in a community that would embrace our mission. We had great success with Litchfield Jazz Camp at the Frederick Gunn School campus and decided to relocate to Washington for the Festival also. A majority of this year's Jazz Festival will be held at the Thomas S. Perakos Arts and Community Center on the Frederick Gunn School campus.
Litchfield Jazz Festival performance
The Jazz Brunch at The Frederick Gunn School in Washington
"Being in Washington has given us a chance to have a unified identity for both the Jazz Camp and the Festival. The Town of Washington and the Frederick Gunn School have been extremely helpful and welcoming, known for their passion for and patronage of the arts."
– Vita Muir, Litchfield Performing Arts Founder
What will be new at the festival this year?
One thing remains the same – the music, as always, will be outstanding! There will be many new performers and an amazing lineup of talented musicians. From young vocalist Samara Joy performing Friday evening after the Gala, to an all-star lineup on Saturday to the close on the 31st, and the Sunday Jazz Brunch. This popular party will be held in the pretty Bourne Courtyard and serve a fabulous New Orleans Style Brunch. A great band will be led by saxophonist Albert Rivera and feature all stars, including Michael Buble's trumpeter Jean Caze, and Grammy-nominated vocalist and featured singer with the Birdland Band, Nicole Zuraitis. This year's festival will be spectacular, I promise.
Samara Joy will be performing on July 29th
Albert Rivera will be performing July 31st. Photo by Nathan Turner.
Tell us about Jazz After Work
We're excited to continue to present "Jazz After Work", an entire month of free concerts that will be held on weeknights on Mondays, Tuesdays, and Thursdays throughout July. These concerts will include performances by renowned Litchfield Jazz Camp instructors. Every Friday night our student combos play and the public is welcome to come hear them, too! Who knows, you may hear a budding Emmet Cohen or Ambrose Akinmusire. Jazz After Work concerts run from 7:30pm – 8:45pm from July 4th through July 28th on the Frederick Gunn School campus in the Tisch Family Auditorium. The Jazz After Work lineup will be posted shortly on the Litchfield Jazz Camp's website.
And of course, there also is the Litchfield Jazz Camp
Yes! The 26th Annual Litchfield Jazz Camp takes place July 3rd – July 29th at the Frederick Gunn School campus. The camp serves 60-120 residential and day students each week during July. The camp's philosophy is simple: We start with a faculty of amazing and inspiring jazz musicians, and to that we add eager music students in a non-competitive program. Litchfield Jazz Camp embraces all learners, including students from 13 years to adult, beginners, intermediate and advanced players, students with learning disabilities, and others – a truly inclusive experience.
Learn more about Litchfield Jazz Camp
Lessons at Litchfield Jazz Camp
Talented students of Litchfield Jazz Camp at Frederick Gunn School
What do you see in the future for jazz in general?
I believe that the future for jazz is bright, largely because so many young people have become passionate about the genre. Programs such as our Jazz Camp are making music accessible to students, inspiring and nurturing a new generation of jazz musicians. Many of our own kids are out there playing with the best artists at the best clubs and festivals. It makes me proud to be a part of it.
Learn more:
View the Litchfield Jazz Festival 2022 Lineup
Purchase Tickets for Litchfield Jazz Festival
Photos provided courtesy of Lindsey Victoria Photography.
View more of her work at: @lindseyvictoriaphotography.
Litchfield Jazz Festival Brunch at Frederick Gunn School
Vita Muir, Litchfield Performing Arts Founder, with Frederick Gunn School's Jesse Perkins, Director of Summer Programs, and Peter Becker, Head of School