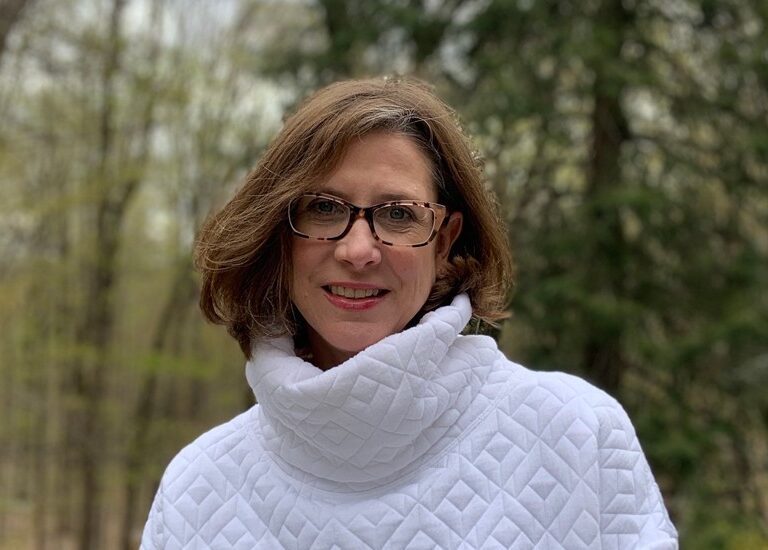 Laura Neminski, Executive Director
Occupation: Executive Director, The Judy Black Memorial Park and Gardens
Years in Washington, CT: 26 years
The Judy Black Memorial Park and Gardens is truly the hub of Washington. From art exhibits and concerts to lectures and outdoor movies, there is always something exciting happening at The Park that brings our community together. To get a behind the scenes look at this town gem, we sat down with its Executive Director, Laura Neminski. Laura not only spoke to us about The Park and all the great upcoming events on its schedule, but also shared her Washington story and why she loves our town so much.
When did you first come to Washington?
I am originally from Texas. My husband and I moved to Washington from Austin in 1993. We both were in the hotel industry at the time and working for the Four Seasons. My husband was in fine dining and a friend asked him if he would be interested in a job at The Mayflower Inn. That's what brought us here. I ended up working part time at The Mayflower in sales while managing an estate for a local family on the side.
We moved to a nearby town in 2000 when my husband switched jobs. But, my life is still very much here in town. Both of my boys attend the Washington Montessori School and a lot of our dear friends live in town. And, of course I work for The Park!
What was your first impression of the town?
I just fell in love with Washington! Where I am from in Texas, we do not have seasons. So, getting to see the great colors of the fall and the snow is lovely. There is also something very magical about living out in the country. I feel very privileged to live in this area as it is not only physically beautiful, but also there are so many things to do. There is so much culture and entertainment here in Washington for such a small town. It is truly a great place to live as well as raise a family.
How did you get involved with The Park?
A good friend of mine that was closely involved with the creation of The Park told me that they were looking for someone to be its executive director. Now, I have a somewhat unusual background. I worked for several different organizations doing event planning and I managed a family estate for almost 25 years. So, when my friend approached me about this Executive Director position, it was definitely something I was interested in and I thought it really fit for me. I came aboard in May 2018 and it has been wonderful!
What motivated you to want to work at The Park?
Well, I knew about The Judy Black Park and Gardens project and its history in town. I just really wanted to be involved in something that had such a beautiful concept. The Judy Black Park was made for the community and it's a place for everyone to enjoy. It's has become a gathering space for Washington where residents and visitors can come to relax, listen to music, watch a movie, learn something new, and enjoy each other's company. I was excited to be a part of this beautiful place and give back to a community that I really cared about.
The Judy Black Memorial Park and Gardens
Outdoor Movie Nights at The Park
What do you think makes The Park such a special place in town?
It provides a hub or anchor for the town. I hear stories all the time of people using The Park as a meeting place or simply stopping in or relaxing in the gardens when they come to the Depot to run errands. It gives the town a really different feeling. But, I think the most important thing about The Judy Black Park is it unites the town and brings the community together. We hold some amazing events throughout the year and most are free and open to everyone.
Speaking of events, what can we expect to see at The Park this spring and summer?
I can tell you that The Park is going to be very busy this spring and summer! We have many exciting events coming up. Beginning in June, we will be holding our beloved Outdoor Movie Nights that coincide with the First Fridays in the Depot. Throughout the summer, we have an exciting lineup of artists that will be displaying their works on our walls. We are very fortunate to have this base of local artists who do wonderful work that is perfect for our space. Vincent Giarrano will be showing his works in June and will be our Artist in Residence. Peter Wooster will be here in July, and Catherine Erb will have an exhibit here in August.
Of course, we also have the Farmers Market beginning on June 1st. We are going to have a great opening celebration with live music and activities for the kids. The Farmers Market will run on Saturdays through October. Additionally, we have partnered with Art Room Atelier to hold "Creative Afternoons with ARTROOM" for children throughout the year. We held one in February and will be having another creative afternoon in May and in August.
Most importantly, The Judy Black Park will be holding a FUNraiser on July 13th. I can't share too much information yet, but I can tell you it's going to be a wonderful evening to benefit the programming we do at The Park.
We actually just revitalized The Judy Black Memorial Park and Gardens website, so more information about everything that is happening at The Park can be found on our events calendar.
Arts & Crafts for Kids
Music concerts at the Judy Black Park.
Are you involved in any other organizations in town?
Yes! I am involved with the Conversations On the Green. I mostly help with the day-to-day coordination of the events. We are currently in our seventh season and we have a great lineup of panelists and speakers for this year. What is great about this organization is that it not only brings authors, journalists, politicians, scientists, doctors, artists, and actors to Washington to speak about pertinent issues, but also all of the proceeds from the events goes to charity.
Also, I have volunteered at the Gunn Memorial Library. I helped them with some administrative tasks when they were holding their antique show. I was their liaison for the antique dealers. Additionally, since my kids go to the Washington Montessori School, I volunteer there. I work in their development office and I helped managed their auction for the past three years.
What do you think makes Washington so special?
For me, a big selling point for the town was just how beautiful it is. The natural surroundings are just breathtaking and the buildings and architecture are stunning. But, what I think makes Washington most special is the community. The community here is very engaged and the people truly care. As a result, the town is so vibrant and full of enriching experiences. Also, it's a wonderful place to raise a family. There are so many things to do for kids in town and the school systems are just fantastic. We're so very happy to be here!
For more information on The Judy Black Memorial Park and Gardens and upcoming events at The Park, please see our events calendar or the Judy Black Park's website.
Favorite Washington Bites
Veggie sandwich at The Pantry
English muffins at Hidden Valley Eatery
Waramaug sandwich at 9 Main Bakery & Deli
For the Kids
Hiking at Steep Rock
Summer camps at ASAP! and Pilobolus
Outdoor movie nights at Judy Black Park
Must See
Earth Works Sculpture at Titus Park
Steep Rock Summit
The Judy Black Memorial Park and Gardens, of course!
Night Out with Friends
G.W. Tavern
The Mayflower Inn
The Owl Wine Bar
Photo Credits:
Top Portrait-Jackson Neminski