Spring Hill Arts Gathering 2021: A Magical Experience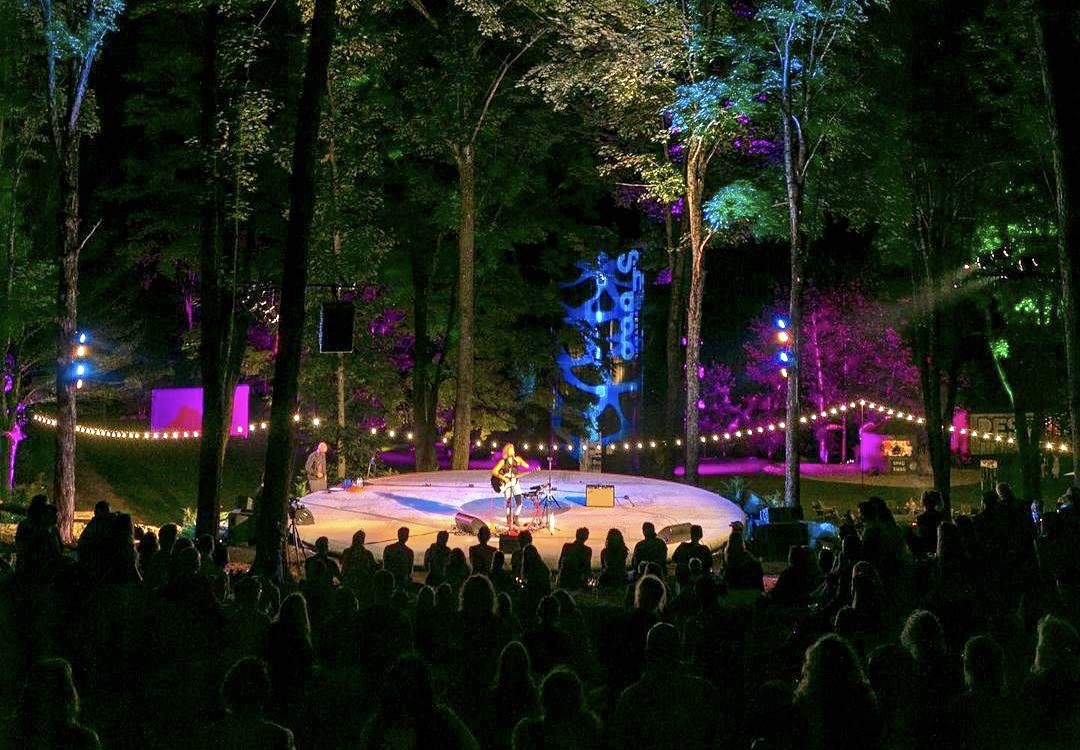 This summer brought the exciting debut of the Spring Hill Arts Gathering (SHAG) in Washington. The multi-day outdoor festival brought in hundreds of guests and hosted over 50 performances, art installations, and activities for attendees to enjoy and celebrate community.
@springhillartsgathering
@springhillartsgathering
Visitors gathered together to enjoy cultural experiences and amazing performances during the festival, including Pilobolus, Connecticut Ballet, Brother(hood) Dance, Ariana Debose, Etienne Charles and Creole Soul, Danielle Ponder, and the Doo Wop Project, to name just a few. Art installations abounded, including the magical #beebrookgrotto art installation in The Silo by artist Randy Polumbo, a pop-up studio with painter Russell Craig, cofounder of Right of Return, artwork by Lauren Booth, a site-specific installation by Fared Manzur, and many more talented artists. Interactive programs and special four-legged guests of Got Your Goat created endless smiles and fun for attendees of all ages. Check out the exciting lineup of events that were enjoyed by audiences from near and far: www.springhillartsgathering.com
@springhillartsgathering
@springhillartsgathering
@randypolumbo
@springhillartsgathering
The SHAG festival was also excited to introduce new culinary experiences each day, with meals by Chef Norberto Piattoni and The Modestos, Arethusa Farm, Joel Viehland, The Community Table, BD Provisions, Farmers & Cooks, Shake Shack, the first SHAG Market, a beverage menu by Zachy's, and more. There were some delicious meals enjoyed by all, to say the least!
@springhillartsgathering
@springhillartsgathering
On July 31st, SHAG collaborated with Pride in the Hills for an exciting celebration featuring performances by Alex Newell, Sophie B. Hawkins, Mila Jam, Shequida Hall, Jeremiah Lloyd Harmon and others. The night brought everyone together for a spectacular evening!
@youneverknow58
@unlockingconnecticut
And finally, the last day of the SHAG festival featured the Washington Town Party with a variety of family activities (including playtime with baby goats!), community organizations, performances by Jim Keller, Saints & Liars, amazing food, and more, along with the Tribute to Town Heroes ceremony.
The ceremony was led by First Selectman Jim Brinton and Economic and Community Development Coordinator Michelle Gorra to pay tribute to true town heroes who have positively influenced the lives of so many residents with their selfless service:
Mary Anne Greene of the Selectman's office, for coordinating all of the grocery deliveries during COVID as well as the COVID fund requests.
Kevin Smith, our Highway Department Director for handling all the storms as well as delivering all the groceries during COVID.
John VandenBosch , owner of GW Tavern for providing 300 free meals once a week for 6 weeks in April and May 2020 during the beginning of COVID.
Megan Bennett, Superintendent of Region 12 schools, for doing s superb job keeping our children safe and our schools open.
Jay Combs, former co-owner at the Washington Supply Company, for his many years of service to the community and for being open during COVID to help supply what the community needed.
Much gratitude to our 2021 heroes and everyone who shared their heartfelt tributes!
Many thanks to the Ingrassia family for bringing this amazing experience to Washington. We look forward to seeing everyone at the SHAG Festival in 2022!
Share your experience with us!
Tag @explorewashingtonct to be featured.