The Gunnery Breaks Ground On New Arts and Community Center
On June 9th, The Gunnery celebrated an exciting milestone in its history as it broke ground on the Thomas S. Perakos Arts and Community Center. Alumni, trustees, parents, students, faculty, and friends were all on hand to witness this special occasion and the start of a new chapter for The Gunnery. Head of School Peter Becker and principal donor Thomas S. Perakos spoke to the enthusiastic audience before breaking ground with much fanfare.
The new Arts and Community Center, planned for completion December 2019, will be a game-changer for the school and for the Washington community. At 32,000 square feet, the center will be the largest building on the Gunnery campus. It will house a state-of-the-art, 415-seat performing arts theater in addition to classrooms, art studios, gallery spaces, and instrumental rehearsal spaces. This represents a major step in The Gunnery's plans to redesign its campus, as well as a vital asset to bring its visual and performing arts programs to a whole new level.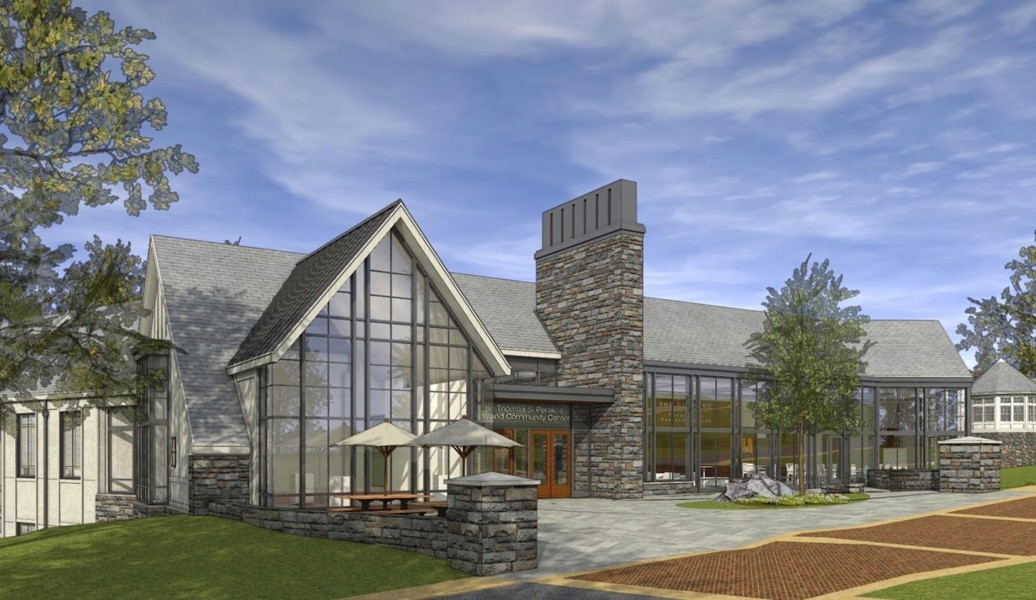 Thomas S. Perakos Arts & Community Center
Peter Becker explained how the new center will provide students with opportunities to create and engage in unprecedented ways. It will diversify the arts programs and enhance the overall curriculum of the school, which will benefit generations of Gunnery students to come. And embracing Mr. Gunn's philosophy, the new Center will be an exciting bridge to the Washington community for performances, events and community gatherings. Becker expressed the school's deep gratitude for Tom Perakos for wholeheartedly believing in the project and for his incredible generosity.
Head of School Peter Becker with Trustees and Faculty
Tom Perakos breaking ground
Tom Perakos is a Tony-winning Broadway producer who graduated from The Gunnery in 1969. With his notable career in theater, film, and the arts, his expertise and guidance on this project is immeasurable. After the groundbreaking ceremony, he was kind enough to speak with us and share his excitement for the new center.
What motivated you to create this amazing Arts and Community Center for The Gunnery?
My time as a student at The Gunnery was just incredible. I owe a tremendous amount of gratitude to my teachers Wally Rowe and Norman Lemcke, who provided me with advice and so much support during (and even after!) my time at The Gunnery. They were beyond terrific.
This school as a whole is a very nurturing environment and one that truly prepares you for life beyond the classroom. It is just an incredible place and the students are fantastic. I am very happy to be able to help The Gunnery advance its arts curriculum. It brings tears to my eyes to think that what I helped to create will benefit the lives of the students and the community for generations to follow.
How will the new center impact Washington?
Washington is just a stunning town. When I was driving here, I was just amazed by its physical beauty. The town's natural surroundings are unparalleled and there is truly no place as warm and welcoming as Washington.
When this project was being formulated, it was always paramount in my thinking that we make a building that could be used by both the school and the community. I wanted to make something that would benefit the arts and cultural programming in town and give the community a space to hold their events. In fact, I plan on bringing Broadway professionals from New York to Washington as part of cultural and educational programs.
Tom Perakos addressing the crowd
Tom Perakos with family and friends
Editors Note:
We want to thank Tom Perakos for taking the time to speak with us at the groundbreaking ceremony as he was heading back to New York that evening to prepare for his appearance at the Tony Awards. His productions of The Band's Visit and Carousel were nominated for a combined 22 awards. We are happy to report that his plays won 12 Tony Awards, including best musical for The Band's Visit.
Congratulations Tom on your smashing success. We hope to see you back in Washington very soon!
More info:
For more information about the Thomas S. Perakos Arts and Community Center, please visit The Gunnery website. We look forward to seeing The Gunnery's new Arts and Community Center come to life and we will keep you updated as the building progresses