WAA Sculpture Walk Opening Weekend Recap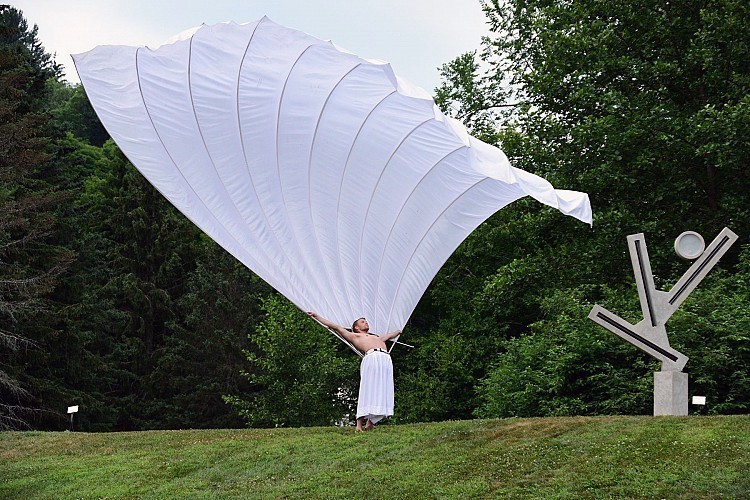 On July 14th, the Washington Art Association & Gallery celebrated the opening of their incredible outdoor sculpture exhibit. Guests from far and wide, and from around the corner as well, came to tour and interact with the remarkable sculptures dramatically sited within the lovely setting of Washington Depot. The opening afternoon featured special activities for children and families, artist talks, and amazing performances by the highly acclaimed dance company MOMIX. The Explore Washington CT team was on hand to capture the excitement during the festivities. Check out our photos and brief video below for a recap. Visit WAA Sculpture Walk this summer and fall – and enjoy this unique experience yourself!
WAA Sculpture Walk 2018 is a public art exhibition featuring over 40 internationally and nationally recognized artists and emergent sculptors with over 60 works sited throughout Washington Depot. Curated by WAA Trustees Mark Mennin and Barbara Talbot, the exhibit is organized by WAA in collaboration with community partners, the Town of Washington CT, many generous supporters, and volunteers. The Sculpture Walk will run until November 1st, 2018.
Resting alongside Heather (Philip Grausman / 2009 / white fiberglass painted matte white)
Visitors gathered in front of WAA (Mountain Goats / Lauren Booth / 2017 / Neon, Vinyl, Plastic, LED)
MOMIX "Manfan" performing next to Airport by William HM Talbot.
Artist Timothy Hochstetter with his sculpture, Tertian Flora
Airport / William HM Talbot / 1974 / Concrete, Black Lights
"Dinosaur Skeletons" by MOMIX
"New Preston Bike Gang" volunteering as sculpture tour guides
To view a map of WAA Sculpture Walk 2018 and to learn more about the featured artists, visit WAA's Sculpture Walk website.
Explore Washington CT will be following the WAA Sculpture Walk until it closes in November. Be sure to check our Blog and our Featured Events calendar for news and updates.