A Day in the Life in Stars Hollow: A Gilmore Girls Guide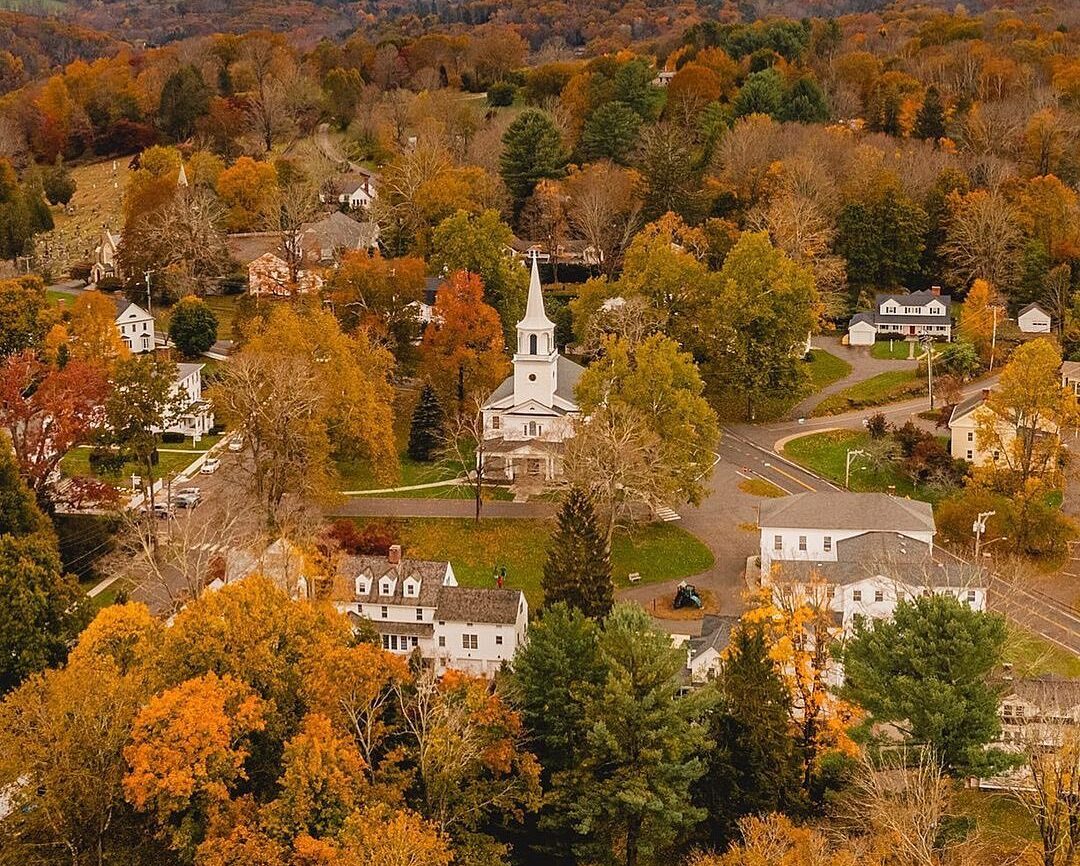 @livelovelytravel @worldsofdiscovery
To all the Gilmore Girls fans out there, it's no secret that the fictional town of Stars Hollow is based on Washington, Connecticut. The writer of the ever popular Gilmore Girls, Amy Sherman-Palladino, famously stayed at the Mayflower Inn while creating the pilot and the fascination with Stars Hollow continues. Fall is a wonderful time to explore the inspiration for Stars Hollow and to enjoy a day in the life of your favorite Gilmore Girl character!
A Day in the Life of Lorelai
Lorelai morning absolutely has to begin with coffee, coffee, coffee! Head over to The Po Cafe on the Washington Green, where you will find a selection of locally roasted coffee, espresso beverages, cold brews, and more. And while you're there, pick up a delicious breakfast sandwich, pastry, or their famous Pop Tart while enjoying the ambiance of the Washington Green.
Next, head over to Washington Depot and New Preston village for a bit of shopping! You'll find a great selection of clothing and accessories at Five Janes, unique home decor finds at George Home, and handmade and local treasures at Washington Curated. While in New Preston village, make sure to stop by J. Seitz & Co. for stylish apparel and visit DK Schulman Design for an array of colorful gift items and gorgeous stationery. And the final stop is Sweeets, where you can fill up a candy bag of red vines, gummies, and gourmet chocolates for your next movie night, Gilmore Girls style.
A Day in the Life of Rory
Rory's day in Stars Hollow would begin at Marty's Cafe grabbing a coffee and a pastry. Then, head next door to the Hickory Stick Bookshop where you can get lost in the world of books browsing the latest novels and best-sellers. The Hickory Stick has even put together a "Rory Reads Book List" so you can find your next book with inspiration from Rory.
Next, enjoy a stroll on the Washington Green and find a cozy spot to break open that new novel. While you're there, take a look at the current exhibit at the Gunn Historical Museum to learn all about the history of Washington, or view the latest art exhibit at Gunn Memorial Library's Stairwell Gallery and check out all the upcoming book discussions and author talks happening at the library while you're there!
A Day in the Life of Sookie
Enjoy a Saturday morning through the eyes of Sookie at the Washington Farmers Market where you can find the most fresh and delicious locally grown produce, along with pasture-raised meats, specialty cheeses, fresh seafood, gourmet prepared foods, breads and baked goods, and more. The Washington Farmers Market is held every Saturday from 10am-1pm at Judy Black Park through November 19th.
And to enjoy a great meal that would certainly wow Sookie, make sure to visit Washington's award-winning restaurants, including White Horse Country Pub & Restaurant, GW Tavern, Community Table, and Flemming's Hidden Valley Restaurant. Or put on your apron and make dinner yourself with inspiration from the "Eat Like a Gilmore" Cookbook!
Washington Farmers Market
A Day in the Life of Luke
Luke would love a day off from the diner where he can spend the day solo browsing through the hardware store and picking up supplies for his latest project. Visit Washington Supply Co. to find more than just tools and hardware, but an array of houseware items, art supplies, fishing gear, and outdoor living products for your home and garden.
Then head over to explore the peaceful nature trails at Steep Rock Preserve and Macricostas Preserve, try your hand at fishing at Lake Waramaug or in a quiet spot by the Shepaug River at Hidden Valley Preserve.
A Day in the Life of Emily
For the ultimate day in the shoes of Emily Gilmore, look no further than a day at The Mayflower Inn & Spa. The WELL at the Mayflower Inn offers exceptional treatments for all things wellness and relaxation, including deep tissue massages, facials, body scrubs, reflexology, and more. Or you give yourself a refresh with a mani-pedi or blowout and a hair treatment at Byrde + the b.
Then head over to the design shops in New Preston and see what catches your eye at Dawn Hill Antiques, Privet House, Pergola, or Louis CT. To spruce up your wardrobe with some fine pieces, make sure to visit J.Seitz & Co. or Plain Goods for clothing, and Hays Worthington for gorgeous estate and period jewelry for the Emily in your life.
A Day in the Life of Miss Patty and Babette
Bring your best friend and enjoy an afternoon of knitting and chatting through a day in the life of Miss Patty and Babette! Visit Stars Hollow Yarns to pick up a new set of colored yarns for the fall season and pick a spot to sit and knit at the Washington Town Green.
Then on Fridays in October, you can bring your bestie to enjoy the latest Music on the Green concerts or share a bottle of wine by the firepit at Hopkins Vineyard. Then on Saturday or Sunday, head over to Spring Hill Vineyards to enjoy a picnic and wine tastings and explore their immersive Bee Brook Grotto art installation nested at the top of the repurposed Spring Hill Silo.
Everyone should have a close-"knit" friendship like Miss Patty and Babette.
Explore More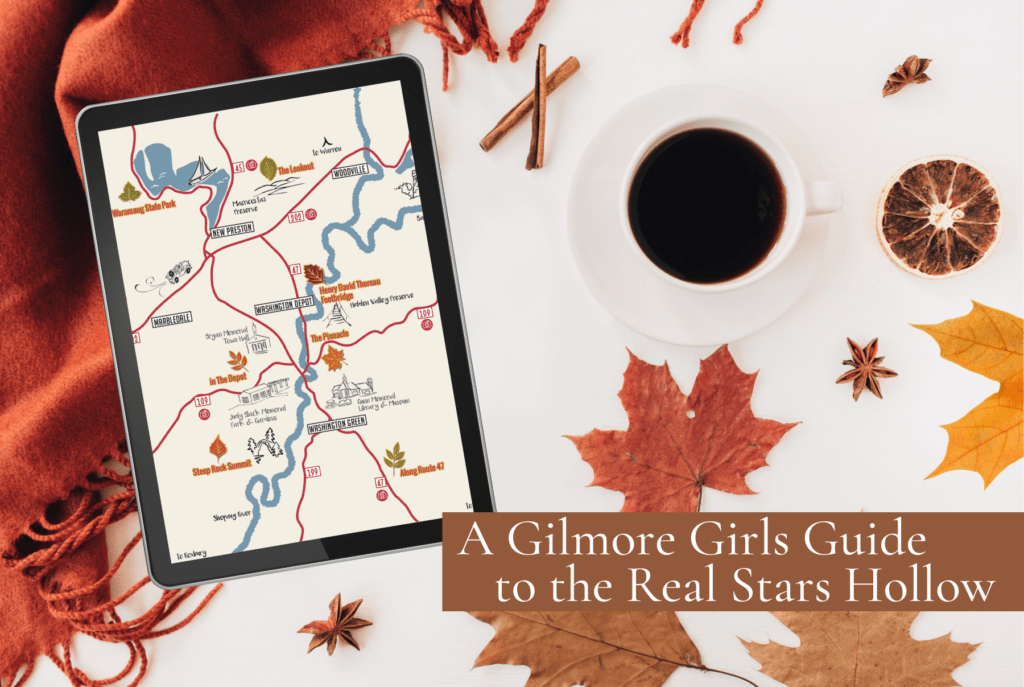 And make sure to view our Gilmore Girls Guide to the Real Stars Hollow for more ways to discover the charm of Stars Hollow in Washington!
Photo credit for the top photo overlooking the Washington Green: Matthew Moran @livelovelytravel @worldsofdiscovery