A Gilmore Girls Guide to the Real Stars Hollow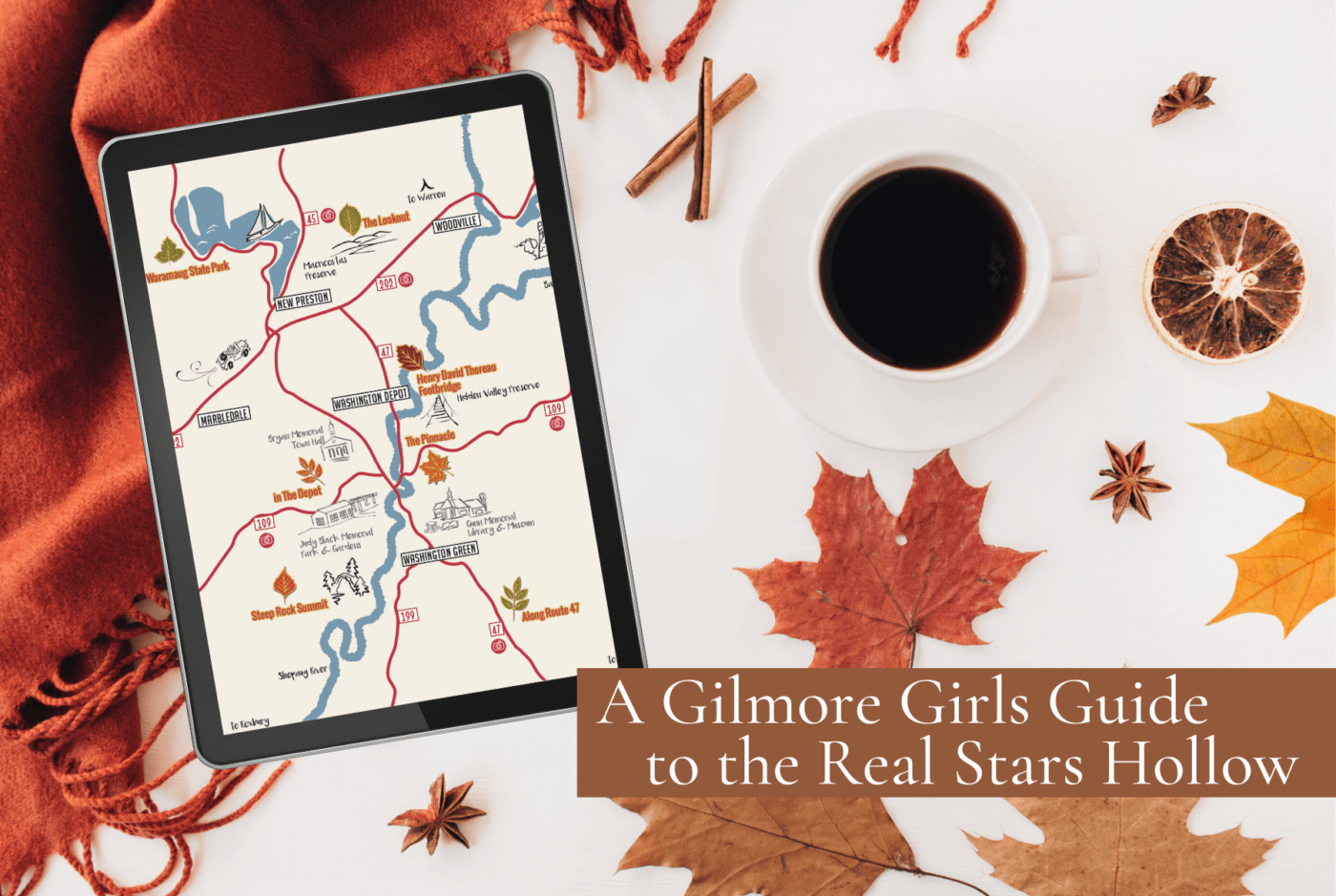 The beginning of fall is such a magical time in Connecticut. The falling leaves are dazzling, the views are breathtaking, and the weather is just cool enough to enjoy a warm cup of coffee – Gilmore Girls style!
For any Gilmore Girls fans out there, you may already know that writer of the show, Amy Sherman-Palladino, stayed at Washington's own Mayflower Inn and used the Town of Washington as her inspiration behind our beloved Stars Hollow. So we invite you to take a trip to Washington to experience Connecticut's "real Stars Hollow" and embrace your inner Gilmore Girl this fall!
First things first, let's get coffee
Washington Depot is the perfect spot to start your Gilmore Girls adventure in our own Stars Hollow. Start with a large cup of coffee from Marty's Cafe or pick up an americano, cappuccino, latte at The Po Cafe. Then, take a stroll to The Pantry where you can pick up a breakfast pastry or two!
"You like coffee?" "Only with my oxygen." – Lorelai Gilmore
Pumpkin spice lattes at The Po Cafe @thepocafe
See what Rory reads at the Hickory Stick Bookshop
Stars Hollow just wouldn't be the same without its small-town bookstore, and we can say the same for Washington! Visit the Hickory Stick Bookshop where you can find the latest bestsellers, new arrivals, and stationery. The Hickory Stick has even put together a "Rory Reads Book List" that you can get started on while sipping on your second (or third) cup of coffee! If you are looking for a keepsake to take home, go across the street to Five Janes, a charming boutique where Rory and Lorelai would love to shop.
"I live in two worlds; one is a world of books." – Rory Gilmore
A novel from the Hickory Stick Bookshop and a coffee from Marty's @danis_fairytale
Go on a stroll through the historic Washington Green
The Washington Green Historic District is a great place to view small town colonial architecture, much like that of Stars Hollow. The First Congregational Church Meetinghouse might remind you of Stars Hollow's church in the center of town. From the Washington Green, we invite you to visit the Gunn Historical Museum where you can participate in a self-guided tour of "Washington, CT: An American Story" that will bring you back in time for a fascinating history of Washington, much like the Stars Hollow History Museum which was the former home of old man Twickum!
"Now, I don't know what all your plans are, but the grand opening of the Stars Hollow Museum is this morning. Any takers?" – Lorelai Gilmore
Cemetery Tour at the Gunn Historical Museum
Go on a window shopping stroll in New Preston
New Preston Village has beautiful local shops that are nothing short of charming. While window shopping, you can embrace your inner Lorelai by finding stylish accessories at Plain Goods, J. Seitz & Co., and Privet House. Or embrace your inner Rory and see what new stationery and writing supplies will catch your eye at D.K. Schulman Design. And before you go, make sure to stop by Sweeets for red vines and chocolate to satisfy that Gilmore Girl sweet tooth.
"It's all stuff I need or want or think I might someday need or want." – Lorelai Gilmore
Window shopping in New Preston Village @newprestonct
A short walk to the Thoreau Bridge
While hiking is not a typical activity that the Gilmore girls would jump up and down for, we know they would appreciate the cute outfits! If you are wanting to explore the wonderful outdoors, Washington's preserves are breathtaking this time of year. And we have a spot that is just a short walk away and certainly worth the view – The Henry David Thoreau Bridge at the Hidden Valley Preserve. Rory would certainly appreciate the inscribed quotes along the bridge in honor of this poet and philosopher. And if there was an Old Muddy River Bridge in town that would have to be saved with a knit-a-thon, our Thoreau Bridge would be it!
"The universe is wider than our views of it." – Henry David Thoreau
Henry David Thoreau Bridge. Photo credit: @thebuckfstopshere
Finish your Stars Hollow adventure with burgers and dessert
A Stars Hollow adventure wouldn't be complete without the burgers and dessert at the end of the day. Over in Washington Depot, the G.W. Tavern has a great variety classic dishes and dessert options, plus a cozy atmosphere! Or stop in to the White Horse Country Pub & Restaurant for their House Signature Burger and the Royal Melting Chocolate Lava Cake. Then on your way home, grab a delicious pastry from The Smithy Cafe or stop by The Po Cafe for a coffee for the road and get one last look at the Washington Green!
"I would like a cheeseburger, with a side of cheeseburger, and see if they can make me a cheeseburger smoothie." – Lorelai Gilmore
The White Horse Country Pub & Restaurant. Photo credit: @whitehorsecountrypub
Visit Stars Hollow in Connecticut this Fall
For many of us, Gilmore Girls has a special place in our hearts and there's no better way to celebrate our favorite show than walking through Connecticut's own Stars Hollow right here in Washington, Connecticut! And you can view the breathtaking views of fall in Washington using our Fall Foliage Viewing Map. And make sure to tag us on your adventure in "Stars Hollow" at @explorewashingtonct!
Source of all GIFs embedded above: giphy.com. Gilmore Girls Copyright: Warner Bros.