ASAP!'s Ultimate Collaboration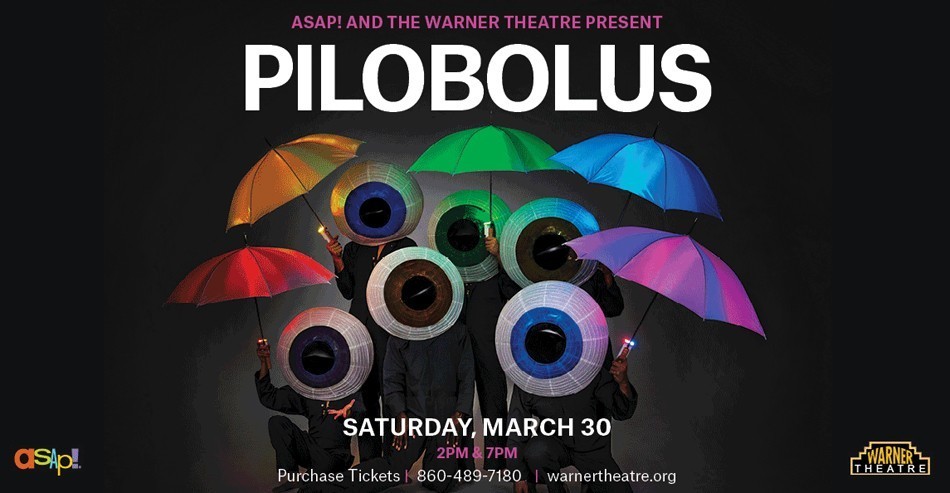 On Saturday, March 30th, ASAP! will be presenting Pilobolus at The Warner Theatre in Torrington, CT. The renowned dance company will be performing an electrifying mix of humor, intelligence, physical invention, and raw athleticism. In addition to the full Pilobolus show, ASAP!'s Ultimate Collaboration with Pilobolus and the American Mural Project will be featured along with the organization's Multi-Generational Community Dance Project.
We recently had the pleasure of speaking with JoAnne Torti, ASAP!'s founder and executive director, about the performance. She was kind enough to give us a behind the scenes look at the show and share with us her excitement for this incredible undertaking by her organization.
How did this performance come together?
ASAP! typically offers the Multi-Generational Community Dance Project every couple of years. In fact, our first community dance project was held right here in Washington with participants ranging in ages from 9 to 65 years old. Last year, our Community Dance Project was held in Danbury and that's when we were asked by the executive director of the Northwest Connecticut Arts Council to bring the project to Torrington.
Since we have been holding programs in Torrington for years, we have a wonderful relationship with the community and we were more than happy to comply with their request of holding the Community Dance Project right in their town. Also, the executive director of The Warner Theatre and I had previously discussed a collaboration and bringing Pilobolus to the Warner, so this seemed like the right time. ASAP! typically presents shows at high schools, so it's wonderful to be in the historic and beautiful art-deco Warner, which was deemed as the finest surviving modernistic theatre in CT.
Can you tell us more about the Multi-Generational Community Dance Project?
Sure! The Multi-Generation Community Dance Project brings people together from all walks of life, ages 14-90. Led by Pilobolus' Artistic Director Renee Jaworski and Education Director Emily Kent, our group will learn the same creative method that Pilobolus uses when they create new work with the company. The community group will explore and discover different ways of interacting, creating, communicating, and making decisions. It challenges participants to take risks and listen to one another as they collaboratively work towards the common goal of creating a piece that will be performed for the public.
This experience enriches lives because what we learn in the workshop is useful in every day life and relationships. It is truly an amazing and once-in-a-lifetime experience that is open to everyone. No matter their background or level of ability, participants always leave the Community Dance Project with a great sense of accomplishment as well as with lots of new friends.
ASAP! Executive Director JoAnne Torti
Ultimate Collaboration Rehearsals
How long has ASAP! been working with Pilobolus?
ASAP! has been partnering with Pilobolus since the beginning of our organization. At ASAP! we believe that when we honor children's imaginations, invite them to create, encourage them to take risks, and trust their resourcefulness, they will become the empowered, resilient, and compassionate adults the world really needs.
We align ourselves with teaching artists who believe in our philosophy and whose teaching reflects our values, which Pilobolus truly does and is why we have had a partnership with them for the past 20 years.
Pilobolus really enjoys working with non-dancers because they come to workshops without preconceived ideas of what movement should be and are open and willing to try all kinds of new ideas.
Why are you calling the performance an "Ultimate Collaboration?"
This collaboration brings together the four cornerstone arts organizations in Northwest CT: ASAP!, Pilobolus, The Warner Theatre, and the American Mural Project. About a year ago, the American Mural Project (AMP), which is an organization that has produced the largest indoor mural in our country, approached ASAP! and wanted to work with us.
Right now, we are working with over 60 kids in grades 4 and 5 from the Forbes School in Torrington. Some are working with Pilobolus to collaboratively create a dance while others are working with the American Mural Project creating a piece of original scenery. Another group of kids are working on the music, which will be used for the dance. So, everyone is coming together to create a piece that will be featured in the full-length Pilobolus show on March 30th. This special project is made possible in part by Carlton D. Fyler and Jenny R. Fyler Fund, a fund of the Northwest CT Community Foundation, which enabled us to make it free for students to participate. And, we always offer financial aid to anyone who will like to participate in our programs, but does not have the means to do so.
Ultimate Collaboration-American Mural Project
Ultimate Collaboration Rehearsals
Is there a theme to the performance?
We didn't have a set theme going into planning the performance because the theme will develop based on the ideas of the groups. This is an opportunity for participants to build the performance from the ground up and create something unique. We will have to wait and see what the participants created.
ASAP! is also celebrating their 20 year anniversary this year! Congratulations!
Thank you so much! Yes, ASAP! is 20 years old this year. I never imagined this organization having so much success and growing in the way it did. I actually founded ASAP! in 1999. That year, I was invited to a meeting by the CT Community Foundation and, at this meeting, they discussed how there weren't any after school arts programs for kids in Region 12. There were programs for sports, but there weren't any programs in the way of enrichment. They wanted to establish an arts program for middle school kids and they asked the attendees of this meeting to bring in ideas. At the following meeting, I presented my idea for ASAP! and everyone seemed to like it and I was asked to take the lead and build the program. Prior to moving to CT, I directed a school and founded a nonprofit arts organization, so this area was familiar. I love the arts and working with children and this was an opportunity to provide a need for the area.
To get us started, Washington Parks and Recreation generously offered to be the umbrella organization for ASAP!. Our program began with 70 kids and grew to over 400 in just five years. We expanded it to include pre-school children and adults and then established a 501(c)(3) non profit in 2004. Currently, we provide programs for nearly 10,000 participants a year in Washington and the many surrounding towns and communities. Without the support of the Region 12 community, this would have never been possible. I am grateful for the Washington community for everything that they have done to help make ASAP! what it is today.
Will you be having a party to celebrate ASAP!?
Of course! On June 1st, we will host a huge celebration at The Gunnery and want to thank our communities far and wide. The evening will start with a live performance showcasing ASAP!s rich variety of programming. With Nicole Tongue as our creative director, the production will be top notch. Following that, we will have a super elegant party under a tent with live music, cocktails, plenty of food, and – a few surprises. We welcome everyone to come celebrate with us.
ASAP! and The Warner Theatre Presents Pilobolus will have two performances ( 2 p.m. & 7 p.m.) on Saturday, March 30th. To learn more about ASAP!'s programs and for tickets to the performance, please visit asapct.org.