The Classic English Gardens At Hollister House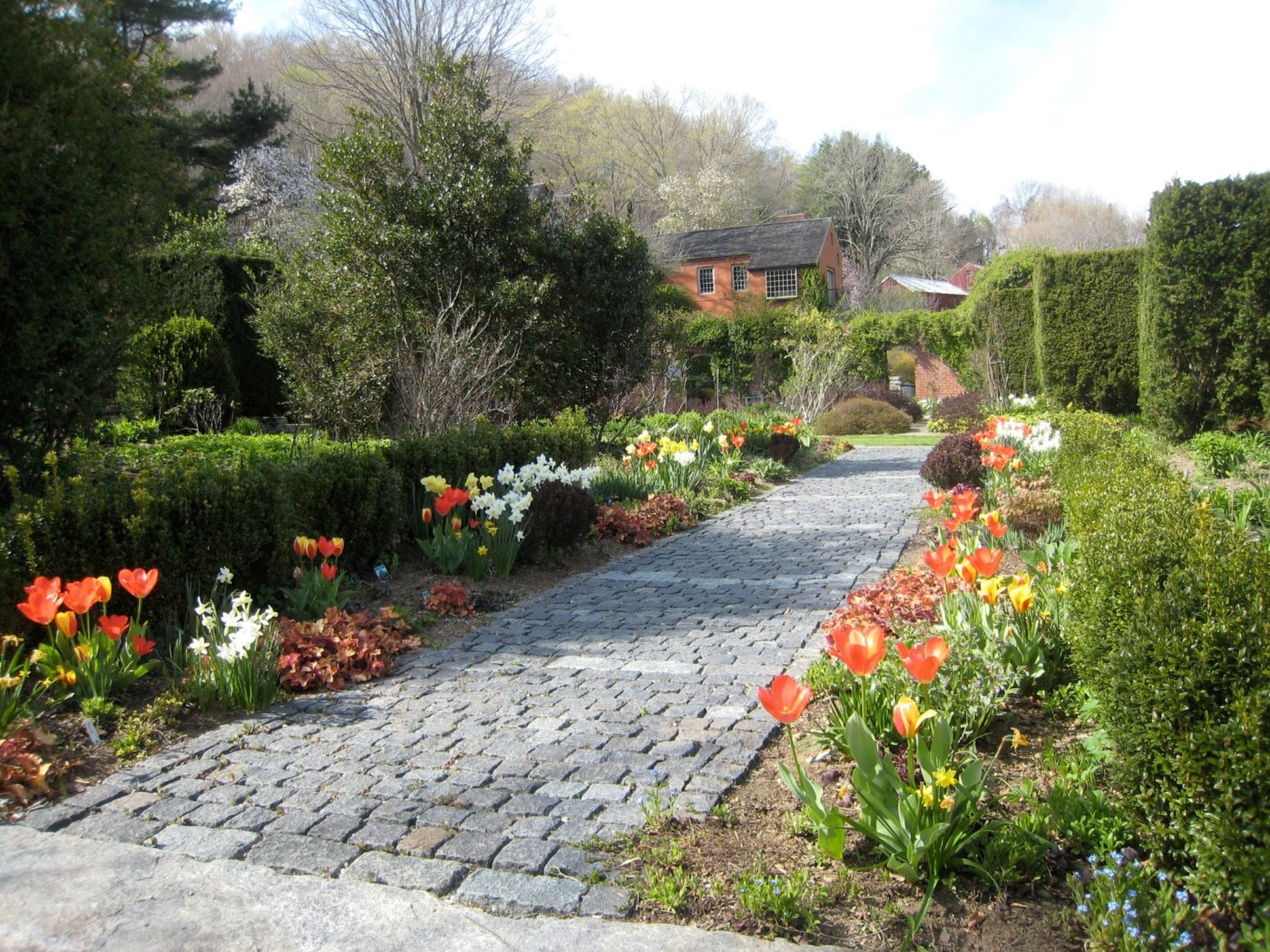 Situated within the rolling hills of Washington, Hollister House Garden is our town's horticultural masterpiece. Since 1979, this re-imagined version of a classical English garden has been attracting visitors with beautiful landscapes, exotic flowers, and breathtaking vistas. Every spring and summer, Hollister House is bursting with color and the magnificent floral designs of owner George Schoellkopf. To get ready for the garden's official opening on April 27th, (and to "think spring" during the current snowstorm!) we have put together our list of five fast facts.
1. History Within the Gardens
Hollister House Garden is comprised of 25 acres of wooded countryside, a historic 18th century home, and a beautiful red barn. It was established back in 1979 by garden expert and antique dealer, George Schoellkopf. He envisioned the land to be an American interpretation of a classic English garden such as Great Dixter and Hidcote.  While it is rather formal in structure, the garden is informal in its style of planting which can be seen in the way its vibrant colors, walls, and hedges all mix seamlessly with the surrounding countryside. In its construction, George not only tried to use antique or handmade materials, but also chose designs that would complement the old 18th century house.  Over the years, George, with help from artist Gerald Incandela, created a lush and exciting garden that has been attracting visitors from both near and far.
2. What's in Bloom?
The garden unfolds from one section to the next with perfectly manicured hedges, exotic flowers, and exuberant plantings. The garden is abundant with beautiful colors, fresh aromas, and always-changing blooms. We recommend frequent visits to enjoy the changing palette!
Late April – hellebores and daffodils
May – tulips and forget-me-nots
June – peonies and roses
July – daylilies and phlox
August – lilies and dahlias
Then, in the early fall, the last of the perennials begin to bloom and the dahlias reach their peak.
3. A Non-Profit and Protected Gardens
Hollister House is one of only 16 exceptional gardens that are currently designated a Preservation Project by the Garden Conservancy. In 2010, the garden received a prestigious listing on the National Register of Historic Places and named a Town Landmark site by Washington. Hollister House is owned by both George Schoellkopf and Hollister House Garden Inc., a non profit organization that is dedicated to preserving both the historic house and the garden. In the future, the non-profit will own and maintain the property for the enjoyment and education of the public.
4. The Red Barn
The large red barn at Hollister House has been a stable on the property since 1770. It was built around the same time as the garden's historic house and it has a very majestic structure with massive oak posts and beams as well as a small 19th century addition. During the winter of 2016, the barn received some much need renovations and, though it was modernized,  the barn was able to maintain its original roof and interior walls. Today, the barn is a bustling event space for Hollister House and will used for the Gardens' new series of educational workshops and lectures titled "Barn Talks."
5. Special Events at the Gardens
Throughout its open season, Hollister House hosts a series of events that keep the gardens quite busy. From educational lectures and demonstrations to plant sales and musical concerts, there always something fun and entertaining to do at the garden after you tour the grounds. Be sure to make a reservation as these events tend to fill up fast. Hollister House opens on April 27th, 2018 and its season runs until October 6th, 2018. Litchfield County residents receive a discounted individual membership of $35, which includes unlimited visits, discounted special events and classes, and many other wonderful perks!
To learn more about the garden and find out about all of their events, check out Hollister House's website. We also want to encourage you to support Hollister House by attending one of their fantastic events, becoming a member, or simply visiting the gardens for an afternoon.