26may2:00 pmFeaturedAuthor Signing with Alfred Kelman - Of Time and the RiverPortrait of a New England Town2:00 pm Hickory Stick Bookshop, 2 Green Hill Road Washington Depot, CT 06793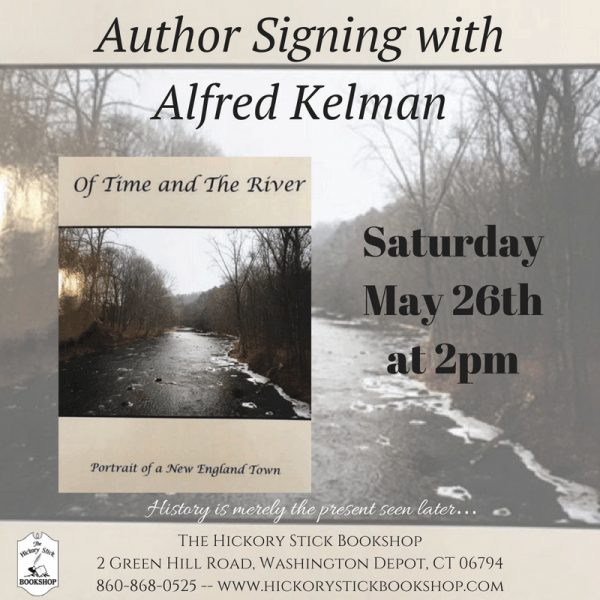 Event Details

The Hickory Stick Bookshop will host Emmy Award winner Alfred Kelman for a signing of his new book Of Time and the River: Portrait of a New England Town on Saturday, May 26th at 2pm.

History is merely the present seen later…Alfred Kelman, an Emmy Award winning filmmaker and longtime resident of Washington, anticipates the history of our town by showing us the people, places, and events of Washington in 2017.  With stunning photography, witty commentary and poetic versus, Kelman's book reveals to us a Washington we live every day.

"This book is not history. […] it is meant to be a visual and thoughtful living pleasure, capturing the diverse sights and sounds of Washington in the year 2017, reinforced with my commentary as well as verse drawn from poets down through the ages." –Alfred R Kelman

Acclaimed Producer and Director of film & television, Alfred R Kelman, is the unprecedented three-time winner of the prestigious Directors Guild of America award for "Outstanding Documentary Achievement." He holds an Academy Award Nomination for The Face of Genius, America's great playwright Eugene O'Neill and is a seven-time Emmy award winner.

There is no fee for this event, and we hope to see you there!

If you are unable to attend this event, you may reserve a signed copy of Of Time and The River: Portrait of a New England Town by calling The Hickory Stick Bookshop at (860) 868 0525.