14apr(apr 14)8:30 am16(apr 16)12:30 pmBushwhacking 101 – Nature Preserve Monitoring: A Volunteer Opportunity8:30 am - 12:30 pm (16) Bryan Memorial Town Hall, 2 Bryan Hall Plaza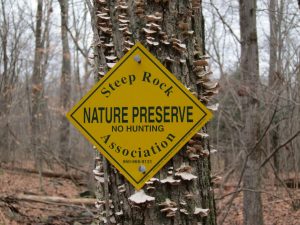 Event Details

SRA invites you to scramble through the remote corners of Washington, and explore the landscape in a truly unique way. Did you know that SRA has over 30 preserves scattered throughout town? These preserves range from marshes to mixed hardwood forest; some are old apple orchards while old growth forests and glacial boulder fields dominate others. The one thing they all have in common is that SRA must walk their boundaries annually, monitoring the preserves for ecosystem health, signs of trespass, and presence of wildlife. This year, we ask for your help. If you have ever driven the roads of Washington and wondered what lay beyond those yellow "Steep Rock Preserve" property signs, now is your chance to find out.

We will start the day at 8:30 a.m. with a 1.5-hour training (coffee and light refreshments provided) at the Bryan Memorial Town Hall, located at 2 Bryan Hall Plaza in Washington, CT. Learn how to use your smartphone as a GPS, what to look for as you walk the preserves, and how to mark and record your findings. Bring a friend or we will match you with a partner, and then drive out to your assigned preserve to begin monitoring. After walking the boundaries and recording any findings, meet back at Town Hall to share your experiences and enjoy a complimentary lunch.

Terrain and hiking difficulty vary widely. Participants will have the option to register for easy, intermediate, or difficult routes. Easier routes consist of hikes totaling less than 45 minutes through flatter terrain and harder ones are hikes over 2 hours through steeper areas. Please note that in all of the preserves, some degree of bushwhacking will be necessary. Participants should wear/bring sturdy waterproof boots, thick pants, long-sleeved shirts, sunscreen, bug spray, a water bottle, a backpack, and cell phone if you have one. An adult must accompany children under 18. Registration by Thursday, April 12 is required. Please use the link below.

PROGRAM LEADERS: Mike Giapponi, SRA's Trails and Preserve Coordinator and newest member of the SRA team, will lead the program. Staff from Weantinoge Land Trust, the largest land trust in CT, will help with training.
Time

14 (Saturday) 8:30 am - 16 (Monday) 12:30 pm
Location

Bryan Memorial Town Hall

2 Bryan Hall Plaza