26sep3:00 pmFeaturedClimate Change: Sunrise or Sunset?Conversations on the Green3:00 pm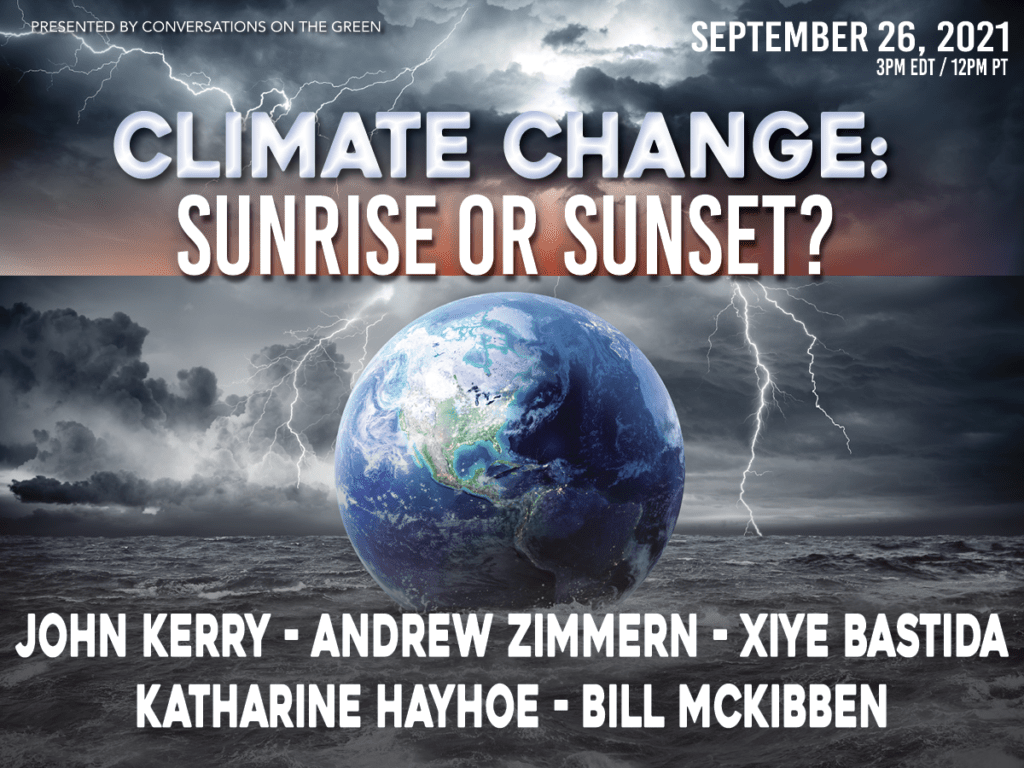 Event Details

The existential paradox of the Climate Crisis is summarized by the cliché that we're the first generation to feel its sting and the last that can do something about it. As the world simultaneously drowns and burns and hundred-year disasters populate the daily headlines, marshaling the collective will to recognize and confront the catastrophe has proved even more insurmountable than flouting the gathering storm.

The gulf between what scientists say needs to be done and the political reality of what is possible seems to widen every day. Even as the Alaskan village of Kivalina slipped into the sea in 2019, the White House worked to dismiss official recognition of the gathering disaster by striking the phrase "climate change" from the government's lexicon.

In the face of this irreconcilable incongruity, a panel of nationally recognized groundbreakers will discuss our path forward on this season's 10th episode of Common Ground with Jane Whitney. It will be a wide-ranging discussion of the toxic mix of science, economics, politics, technology and human nature that now threatens to upend life as we know it. The panel will examine what could break the political logjam, how the issues play in national, state and local elections, what state and local communities are doing to mitigate the congressional stasis, and the role of private citizens and companies.

Our lead panelist is Secretary John Kerry, joined by Bill McKibben, Katharine Hayhoe, Andrew Zimmern, and Xiye Bastida. This interactive conversation, which begins at 3PM EDT on September 26th and runs 90 minutes, will be live streamed, allowing anyone with an internet-connected device to participate and ask questions.