20may2:00 pmFeaturedDiscussion & Signing with Margaret Reed & Joan Lownds - Dogs of Camelot2:00 pm Hickory Stick Bookshop, 2 Green Hill Road Washington Depot, CT 06793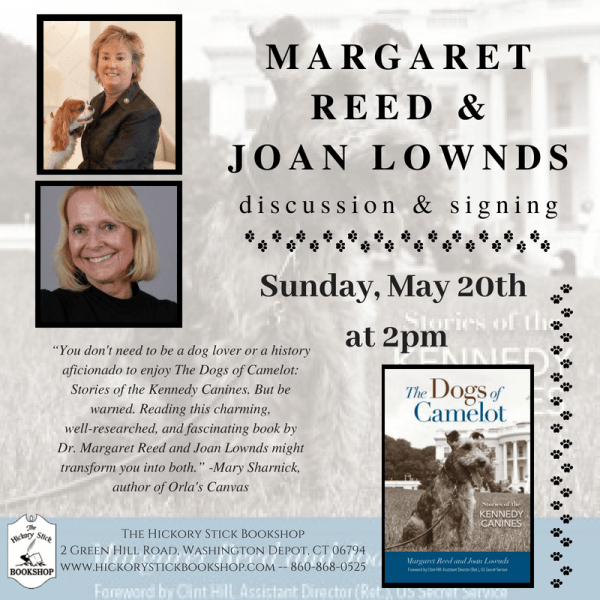 Event Details

The Hickory Stick Bookshop welcomes Joan Lownds for a discussion and signing of her book Dogs of Camelot (Lyons Press, $19.95) on Sunday May 20th at 2:00pm.

Before the tragic day on November 22, 1963, the Kennedy years were filled with hope and promise.  As the White House gardener put it, they were also filled with children and dogs.  The Dogs of Camelot illuminates the inside story of the Kennedy's lifelong love of dogs and the unparalleled canine corps they brought to the White House.  Through cooperation with the Kennedy Library, the authors have accessed rare and previously unpublished photos and stories that present a fascinating angle about the Kennedys that is deeply revealing about their character and compassion.

"You don't need tp be a dog lover or a history aficionado to enjoy The Dogs of Camelot: Storied of the Kennedy Canines.  But be warned.  Reading this charming, well-researched, and fascinating book by Dr. Margaret Reed and Joan Lownds might transform you into both." – Mary Sharnick, author of Orla's Canvas

"An interesting treasury of anecdotal stories that will captivate the reader."-Nancy Tuckerman, former Kennedy White House Social secretary

Dr. Margaret Reed, a nationally acclaimed animal training professional, met President Kennedy and his dogs when she was a little girl on vacation in Hyannis Port. After her moving and unforgettable encounter with them, Dr. Reed found her calling. She also sits on the board of the Kennedy Library.

Joan Lownds is the author of Man Overboard: Inside the Honeymoon Cruise Murder. She has been an award-winning writer and reporter for several Connecticut newspapers and magazines, including The Waterbury Republican-American, The New Haven Advocate, and Fairfield Magazine.

There is no fee for this event, and we hope to see you there!