05aug5:00 pm10:00 pmFeaturedFarmer's Table: No Farmers, No Food!5:00 pm - 10:00 pm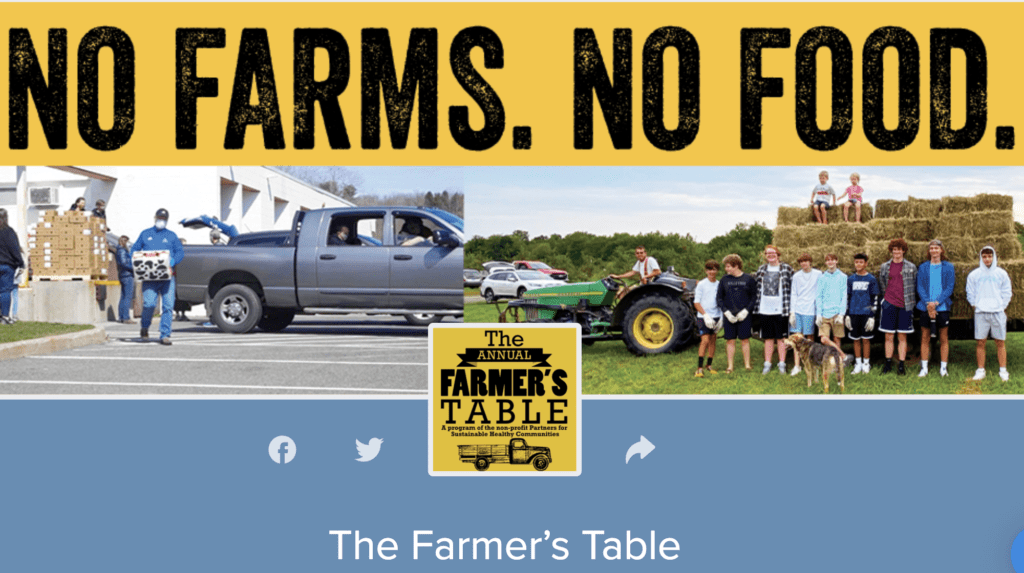 Event Details

This Annual Event Supports the Farmers of Northwestern Connecticut

The Farmer's Table was launched in 2011 at a Warren Farm by a group of friends, all local food advocates. They wanted more people to know how much great local food was being produced throughout Litchfield County and how easy it was to find an enjoy. The group came up with the idea of a harvest dinner that would bring together farmers and residents in dialogue. The dinner was such a success that it became an annual event, doubling in size and moving to a different Litchfield County farm each year.

In 2015, the Farmer's Table was incorporated into Litchfield-based Partners for Sustainable Healthy Communities, Inc., a 501-c-3 nonprofit organization that promotes sustainable agriculture, local food and active, healthy lifestyles in the communities of Northwest Connecticut. Our mission expanded beyond a harvest dinner dialogue with farmers to partnering directly with them to provide those ongoing learning programs and business initiatives that they see as important to their success. It is this larger mission that differentiates the Farmer's Table from other area farm-to-table dinners. In addition, we support both farmers and the broader community by purchasing CSAs from farmers that are donated to programs like Meals on Wheels and FISH.

Our dinner is organized by a dedicated committee of volunteers. The produce and products used in preparation of this community dinner are purchased at market price from Litchfield County farms. Talented local chefs volunteer their time and labor to create this memorable and delicious meal. This year, our 11th, we are thrilled to be hosted by March Farm in Bethlehem which is a fourth generation family farm.
Time

(Saturday) 5:00 pm - 10:00 pm