09nov(nov 9)7:00 pm11(nov 11)7:00 pmFeaturedFrederick Gunn School Theatre Program Presents "Silent Sky"Thomas S. Perakos Arts and Community Center7:00 pm - 7:00 pm (11) Thomas S. Perakos Arts and Community Center, 99 Green Hill Road Washington, CT 06793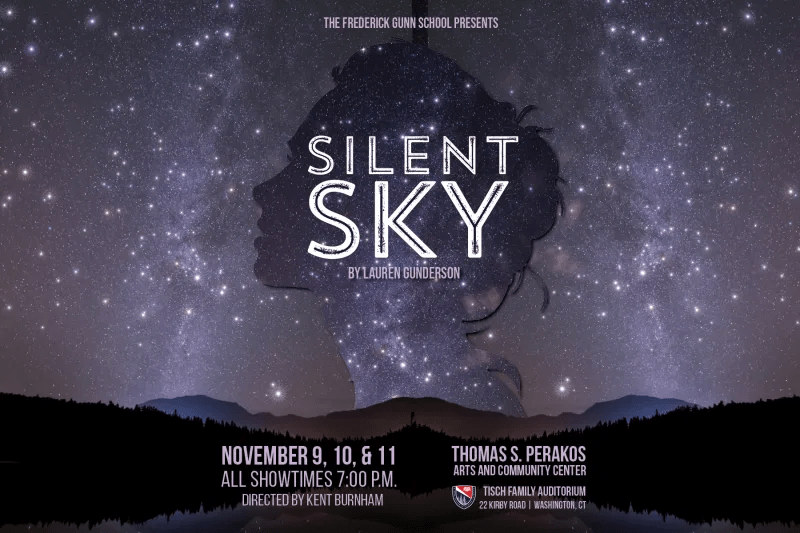 Event Details

The Frederick Gunn School Theatre Program will present Lauren Gunderson's "Silent Sky," a play that explores 19th century social and scientific progress through the real-life lens of Harvard astronomer Henrietta Leavitt. Performances are November 9, 10, and 11 at 7 p.m. in the Tisch Family Auditorium of the Thomas S. Perakos Arts and Community Center. This event is open to the public. No registration is required and seating is by general admission.

According to Dramatist Play Service: "The true story of 19th-century astronomer Henrietta Leavitt explores a woman's place in society during a time of immense scientific discoveries, when women's ideas were dismissed until men claimed credit for them. Social progress, like scientific progress, can be hard to see when one is trapped among earthly complications; Henrietta Leavitt and her female peers believe in both, and their dedication changed the way we understand both the heavens and Earth."

"Gunderson has been named one of the most produced playwrights in America since 2015, topping the list three times, including the 2022-2023 season. She is a two-time winner of the Steinberg/ATCA New Play Award for 'I and You' and 'The Book of Will,'" according to Broadway World. Gunderson's play, 'Anthropologie,' recently had its world premiere at The Hampstead Theatre in London. Her musical adaptation of the book, 'The Time Traveler's Wife,' which was also adapted for the 2009 film starring Eric Bana and Rachel McAdams, opened in London's West End this October.
Time

9 (Thursday) 7:00 pm - 11 (Saturday) 7:00 pm
Location

Thomas S. Perakos Arts and Community Center

99 Green Hill Road Washington, CT 06793