14jun6:00 pmFeaturedJuneteenth in Poetry with Frederick-Douglass Knowles IIGunn Memorial Library6:00 pm Gunn Memorial Library, 5 Wykeham Road, Washington CT, 06794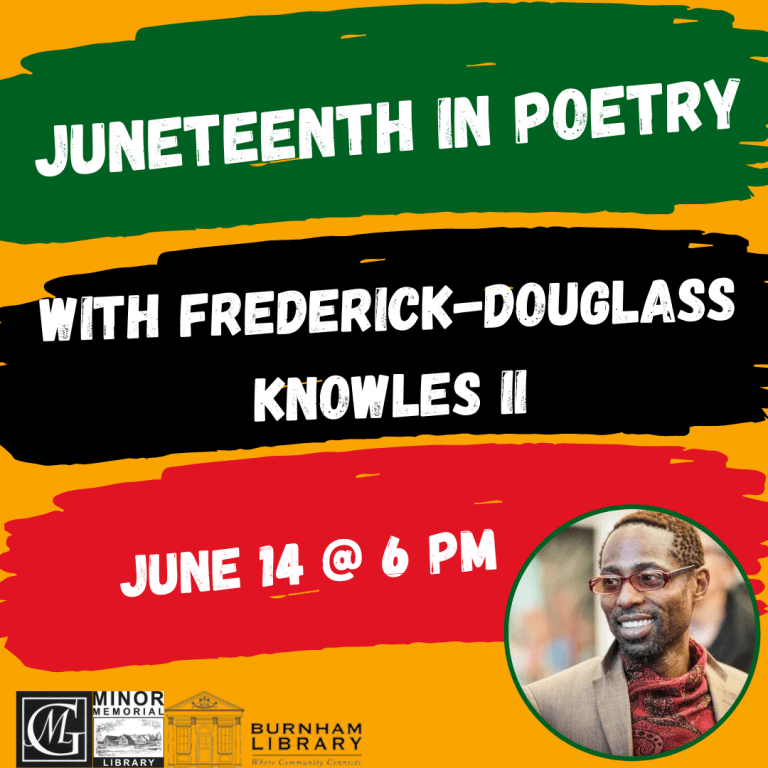 Event Details

Join us at GML to learn about Juneteenth with educator, activist, and poet, Frederick-Douglass Knowles II!

Although Juneteenth only became a federally recognized holiday in 2021, the day has been celebrated across the nation since 1865 when news of the Emancipation Proclamation finally reached Galveston, Texas. More than 250,000 slaves were freed with the late announcement and in the year following 1865, freedmen in Texas organized the first celebration of "Jubilee Day" on June 19th. Celebrations would often include large barbeques with music, entertainment and a focus on education and empowerment for the black community. Juneteenth today, celebrates African American freedom and achievement, while encouraging continuous self-development and respect for all cultures.

The Gunn Memorial Library, the Minor Memorial Library and the Burnham Library are pleased to welcome Poet,  Activist and Educator, Frederick-Douglass Knowles II to the Gunn Memorial Library for a poetic performance, reading and discussion that illustrates what Juneteenth is all about, why it is so important, and the significance of it being a federally recognized holiday. This is an in-person event that is free and open to the public. Registration is requested.

Frederick-Douglass Knowles II is an Educator and Activist fervent in achieving community augmentation through literary arts. He is a Professor of English at Three Rivers Community College in his native city of Norwich, CT and the inaugural Poet Laureate of Hartford. He is the recipient of the Nutmeg Poetry Award and the Connecticut of The Arts Fellow in Artist Excellence for Poetry/ Creative Non-Fiction. Knowles is a Pushcart Prize nominee and the author of BlackRoseCity. Learn more about him here. 
Location

Gunn Memorial Library

5 Wykeham Road, Washington CT, 06794