14novalldayFeaturedLAST CHANCE: Stephanie Lear Henderson: In ColorKMR Arts(All Day: saturday) KMR Arts, 2 Titus Road, Washington Depot, CT 06794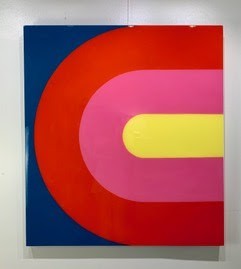 Event Details

Stephanie Lear Henderson's paintings are about simplicity of form rendered in bold color combinations. The recurrence of forms allows the artist to focus on the infinite possibilities of the ways the colors can be combined. Disciplined shapes coexist with playful color combinations. The experience of color for the viewer results in shimmering color contrasts and the visual illusion of receding and advancing planes. In these works, the same forms are repeated, yet there is still an infinite number of ways to juxtapose the colors. With each sequence, the colors take on different qualities: stronger vs. weaker, louder vs. softer, advancing vs. receding, depending on the relationship with the adjacent color. This work ultimately feels completely modern and yet has a distinct connection with the essence of abstract art: the principles of Josef Albers come to mind.

In Lear Henderson's own words, "I keep my forms simple. I paint from instinct. I don't want the composition to get in the way of the color.  To me, color communicates best when it is in a simple form."

A native of Thomasville, Georgia, Stephanie Lear Henderson earned a B.A. from the University of Virginia and an M.A. from the University of Georgia. Her work has been exhibited in the United States and Canada. This is Lear Henderson's first solo exhibit.

Complimentary hand sanitizer will be available upon arrival, and we ask that you please arrive with your own masks and do what you can to protect yourself and others.

I am grateful for my amazing gallery artists who are hopeful and creative. Stay tuned for more exciting news.