13oct11:00 am5:00 pmMis en Scene-Rhapsody11:00 am - 5:00 pm Mis en Scene, 2 Green Hill Road, Washington CT 06794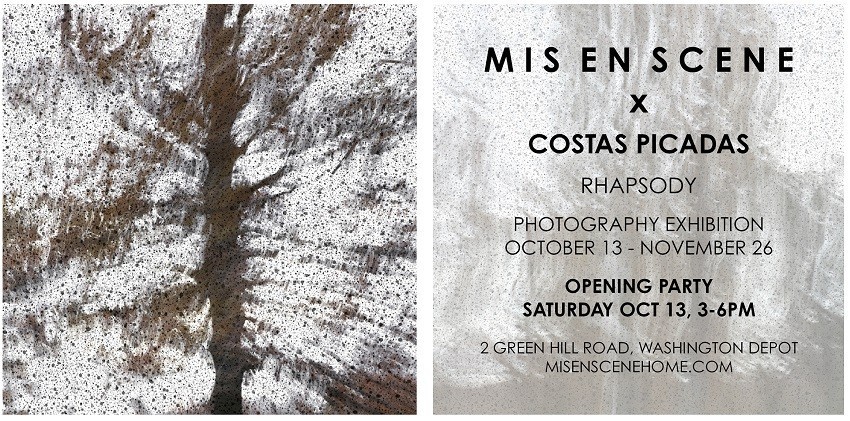 Event Details

RHAPSODY
Exhibition of Costas Picadas at
Mis en Scene Home

October 13 – November 26, 2018
Opening Reception with the artist: Saturday, October 13, 3-6 PM

MIS EN SCENE HOME of Washington Depot, Connecticut is pleased to present:

Rhapsody, an exhibition of contemporary artist, Costas Picadas. The exhibition features seven photographs taken from the artist's series, Bradyon, which is defined by very small particles that travel below the speed of light.

Picadas was born in Greece, and being outdoors in a natural environment is where he feels most creative. His photographs are an exploration of science, philosophy, light and energy. Working primarily with a monochrome palette, Picadas blurs internal and external space through stunning dimensional expression.

Picadas provides alternative visions of conceivable realities within his photographs. He works in series, many of which explore how light can behave both as elementary particles and waves. His ethereal images capture a morphing universe comprised of abstracted forms, vibrating particles, and floating fragments. He is inspired by science and hopes his viewers are too.

In terms of his personal history, the artist was born in Ionnina Greece in 1966 and studied art at the Ecole Des Beaux-Arts and art history at the Louvre School in Paris. Picadas' work has been exhibited, among other places, at Queens Museum- Bulova NY, Budman Gallery NY, Denise Bibro Gallery NY, The Blender Gallery Athens Greece, Gallery Gransart Paris, Mykonos Biennale Greece, The Young Art Fair in Switzerland, Gallery J&J Donguy Paris, Some Young New Yorkers III at PS1 NY, Kappatos Gallery, Athens, Greece, Gallery de Buci Paris, Gallery Anatole Chartres, France, Gallery de Nest Paris, Salon de Montrouge, Paris, W.G. Amsterdam, Holland, and the Festival of Avignon, France. Articles, reviews and critical analysis of Picadas' work appear in solo and group show catalogues in addition to newspapers and magazines in France, Greece and New York, such as Zing Magazine, Absolute Arts, New York Spaces Magazine and Flash Art. Since 1994 he has been living and working in New York City.
Time

(Saturday) 11:00 am - 5:00 pm
Location

Mis en Scene

2 Green Hill Road, Washington CT 06794
Organizer
Mis en ScenePhone: (860) 619-0577 2 Green Hill Road, Washington CT 06794