16apr2:00 pmFeaturedMeet & Greet and Book-Signing with New York Times Bestselling Author Nan RossiterThe Hickory Stick Bookshop2:00 pm Hickory Stick Bookshop, 2 Green Hill Road Washington Depot, CT 06793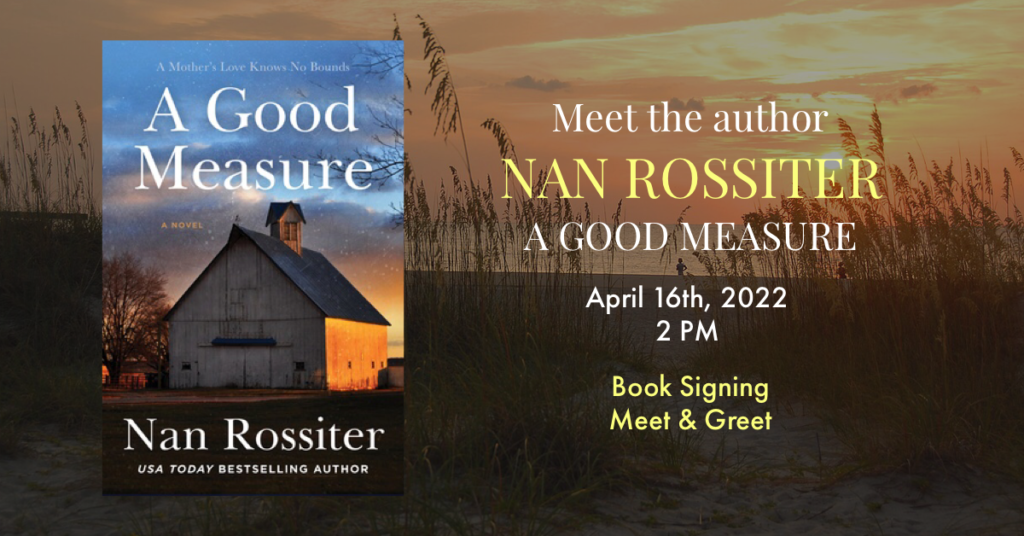 Event Details

Beloved local author, Nan Rossiter, joins the Hickory Stick Bookshop on Saturday, April 16th at 2 pm, in celebration of her new book, A Good Measure.

The third of Rossiter's popular Savannah Skies series, readers will return to Tybee Island off the coast of Georgia in this heartwarming story of love, acceptance, finding your place in the world, and learning to carry on in the face of overwhelming loss.

The book's heroine, Libby Tennyson, finds unexpected hope in a new stage of her life, grieving the loss of her husband and navigating changing relationships with her three adult sons. In the midst of her grief she finds The Guild, a group of widows who get together every Thursday evening for wine, laughter, and companionship. Here Libby not only discovers a safe space, but a place of honesty and growth.

Nan Rossiter is the author of ten novels that weave together stories about the complicated relationships to which readers can relate – motherhood, sisterhood, friendship, marriage, and romance, including thresholds of faith, a furry friend or two, and an uplifting ending. Rossiter's books have been highly acclaimed by reviewers from Publisher's Weekly to Booklist, and have been USA Today and New York Times Bestsellers. A graduate of the Rhode Island School of Design, Rossiter began her writing career in the world of children's books. She lives on a quiet country road in Western Connecticut with her husband and noble black lab, Finn.

This event is free and open to the public. If you are unable to attend this event, you may reserve signed copies of Nan Rossiter's books by calling The Hickory Stick Bookshop at (860) 868 – 0525.