Is that George Washington Visiting the Gunn Historical Museum?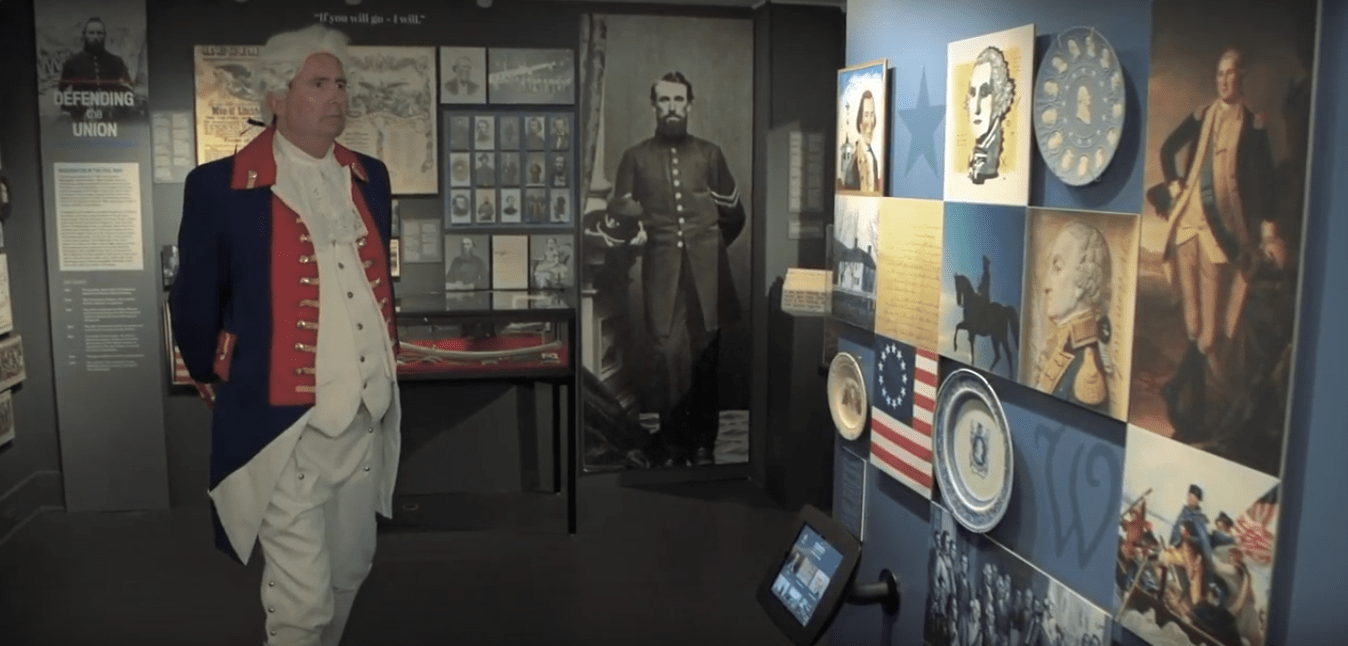 Imagine seeing George Washington today, strolling across the Green in the town named after him! Well, in this new "digital postcard" video from the Gunn Historical Museum, you can watch as our first president discovers the museum and delights in his depiction in their latest exhibit, "Washington, Connecticut – An American Story". Washington was the first town to be incorporated in the state of Connecticut after the Declaration of Independence was signed and the town was named in honor of the Revolutionary War general in 1779. This is one of the many significant stories told in the comprehensive exhibit.
How the Video Came About
In response to the COVID-19 pandemic, it was important for the Gunn Memorial Library and Historical Museum to stay in touch with the community. Many digital resources and events were made available to the community virtually, which ultimately sparked an idea with trustee Jean Solomon.
Jean wanted to create a unique way to highlight the exhibit by bringing a special guest to tour the museum. She explains, "I wanted to produce a marketing video that was uplifting and amusing that would put smiles on viewers' faces in this extraordinary time. The theme is a play on the fantasy that historical figures come alive in museums when no one is there to watch them. I couldn't think of a more appropriate figure to visit than General George Washington, for whom the town of Washington, Connecticut is named."
About the Video
Many thanks to everyone who brought this video to life! Produced by Jean Solomon, the video team included local contributors. Humphry Rolleston is the talented actor portraying George Washington. The video was directed and filmed by Philip Dutton with filming and editing by Ulrich Vilbois. And special thanks to Paula Rolleston.
About the Exhibit
The Gunn Museum's award-winning exhibit, "Washington, Connecticut – An American Story" is a collaborative community undertaking that created the most comprehensive history of Washington's history to date. The project took over two years to plan and covers over 10,000 years of history. This incredible exhibit was led by the museum's curator, Stephen Bartkus, with the support of dedicated volunteers, hands-on Trustees, the museum's exhibit committee, and professional designers. Since its launch in August 2019, the new exhibit has won three prestigious awards including the American Association for State and Local History 2020 Award of Excellence, the Connecticut League of History Organizations 2020 Award of Merit, and the Graphic Design USA 2019 American Graphic Design Award.
Visit the Exhibit
The Gunn Historical Museum is open on Thursdays, Fridays, and Saturdays from 10:00am – 4:00pm with safety protocols in place. For more information visit gunnmuseum.org.
Learn More
Read our behind the scenes interview with Curator Stephen Bartkus.