Washington, CT: An American Story- Behind the Scenes with the Curator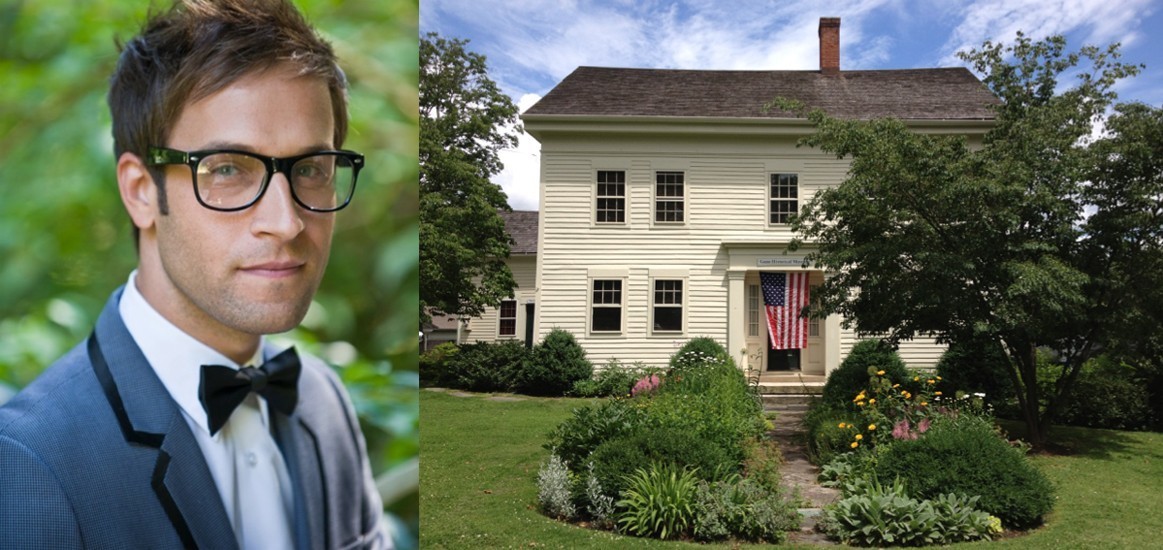 The exciting new exhibit Washington, Connecticut – An American Story will be opening this month at the Gunn Historical Museum with a celebratory opening reception on Saturday, August 17th from 1:00 to 3:00. We were delighted to spend some time with curator Stephen Bartkus to get a behind the scenes glimpse into this long-awaited exhibit.
Tell us about the new exhibit at the Gunn Historical Museum.
Washington, Connecticut – An American Story is a collaborative community undertaking that touches on the major turning points in Washington's history, giving visitors an understanding of the unique people, places and events that have shaped the town we know and love today. Washington is the quintessential small American town and the exhibit shares the stories of this amazing place. The exhibit is made possible by a $100,000 Good to Great Grant from the State of Connecticut's Department of Economic and Community Development, and by the bequest of Washington resident and beloved Gunn Museum volunteer, Ella Williams. SandorMax, the incredibly talented creative agency behind the Explore Washington CT website, designed the exhibit.
How long has it been in the works?
We've been working on the exhibit for a couple years. The museum is fortunate to have a dedicated team of volunteers who have shared considerable time and talent to help create this exhibit. Museum volunteers and staff have been busy researching, writing and sourcing content; and we conducted an inventory of the museum's collection and cataloged hundreds of artifacts in preparation for the exhibit. I opened every box and folder in the building to examine over 15,000 artifacts, photos and documents. It was an extremely rewarding experience to witness so many important pieces of Washington's history that comprise the Gunn Museum's collection.
Sneak peek at the businesses of Washington
Fun on Lake Waramaug through history
How is this exhibit different than those you've done in the past?
Over the past twelve years that I've worked here, our annual exhibits, many of which have been national award winning, have focused on a specific topic of Washington's history, like Washington's Swedish Immigrants, Washington and World War One, The Photography of Nell Dorr, Life on Lake Waramaug, etc. Washington Connecticut – An American Story is a long-term exhibit that gives an overview of the entire history of Washington, from the Native Americans through the 20th century, so it's much more comprehensive than what we've ever done before. There is also a digital component to the exhibit, so it's not just what's on the walls. Visitors can also dive in deeper and explore Washington's history on iPads and monitors throughout the exhibit.
How were you able to distill the entire history of Washington into one exhibit?
It wasn't easy! Washington has a really extraordinary history but the space limitations in our 1781 museum building preclude us from featuring every person and story from Washington's long and rich history. We started the project by hosting community roundtables to hear what residents thought was important to cover in the exhibit, we used comment cards to solicit exhibit ideas from visitors to the museum, brainstormed with history consultants, visited many museums across the country for inspiration, and did a lot of reading and research to get to the final product.
What are some of the interesting stories that haven't been told before?
There are so many interesting and compelling stories in Washington's history. We're fortunate that they've been preserved here at the Gunn Museum since its founding by the Daughters of the American Revolution in 1899, as well as by local families who've lived here for a long time, some have been here for 10 generations before the town was even established! I'm so grateful for all the residents who shared their personal collections and family history with us. There's the inspirational story of Jeff Liberty, the slave of Jonathan Farrand, who served in the American Revolution to help this country win its independence and in exchange was granted his freedom. Then there's the story of Joel Stone, a Loyalist who lived on Washington Green. His house was confiscated and he fled and established the town of Gananoque in Canada. The marble quarrying, sawing and carving industry, from which Marbledale gets its name, is fascinating and has never fully been told. After digging into that history we learned it's a much larger story than anyone ever realized.
Preparing Civil War soldiers for the exhibit
Unpacking some of the hundreds of historic photos
Do you have a favorite artifact in the exhibit?
I can't pick just one. There were thousands of artifacts to choose from for the exhibit and the community also generously opened their homes, attics, basement and barns for me to look through. There are a lot of great artifacts on display, many which haven't been exhibited before. I find the marble memorial given by John and Maria (Mallory) Gunn, Jr. to Samuel and Laura (Platt) Averill in 1860 after the passing of their three daughters to be especially interesting and powerful. I've attributed it to one of the local marble mills on the East Aspetuck River. It's a great piece of art and speaks to the fragility of life, community bonds and local industry during the 19th century in Washington. There are also many great photographs and documents ranging from one of the first baseball games ever photographed in America here on Washington Green in 1869 to the bill of sale for a slave named Sesar in 1773.
How can people get involved?
Everyone is invited to attend the opening reception of the exhibit from 1:00 to 3:00pm on August 17th. I'll be leading hour long guided tours of the exhibit at 1:00 and 3:00 on Sunday, September 29th as part of the Upper Housatonic Valley National Heritage Area's Heritage Walks. Space is limited; give us a call to sign up. We'll be resuming our popular history programing through the fall including our annual tour of the Washington Green Cemetery on October 25th. We're always looking for volunteers to get involved at the Gunn Museum and help us preserve and share the history of Washington. We have different projects for all interests from research, to cataloging the artifact collection, programs, exhibits, and more. In the end we hope the exhibit will inspire more people to get involved, preserve and share the history of their families with us, and stop by to experience the history of Washington, Connecticut.
We invite everyone to come explore this wonderful new exhibit!
For more information on the Washington, Connecticut: An American Story exhibit, please visit the Gunn Historical Museum's website.