1st Annual Shakespeare in the Litchfield Hills Comes to Washington!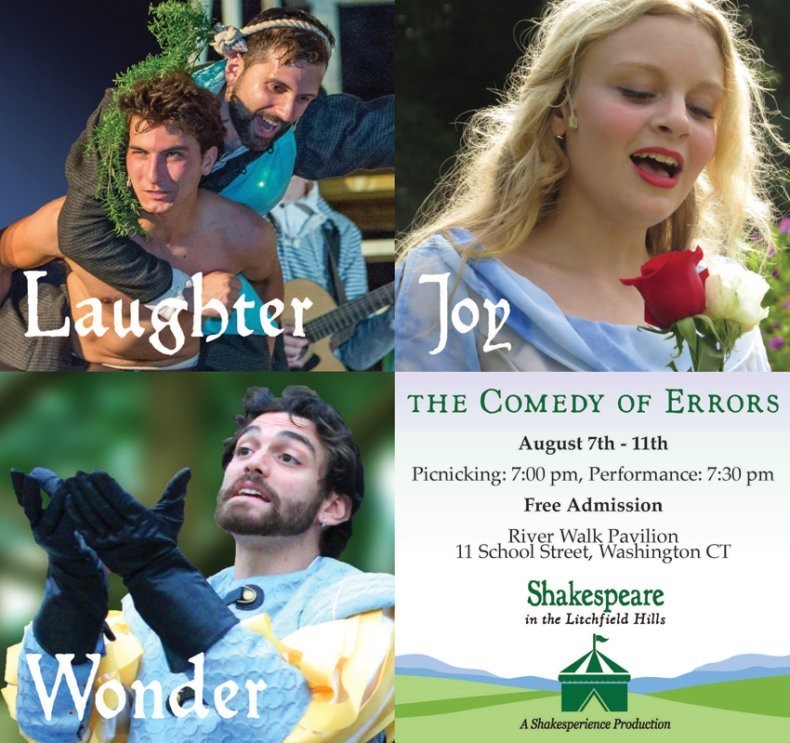 The Bard comes to Washington! From August 7th to August 11th, Shakespeare's classic play The Comedy of Errors will be performed during the first annual Shakespeare in the Litchfield Hills. The renowned theater company, Shakesperience Productions, Inc. along with members of the Washington community will be putting on these free outdoor performances for all to enjoy. To help us prepare to enter the world of the Bard, we sat down with Shakesperience's Executive Director, Jeffrey Lapham. Here is an inside look into the performances and how Shakesperience has partnered with our community to bring Shakespeare to Washington.
Can you tell us a bit about your organization?
Shakesperience was originally founded to bring classic literature to students in their school classrooms, gyms, cafeterias, and auditoriums – anywhere available so that we could get students to learn from our professional, positive, and interactive ensemble. Even before we had the space to do so, Shakesperience conducted Saturday and summer acting intensives for young people. Many have found confidence, teamwork, and public speaking skills, to name only three, in this way. In many cases, Shakesperience solicits and receives grants and sponsorships to bring these educational programs to individuals, schools, and even whole districts. Shakespeare in the Park styled productions were added to our mix in 2004, and other performances in our Waterbury studio in 2007.
What types of performances have you done in the past? Where else have you performed "Shakespeare in the Park?"
Shakesperience has headlined, in chronological order, Shakespeare in Library Park (Waterbury), Festival! Stratford (CT), Shakespeare on the Shoreline (Guilford), and Shakespeare in the Hollow (Woodbury), along with many one-off productions along the Connecticut Wine Trail.  While Artistic Director Emily Mattina has directed more than half of Shakespeare's canon, to date, her Shakesperience in the Park productions include The Tempest (2017), Two Gentlemen of Verona (2016), The Comedy of Errors (2015), King Lear (2014), Much Ado About Nothing (2013), Richard III (2012), A Midsummer Night's Dream (2011), Henry V (2010), Twelfth Night (2009), Hamlet (2008), and more.
Shakesperience Productions
Shakesperience Productions
Tell us about your mission of community involvement.
Shakespeare was among the first community-builders, and Shakesperience has always tried to live up to that. He brought all ranges of socio-economic society together to enjoy his plays. Similarly, for Shakespeare in the Litchfield Hills, we've tried to involve as many individuals, businesses, and community groups as we could, and Emily has cast students, community members, and both union and non-union actors in this first annual production. The goal is always to produce the most family-friendly, accessible, and interactive show possible. In the past, Shakesperience staff and company have been inaugural organizers of our downtown business association, governing members of our regional arts council, and resident artists at Waterbury Arts Magnet school, to name but a few.  We try to be terrific collaborators, and our successes in this, if I might be so bold, are too many to mention.
How did you come to bring Shakespeare to the Litchfield Hills?
When the Friends of Shakesperience in the Litchfield Hills first came together in late 2017 to assess the community's interest in a summer program of Shakespeare in the Park, we had no idea there would be such resounding support for the project. Our goal was to offer the greater Litchfield Hills community an opportunity to engage with Shakesperience in the production of five free, professional-quality performances of The Comedy of Errors in summer 2019. And the community responded with such enthusiasm and generosity!
How has the Washington community gotten involved with the upcoming performance of The Comedy of Errors?
Candidly, this whole process evolved from a presentation Emily and I made to Western Connecticut Leadership, a program of Connecticut Community Foundation. Emily said that we were looking for a new home for our Shakespeare in the Park program. The next thing we knew, there was an ad-hoc group of long-known and new Shakesperience boosters forming the working committee that became known as the Friends of Shakesperience in the Litchfield Hills.  They hail from Bethlehem, Washington, and Litchfield, and they've spent the last year and a half introducing the company to their communities and planning, promoting, and fundraising for this August's production. This community has been incredibly generous. Individuals are hosting our company members in their homes for production week, they've volunteered to time and effort to construct scenery, and (namely the Dramalites) many have offered time, space, material, and theatrical, as well as community, connections. And it can't go unmentioned that the people and businesses of this community have raised over $75,000 to meet the costs of producing Shakespeare in the Litchfield Hills.
What can the community hope to expect from this performance?
Emily always directs her productions to use Shakespeare as a catalyst for conversation, to build a community within a community that can dialog. I hope that this performance unites and pleases the community and draws people from all around to patronize and celebrate this most verdant area of our state.  Hopefully, each audience member will experience what one of Emily's mentors claimed, in the title of his book, the three specialties of William Shakespeare – the Laughter, Pain, and Wonder of the characters.
Shakesperience Productions
Shakesperience Productions
How can people get tickets for your upcoming performances in Washington?
While donations are gratefully accepted, nay encouraged, this production is completely free.  So please bring chairs or blankets and arrange for a picnic to enjoy as you plan to attend. We hope to see you there. Picnicking begins each night at 7 pm for the 7:30 pm performance.
The Comedy of Errors will be performed at the first annual Shakespeare in the Litchfield Hills from Wednesday, August 7th to Sunday, August 11th at the River Walk Pavilion in Washington Depot. For more information, please visit our Featured Events Calendar or check out Shakesperience's website.