Litchfield Jazz Festival Comes to Washington!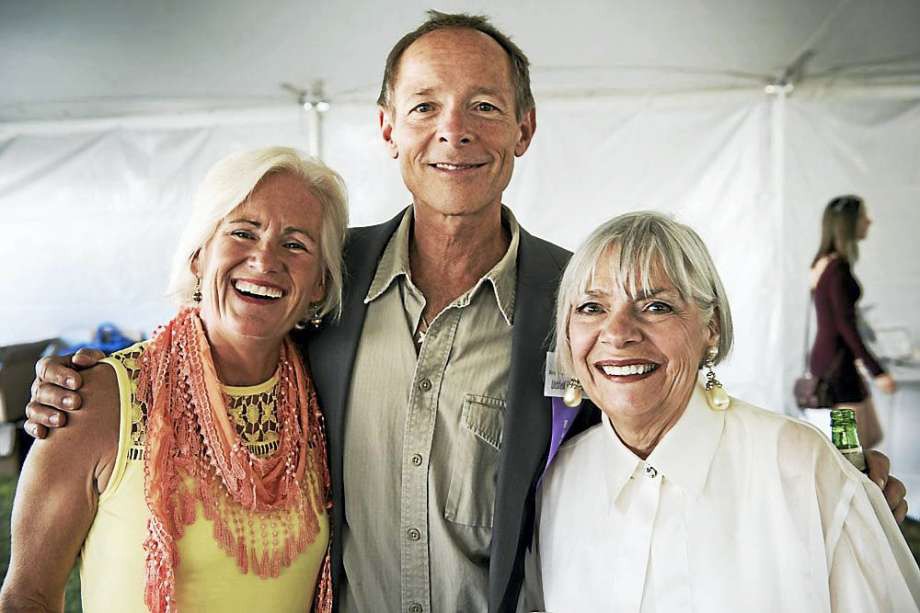 Photo above: Vita Muir (at right) with Jeanne & Ron Miterko
We're very excited to welcome the internationally acclaimed Litchfield Jazz Festival to Washington from July 26th through 28th. As we get ready to enjoy this venerable cultural experience right here in Washington, we had an inspiring conversation with Vita Muir, Litchfield Performing Arts founder, Executive & Artistic Director, and doyenne of jazz.
How did it come to be that the Festival is taking place in Washington this year?
After many years in an outdoor setting, we were scouting for a new location that would accommodate indoor concerts in a community that would embrace our mission. We've had great success with our Jazz Camp, which relocated to the Gunnery campus last summer. The Gunnery has been a wonderful partner for both the Festival and Jazz Camp, and the future will be even brighter with the Thomas S. Perakos Arts and Community Center opening in time for next year's engagement.
Relocating to Washington will give us a chance to have a unified identity for both the Jazz Camp and the Festival. The Town of Washington has been extremely helpful and welcoming as we planned the Festival. And, of course, the Washington community is known for its passion for and patronage of the arts, so this represents a wonderful evolution for us. 
We understand that the Festival will be quite different this year.
One thing remains the same – the music, as always, will be outstanding! In addition to the fabulous new location, we are offering a whole new format for the Festival. Jazz fans will enjoy their Mainstage concerts in the air-conditioned comfort of the Gunnery's Emerson Performing Arts Center. Artists include the iconic – Mike Stern, Wycliffe Gordon, Randy Brecker, Avery Sharpe, Alvin Atkinson and others – and the madly talented younger set, the vocal group Duchess, the Chad LB Quartet, vocalist Alexis Cole, pianist Carmen Staaf and many, many more.
For those who loved the fair atmosphere of old, we've arranged the free admission OuterFest on Saturday with student concerts, art show, crafters, food trucks, and fun for the whole family on the historic Washington Green. For the party crowd — and you can count us in this group — we've planned two great events: the Opening Night Gala at Judy Black Memorial Park and Gardens and The Ladies Who Swing Jazz Brunch at the Gunnery on Sunday.
Litchfield Jazz Festival
Litchfield Jazz Camp
Tell us about Litchfield Jazz Camp.
Jazz Camp will take place from June 30th through July 26th on the Gunnery Campus, now serving 70 to 150 residential and day students each week for 1 to 4 week sessions. The best way to learn to play jazz really well is to practice.  Next best— listen! So evenings at Jazz Camp are filled with Jazz After Work faculty concerts. Monday through Thursday evenings through all four weeks of camp, our fabulous faculty performs for our students, their families, friends and the public. And there is no charge to attend these concerts! Also, this year for the first time, all campers will perform on Saturday as the Festival marks the 23rd Student Stage Shows.
How did it all start?
Back in 1981 my husband and I began to invite friends into our home to enjoy concerts. It just grew from there. In 1983 we became a 501(c)(3) dedicated to changing lives through the arts. We brought classical and other concerts to schools and churches. From those early roots, we went on to found the Litchfield Jazz Festival in 1996 and Litchfield Jazz Camp in 1997.
What do you see in the future for jazz in general?
I believe that the future for jazz is bright, largely because so many young people have become passionate about the genre. Programs such as our Jazz Camp are making music accessible to students, inspiring and nurturing a new generation of jazz musicians. Our Jazz Camp includes students 13 years to adult (we have an 80 year old pianist this summer), from beginners to advanced players, and students with learning disabilities – a truly inclusive experience. Also important to our mission of inclusiveness is our need-based scholarship program.
As for expanding audiences, we strive to make jazz accessible to the public through flexible and affordable ticket options and free concerts, such as this year's OuterFest and free nightly Jazz After Work concerts, which showcase our stellar Jazz Camp Faculty.
Litchfield Jazz Festival
Litchfield Jazz Festival
Any final thoughts to share with our readers?
Whether you're a jazz enthusiast or have never yet listened to jazz, please come and enjoy the Festival! We are very excited to debut in Washington this year and look forward to welcoming the community to experience the joy of jazz.
For more information:
Litchfield Jazz Festival Full Lineup
Purchase Tickets for Jazz Festival