The Best Pies & Provisions for Thanksgiving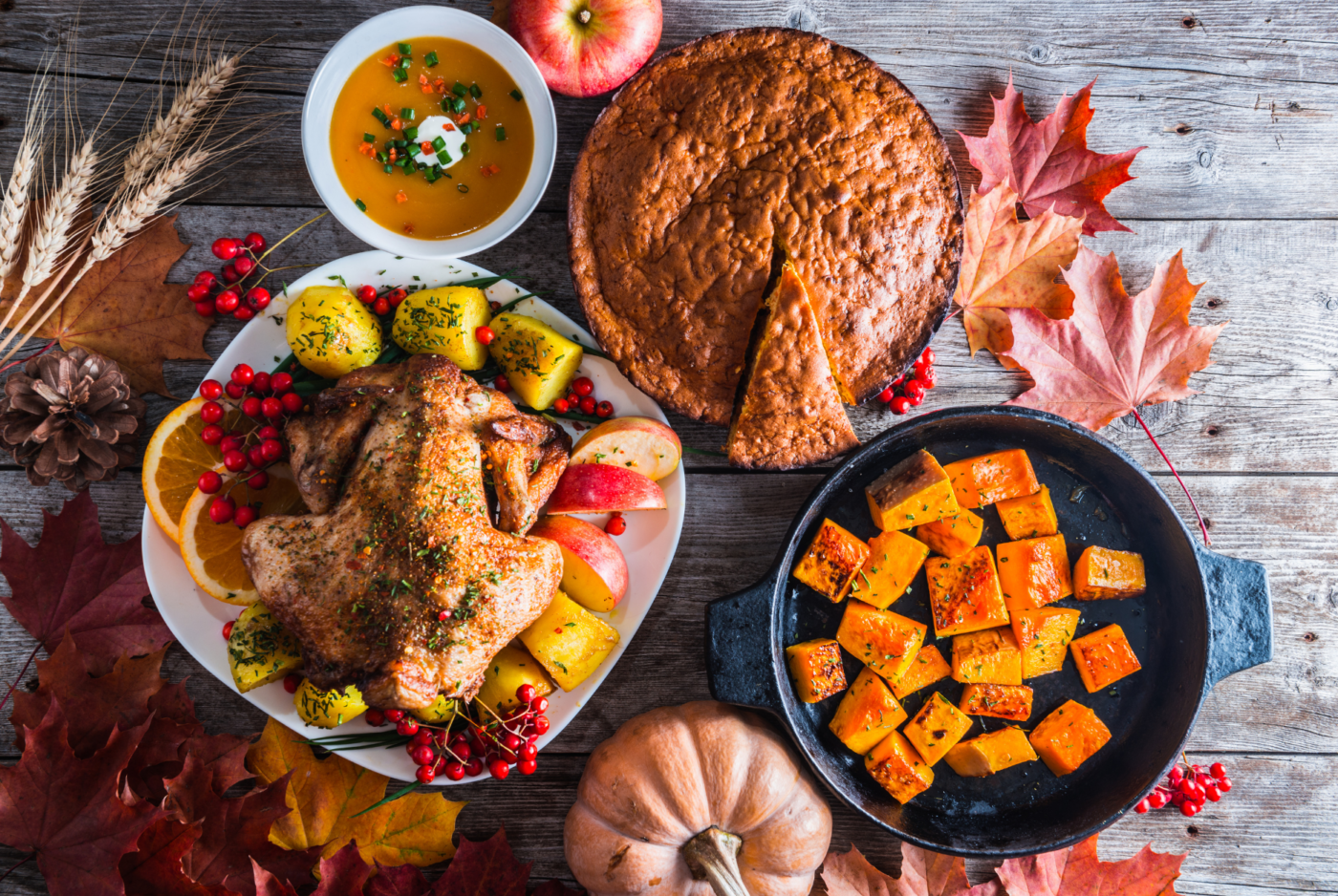 "Thanksgiving is the meal we aspire for other meals to resemble."
– Jonathan Safran Foer

Here's our latest roundup of the best spots in Washington to grab signature desserts and incomparable Thanksgiving provisions. As we celebrate being together again with friends and family, we hope you'll enjoy these festive offerings around town. This is a very special time to celebrate being together and giving thanks, and if you need a break from the kitchen, you'll appreciate these glorious offerings from our local purveyors. Happy Thanksgiving!
The Po Cafe
The famous New England Bumbleberry Pie by Maggie Colangelo of The Po Cafe uses fresh rhubarb, strawberries, and blackberries combined with local apples and topped with a buttery crumb crust. This signature pie also comes gluten-free, made with an almond flour crumb topping!
Another annual fan favorite from The Po Cafe is also the "Poptart" – made with strawberries and rhubarb and topped with ironic rainbow sprinkles. Place your orders for Thanksgiving dessert in person or by phone (860-868-1879).
New England Bumbleberry Pie
The "Poptart"
Averill Farm
The famous High Five Pies are made to order with Averill apples thanks to Averill Farm's talented pie baker, Linda Mazza. This year's pie offerings include:
High Five: Raspberry, Blackberry, Blueberry, Strawberry and Cranberry.
Classic Apple or Apple Crumb: buttery oat based crumb.
Classic Pumpkin or Pumpkin: with a ginger crumb crust, topped with maple glazed walnuts.
Pear Cardamom: our pears topped with a fragrant cardamom crumb.
Coconut Cream: topped with whipped cream and toasted coconut.
Browned Butter Pecan: with or without chocolate ganache drizzle.
Flourless Chocolate Pie: topped with chocolate ganache.
Honey Pie: sweet and buttery with a sea salt sprinkle on top
Order by November 15th in person at the stand, via email to [email protected], or call 860-868-2777 between 9:30am – 4:30pm. Pick up will be on November 24th.
Seasonal pies at Averill Farm
Signature High Five Pie
The Pantry
The most popular dessert at The Pantry is the Chocolate Indulgence Cake, a perfect holiday dessert for all chocolate lovers. This rich cake has a cookie crumb crust and chocolate mousse filling. This Thanksgiving, pre-order your desserts and Thanksgiving dishes or full Thanksgiving dinner by placing an order to be picked up on Wednesday, November 24th.
The Smithy
For those looking for local products made using sustainable, organic practices – look no further than The Smithy! Shoppers can pick up a variety of fresh produce, sauces and spices, baked goods, seasonal pies, and more. You can also view their weekly catering menu and keep an eye out for Thanksgiving specials.
Chocolate Indulgence Cake from The Pantry
Delicious pie from The Smithy
The White Horse
This year's Thanksgiving Feast at The White Horse is a to-go includes a three-course meal: Roast Beet Salad appetizer, Carved Herb Roasted Turkey with Apple & Sage Stuffing, Pan Turkey Gravy, Cranberry Sauce, Sweet Potato Soufflé with marshmallows, Green Bean Casserole with almonds, Butter Mashed Potatoes, and a Bourbon Pecan Pie for dessert. Pre-order by 12pm on Monday, November 22nd at $40 per person. Pick up is between 2 and 4 pm on Wednesday, November 24th. To place your order please call the manager at (860) 868-1496.
Ziggy's Italian Specialties
Not in the mood to cook? Get your Thanksgiving dinner and dessert catered by Ziggy's Italian Specialties. This year's menu includes organic turkey roasted with sage butter, herb roasted organic boneless turkey breast, pomegranate glazed heritage ham, or beef tenderloin with red wine and pearl onion sauce – along with delicious side and dessert options. Call to order at (860) 605-6332.
Thanksgiving Feast at The White Horse
Bourbon Pecan Pie for dessert
The Mayflower Inn & Spa
Spend Thanksgiving on a country retreat to our 58-acres property in the height of the autumn season. Head to the Garden Room and Tap Room for a delicious supper inspired by James Beard Award-Winning Chef April Bloomfield. Enjoy autumn offerings in THE WELL at Mayflower Inn including guided hikes, fitness classes and innovative treatments. Relax fireside in the Parlour as you hear folktales amongst the glamour of the countryside. View the menu and weekend itinerary here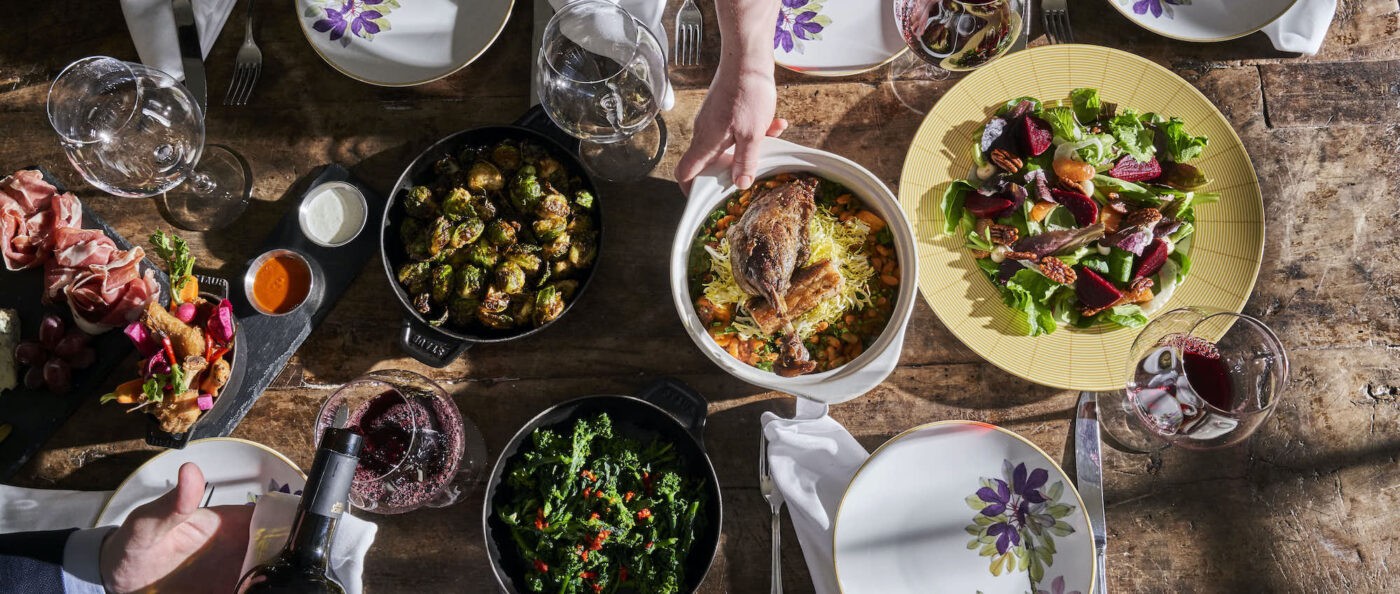 Give Thanks in the Countryside at The Mayflower Inn & Spa
Community Table
Thanksgiving holds a special place in our hearts and we are happy to share it with you and yours. Chef Christian Hunter has designed a holiday menu that will enable you to enjoy your guests and stay out of the kitchen. Please order online by Friday November 19th to ensure availability. Pick up is Wednesday, November 24th from 1PM-5PM. View the complete Thanksgiving menu here
Hopkins Inn
Hopkins Inn will be open for a Thanksgiving dinner! Enjoy a nice meal overlooking Lake Waramaug with your loved ones. Make your reservations starting November 2nd and view the complete Thanksgiving menu.
Roasted Brussels Sprouts
The View from Hopkins Inn @adonisaa1
Washington Food Market
Who needs to spend hours in the kitchen stressing, when The Washington Food Market offers catering services for full Thanksgiving meals, delicious pies, as well as fresh turkeys! Get orders in early and take advantage of great food that can make your Thanksgiving season less stressful. For more information, please call the store directly at (860) 868-7351.
Marty's Cafe
Marty's will be open on Thanksgiving Day from 7am until 11am. This popular tradition provides customers and visitors a place to relax and enjoy some time in downtown Washington before the big meal. We will be offering slices of our Pumpkin Spice pound cake and will have our Apple Crisp Cake Donuts on hand. Our Marty's Fresh Fridge will be stocked with Butternut Squash and Apple Soup in addition to our Vegetarian Chili.
Pick up a bottle of wine
In preparation for Thanksgiving, visit our very own Hopkins Vineyard and Spring Hill Vineyards to pick up local favorites. And for other festive pairings, visit Washington's local spirit shops.
On behalf of the Explore Washington team, we wish everyone a happy Thanksgiving!