The Best Pies & Provisions for Thanksgiving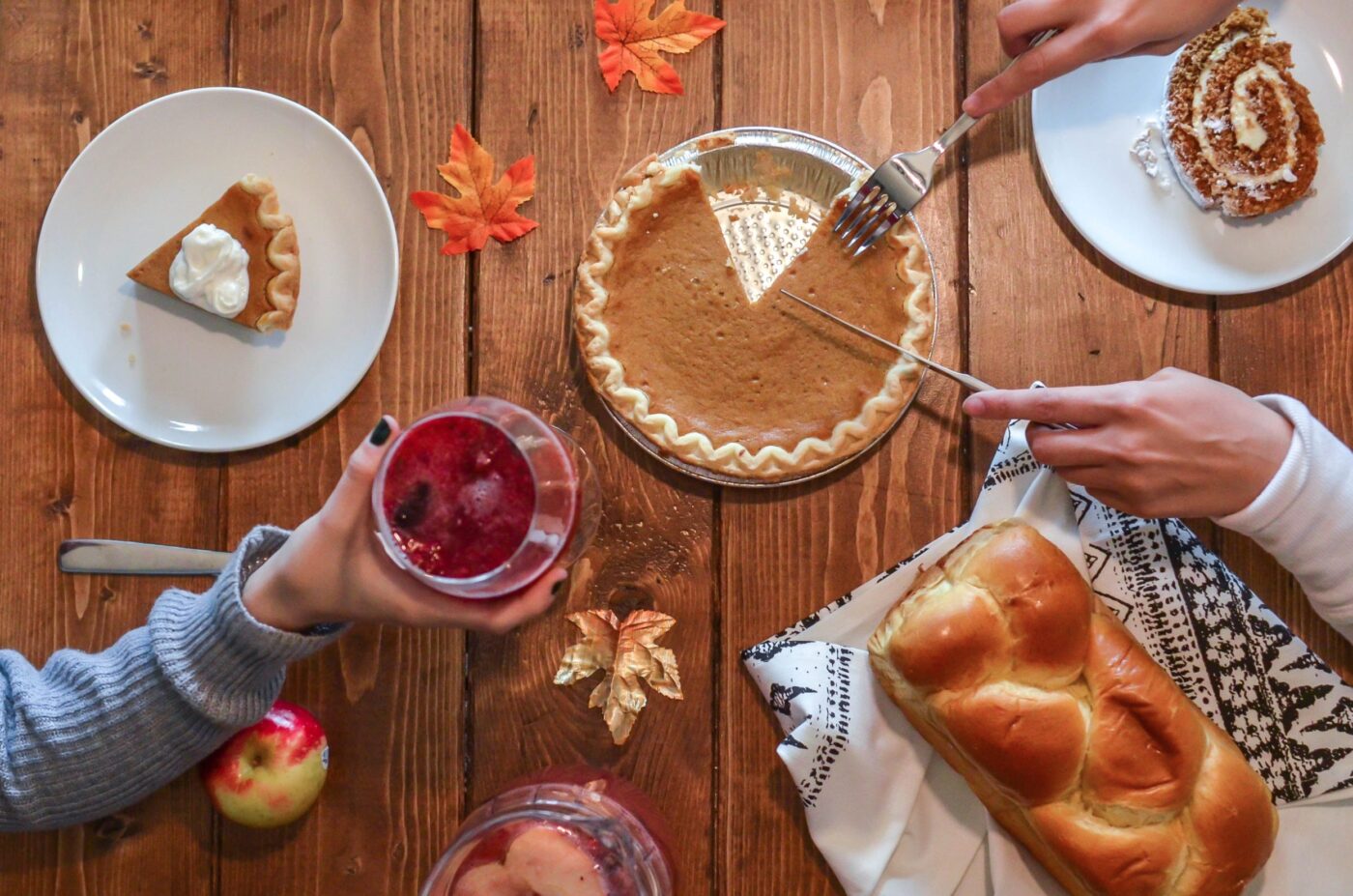 It's that time of the year – November in Washington. The time when the air becomes more crisp in the mornings, football season is in full swing, and in the back of everyone's mind is the holiday season to come starting with Thanksgiving on Thursday, November 28th. If we all listen carefully, we can already hear the sound of dishes being prepped in the kitchen, our relatives reminiscing stories from years past, and one of our uncles snoring on the recliner in the living room.
On the forefront of everyone's mind is what is typically the last meal to be served during the holidays – dessert! We took the liberty of gathering the best spots in Washington to grab signature Thanksgiving desserts for all the sweet tooths out there. Some are even made to order! Nothing brings family together like sharing your favorite guilty pleasure – so enjoy!
Flirtation Farms
The famous New England Bumbleberry Pie from Flirtation Farms uses the farm's rhubarb, strawberries, and blackberries combined with local apples. It's topped with a buttery crumb crust. This signature pie also comes gluten-free, made with an almond flour crumb topping!
Another annual fan favorite from Flirtation Farms is also the "Poptart" – made with the farm's strawberries and rhubarb and topped with ironic rainbow sprinkles. Keep your family smiling and enjoying this treat on Thanksgiving! Pre-orders are available, get yours by filling out an order form at the roadside stand at Flirtation Farms or by email at [email protected] and pick up day for Thanksgiving orders is November 26th at the farmstand.
New England Bumbleberry Pie
The "Poptart"
Averill Farm
The famous High Five Pies are continuing and made to order thanks to Averill Farm's talented pie baker, Linda Mazza! Pie selections include: Classic Apple, Apple Crumb, Classic Pumpkin, Pumpkin with Ginger Crumb Crust (topped with Maple Glazed Walnuts), Pear Cardamom, Pecan, Amish Apple (custard filling with buttery walnut crumb top), Honey Pie – as well as gluten free options in apple, pear, ginger, cranberry crisp!
All orders must be placed by Friday, November 22nd in order to be picked up on the Wednesday before Thanksgiving. To order, please call or come by the stand in person between 9:30am-4:30pm daily, or email [email protected] at any time.
Seasonal pies at Averill Farm
Signature High Five Pie
The Pantry
The most popular dessert at The Pantry is the Chocolate Indulgence Cake, a perfect holiday dessert for all chocolate lovers this rich cake has a cookie crumb crust and chocolate mousse filling! Stop by The Pantry to pick up this chocolate cake along with the Pumpkin Cheesecake, Tiramisu, or the gluten-free Iced Lemon Torte!
Chocolate Indulgence Cake from The Pantry
A delicious Blueberry Pie from The Pantry.
9 Main Bakery
Our own 9 Main Bakery & Deli, known for using the freshest ingredients from local farms around Washington, offers a delicious apple pie. Try it with warmed up with a scoop of vanilla ice cream on top – it doesn't get any better! 9 Main also offers freshly baked bread and homemade bakery items made every morning! Don't forget to stop in to pick up some of your essentials this November.
Apple Pie at 9 Main Bakery & Deli.
Cake plates at 9 Main Bakery & Deli. Photo credit: Alexandra Barnes
The Smithy
For those looking for local products made using sustainable, organic practices – look no further than The Smithy! Shoppers can pick up a variety of fresh produce, baked goods, sweet pies, and the latest specialty dessert: an Extra Virgin Olive Oil Chocolate Cake with Red Wine. You can't get this exclusive dessert anywhere but here!
Apple Pie at The Smithy.
The Extra Virgin Olive Oil Chocolate Cake with Red Wine
Hidden Valley Eatery
If you are looking for organic, local, gluten-free, and vegan foods – you've come to the right place! In addition to a sweet Carrot Cake, Hidden Valley Eatery is also offering a Thanksgiving Dinner Catering Menu for those who are expecting smaller parties or are short on time, see their full menu here. Catering orders must be placed by November 20th.
White Horse Country Pub
Make it easy on yourself this Thanksgiving! The White Horse is cooking up a hearty three course Thanksgiving Feast to go. $35 per person with orders placed no later than noon on Monday November 25th. Order Pick up will be between 2 and 4 pm Wednesday 27th. To place your order please call the manager at 860 868 1496. As is their traditional they will be closed for Thanksgiving day so everyone can enjoy a family celebration.
Carrot Cake from Hidden Valley Eatery.
Catering options are available from Hidden Valley Eatery and Washington Food Market.
Washington Food Market
Who needs to spend hours in the kitchen stressing, when The Washington Food Market offers catering services for full Thanksgiving meals, delicious pies, as well as fresh turkeys! Take advantage of great food that can make your Thanksgiving season less stressful if you are in a time crunch by choosing Washington Food Market. For more information, please call the store directly at (860) 868-7351.
On behalf of the Explore Washington team, we wish everyone a happy Thanksgiving Day!