Shop in Style this Holiday Season in the Villages of Washington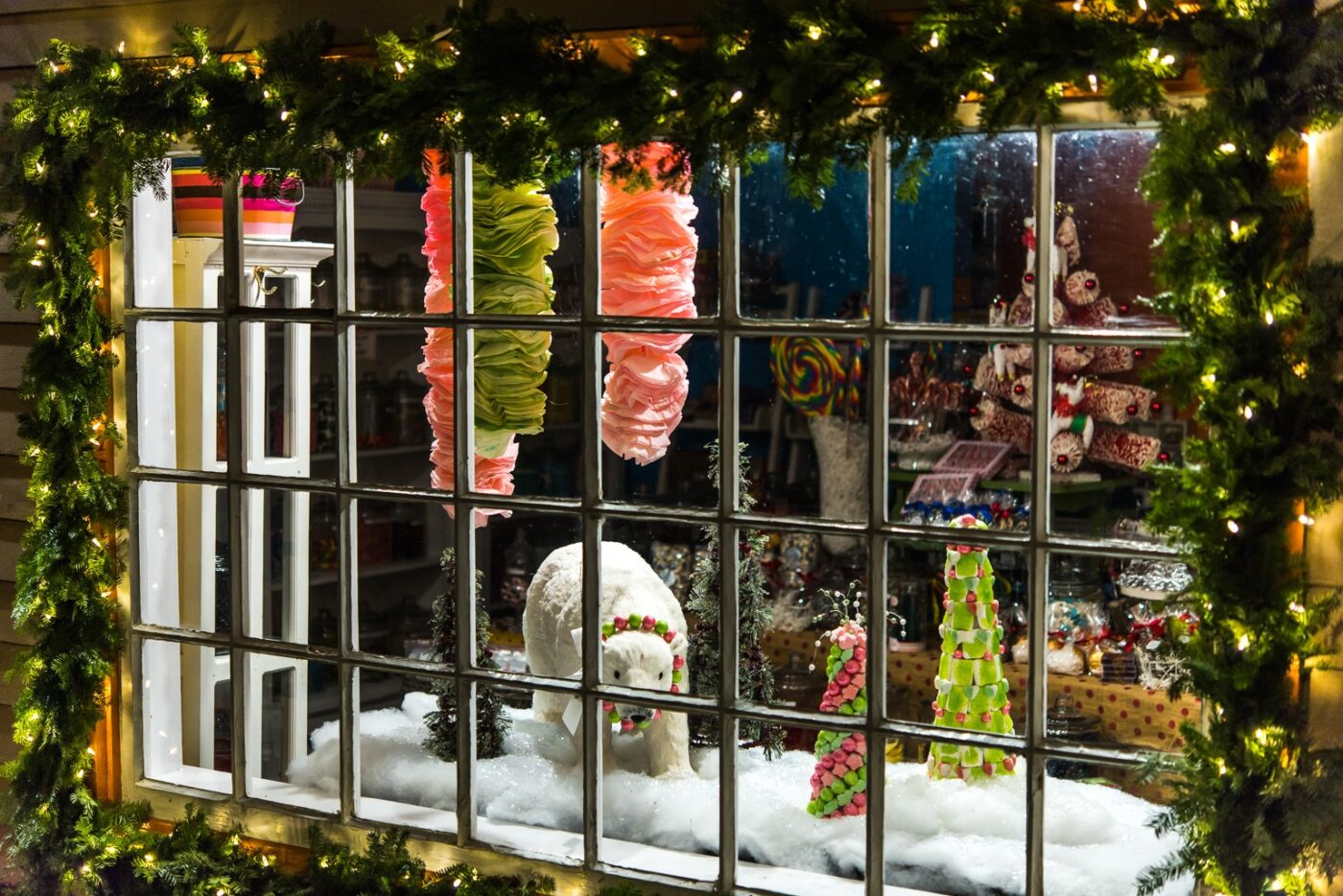 Festive Window Displays at New Preston Winter Walk. Photo by Ted Downs.
It's starting to twinkle with holiday cheer around Washington's quaint villages. The time of year has come when baking festive treats and decking the halls reign over our homes, when the usual hellos and goodbyes become Happy Holidays, and an intangible but delightful mood fills the air. Holiday spirit seems to take hold in the often busy bustle leading up to Thanksgiving, and once the turkey has been cleared from the table, it's full steam ahead to the most wonderful time of the year.
December is also a time of giving… which also means shopping. We've rounded up just a few of the fabulous shops around town so you can check off every person on your list in a snap. Though, in Washington, you won't want to rush through! With so much to do and see beyond holiday decorations and beautiful store windows, you'll want to plan an outing. So take a peek at this wonderful list of locally owned shops and make a day (or two) of it for the ultimate "un-mall" experience!
Make it Personal
Best Monogram in the heart of Washington Depot provides full-service monogramming for your pre-purchased items as well as a large selection of gifts to choose from including linens, blankets, tote bags, and baby gifts. Make your mark — leave a lasting impression with a luxurious, personalized gift meant to last a lifetime.
DK Schulman Design is an exquisite stationery and paper goods shop, with a wide variety of designs for invitations, personal stationery and unique gifts for even the most discriminating recipients on Santa's list. Cards and gifts for the host and hostess, as well as impeccable service, are the icing on the cake.
Best Monogram
DK Schulman Design
For the Home Enthusiast
There is no time of year when people take more pride in the look and feel of their homes than the holiday season. And in New Preston there are so many wonderful design and home goods shops to meander through to choose the perfect gift (and get yourself something while you're at it!)
Pop into J. Seitz & Co., a favorite destination for one-stop shopping that is celebrating "33 years of design savvy" in New Preston Village. It is a true department store, delighting visitors with fine home accents and unique furniture pieces, as well as fashion-forward wares for everyone on your list. And its location overlooking the breathtaking New Preston Falls is not to be missed.
Pergola Home will delight the gardener and garden-lover alike with unusual botanical-inspired wares and furnishings for gorgeous outdoor spaces and interior inspirations. Privet House never fails to make even the most mundane home necessities come to life with beautiful, sleekly designed handcrafted goods, luxurious linens, and decorative pieces for the person who loves great design and quality. Speaking of high-end design, Plain Goods boasts distinctive homewares and antique pieces sure to please even the most design-savvy.
For the antique and vintage finds lover, an array of local shops hits the mark. Dawn Hill Antiques and Upstairs Antiques in New Preston Village include high-end pieces from the 18th and 19th centuries and a selection of furnishings, rugs, and art, respectively. You won't want to miss these two! Then over to Washington Depot where the brilliant team at George Home searches the globe for unique pieces that will delight – with antiques, art, and interesting finds and wares for home and tabletop.
Don't Forget the Little Ones
The Village of New Preston seems to be the town hub for any of your shopping needs, and it's no different when it comes to the tykes in your life. J Seitz & Co. includes children's clothing in its repertoire of fine goods, and Plain Goods up the road also has a wonderfully curated children's nook, including a selection of stuffed toys crafted of the highest quality.
Head down to Washington Depot and stay awhile at the Hickory Stick Bookshop. A great selection of books for all ages, it's everything a bookshop should be: cozy, quiet, and boasting an incredible children's room. Kids will be enamored by classic and new literature, stickers, toys, games and stuffed animals. Sign up for their newsletters to be notified of fun events including book readings and author signings.
Plain Goods
Hickory Stick Bookshop
For the At-Home Chef
The Pantry in the Depot doesn't only draw people in for a scrumptious breakfast or lunch. The beautiful merchandise is interwoven among the tables, and offers a refined selection of kitchen goods from tools to linens to British picnic hampers (the perfect gift for the person who has everything). You definitely will not leave empty-handed.
For the discerning chef, New Preston Kitchen Goods makes it easy to find just the right tool for your in-house Julia Child… and something extra for yourself. Even if you're hosting a group of people and have none of the necessities, NPKG will have it all, from table settings to cooking tools to send you home prepared.
Your Furry Pals Need a Treat, Too!
DK Schulman Design isn't only for those who need a hostess gift or a thank you note. Your four-legged best friend will be a lucky dog to receive a special treat from this lovely shop. And DKSD is the genius behind the annual New Preston Dog Day "puparzzi" event and calendar of local canine beauties. Be sure to pick up the 2020 Dog Day calendar for every dog lover on your list –proceeds go to local animal charities in need.
Give the Gift of Wellness & Beauty
During the busiest time of year, we often neglect ourselves – so there is no better time to give the gift of self-care, relaxation and rejuvenation. Salvatore Anthony Hair Studio in New Preston is thrilled to offer their luxurious services with the utmost attention to your hair at their beautiful new location. You'll walk out feeling refreshed — and your best.
For the ultimate relaxation experience, consider the gift of a day at the Mayflower Inn's spa. With a selection of services to choose from, you can give an hour or a day of peace to the person who needs it most. Washington Depot had become quite the beauty destination, with Byrde + the b, a full-service luxury salon, shop and art gallery, and its newest addition, BYRDEMAN, a bespoke barbershop experience catering to the men in your life. Rounding out the total beauty experience, treat someone special to Pilar BLLaC, renowned makeup artist known as "the eybrow queen of Litchfield County". And Valley Spirit Wellness Center is a popular destination for movement arts and health, offering many nurturing classes and holistic treatments sure to be a welcome and savored gift.
Mayflower Inn Spa
Byrde + the b
Delight in Art and the Artisan
The Washington Art Association & Gallery is not to be missed, and they make it an affordable luxury to give the gift of art. Consider a membership, donation, or class with a local artist to gift an experience. The association's annual Holiday Fair is also not to be missed and showcases unique gifts by local artists and artisans. This year's Cabin Holiday show opens on November 29 and runs through December 24. You'll discover unique gifts at all price points and every purchase supports the artists and WAA. With over 75 artisans in attendance, there is something for everyone on your list. For truly unique art and artisanal works, be sure to visit the Native American Holiday Arts and Crafts Market at the Institute for American Indian Studies.
For the Fashionista
Who doesn't love a high fashion piece to refresh the wardrobe and boost one's style? Our boutiques are known for curated fashion finds that make for exceptional gifts that are sure to delight. Head to our fashion forward shops: Plain Goods, J. Seitz & Co., Privet Lives, Newbury Place, J. McLaughlin, and even designer consignment at Rebecca Christine's for the best finds to please all the fashionistas in your life.
Shop Some More: View our list of Washington and New Preston shops.
Lambertson Truex at Privet Lives
J.Seitz & Co.
Stroll through the Holidays
With so many wonderful shops to visit and restaurants to please your taste buds, you might as well make a day (or two!) of it. Plan to come for the annual holiday strolls in New Preston and Washington Depot for an unforgettable "Christmas in Connecticut" experience.
The New Preston Winter Walk will take place from 1 to 4 pm on December 7th. The shop windows will be decked out for the season, strolling musicians will keep the airwaves lively, and special offerings at all the village shops will bring the festivity!
Holiday in the Depot will bring the holiday spirit on Friday, December 13th from 6 to 8:30pm. Tree-lighting, caroling, and horse-drawn carriage rides embody quintessential New England holiday charm…an evening not to miss!
Click here for a full calendar of events that will keep you hopping into town all season long. 'Tis the season to be merry…and bright with so many opportunities to explore our wonderful town.