Behind the Scenes at WAA Sculpture Walk
Washington Depot has been transformed before our eyes into an incredible outdoor public art exhibit. On July 1st, the Washington Art Association & Gallery officially kicked-off their Sculpture Walk 2018, which features sculptures of all shapes, sizes, and materials placed around town. Over 40 internationally recognized artists, emergent sculptors, and local talents have contributed to this diverse exhibit. WAA, along with their community partners and the Town of Washington, was hard at work for the past few months installing 63 sculptures in strategic locations throughout the Depot.
We recently had the pleasure of watching the initial installations at The Judy Black Memorial Park and Gardens. Barbara Talbot and Mark Mennin, co-curators of the Sculpture Walk and WAA trustees, graciously invited us to The Park and gave us an inside look as two very large pieces being painstakingly installed. While we watched the sculptures come to life in their new home, we spoke with Barbara about the Sculpture Walk and the backstory that went into bringing this unprecedented exhibit to Washington.
Robert Taplin / Punch is Homeless / 2012 / Milled foam, reinforced gypsum (Photo: Rich Pomerantz)
Philip Grausman / Heather / 2009 / White fiberglass painted matte white
How was the idea for the Sculpture Walk conceived? 
Great question! It was actually my idea after trying to get a friend to do a sculpture show at WAA. This is nearly 2 years ago!  The WAA Gallery was pretty well booked, so I thought it would be fun to have a public art exhibition. Sculptor and friend, Mark Mennin and WAA president, Peter Talbot, had collaborated before and they were more than happy to help me get this exhibit off the ground. Our board and directors also wanted to find a way to reach a broader public audience and an outdoor sculpture walk is a wonderful, provocative way to get people to talk about art, culture or…just talk. It started with about 15 pieces and has now reached 63!
Was it inspired by a similar public art exhibit?  
I don't know of another quite like this one. There are many sculpture tours in cities and gardens all around the world. But, being able to integrate the town, the businesses, and other nonprofit organizations is what makes this Sculpture Walk pretty unique.
The greatest benefit is the caliber of the work, the broad styles and mediums, and how they've been carefully incorporated into daily life. Frank Stella next to the Washington Market, Lauren Booth on River Road, Mary Adams in the Hickory Stick Bookshop – just to name a few. Most importantly, it is a "walking" tour and meant to get us outside, outside of ourselves, and literally outside in this beautiful rural small town. There are no tickets and everyone is welcome. Just remember to be respectful of the sculptures and the environment!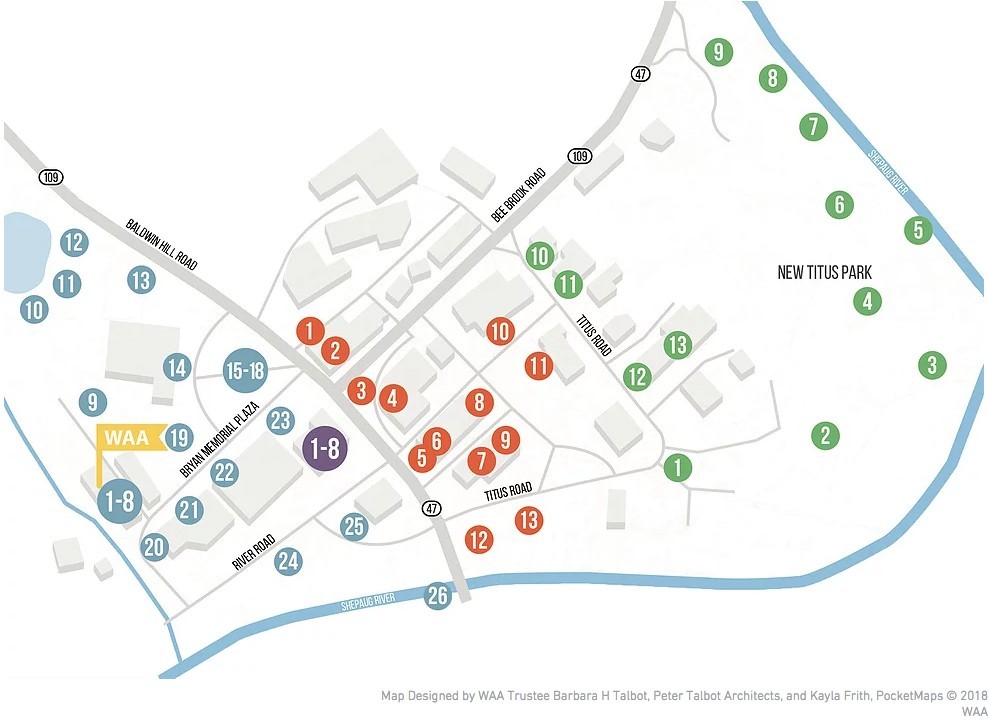 Map of WAA Sculpture Walk
What was the process like for selecting the artists and sculptures? 
Mark and I began by thinking of the history and geography of Washington Depot. The ox-bow Shepaug River that wraps around two-thirds of the town was a tremendous inspiration for us. We also discussed the heritage of the Native American settlements along this part of the river, its uses for saw mills, and the start of the industrial age of mining in the town. The Depot being an actual train depot spoke to us about the direction we wanted to go and how the pieces would integrate within the town. Also, besides singular works by established and well known artists who work with stone, steel, wood, we wanted invite younger emerging artists to participate as well.
Peter and the town, along with many generous supporters and volunteers, cleaned up the old Town Garage area off Titus Road. The new Titus Park was created to provide an opportunity for young, emerging talent, like earth artist Jake Paron, to show off their work.  Many of the artists are friends and colleagues of Mark's, like Caio Fonseca, Fitzhugh Karol, Harry Gordon, and Lee Tribe. James Salomon Contemporary was very generous with his contacts. We also have been friends with Phil Grausman, Elizabeth MacDonald, Tim Prentice and many of the other participants for years. There are many collectors and friends of artists here.
How were logistics planned for bringing the works to town, siting the pieces, and managing installations?
Actually we spoke with Mark Lyons, First Selectman and the other Town Selectmen, others in the WBA and Economic Development about whether it was feasible.  Along with our executive director Barbara von Schreiber and many others, we presented the concept complete with maps showing how this could be done. It was met with amazing enthusiasm. The Town's boards and staff have been incredible, responsive, sometimes shaking their heads about it all, but mostly with good humor and a sense of pride for our community and for its future.
Particularly for the new Titus Park, it took many meetings over one and a half years with the Conservation Commission, Inland-Wetlands, Board of Selectman meetings, Buildings & Property meetings, and more. One has to realize that creating art for the public involves not just an idea, but working within the politics, the businesses, and with the people who live here, work here, visit here. For me, it has been a transformative experience.
As for the installations…WOW. It is the most "analogue" process ever! It requires timing, spatial abstraction, a tape measure, a level, shims and hard labor! I've been so impressed with how these pieces arrive and are sited. Mark and his colleagues are not only artists, but they are engineers, designers, mathematicians, and really strong!
Ned Smyth / Female Torso / Installation
Earthworks Piece by Jake Paron, in progress in the new Titus Park
What are your plans for involving the community in the Walk?
Well, everybody is getting involved, in one way or another. And because the exhibition is up for 4 months, I'm sure there will be lots of additional events. I am thrilled that we have about 12 Junior Docents from Shepaug Middle School who will be working on weekends giving visitors information and keeping an eye on things.They will be primarily in the new Titus Park, but also throughout town.
The Parks and Recreation Commission is having a Sculpture Walk Camp devoted to this event. Jessica Jane Russell from Artroom Atelier will also feature First Saturdays, a collaborative and individually based creative experience, along with the After School Arts Program and others. We encourage all area or beyond programs to visit. Our Grand Opening is July 14th from 2 – 6pm.There will be five "Sculpture Oasis" throughout town from the WAA to G.W. Tavern and special performances by Momix Dance Theater. Many of the artists will be around at the opening to discuss and answer questions about their work.
Additionally, we will have tours every Saturday by Docents and Brooklyn based sculptor, Fitzhugh Karol will give a talk on his work. Zeb Mayer, our youngest trustee, will be doing "QuickDraw with Zeb" as pop ups throughout the summer. The last Saturday of the sculpture walk, October 27th, will be a Bauhaus style costume party. Guests will come as either their favorite sculptor or piece of sculpture! This will be held at the Town Hall and will feature the band, Swing Vipers, who play Django Rheinhardt style swing jazz.
View Featured Events Calendar for more information.
Are any of the works for sale?
Almost all of the sculptures are for sale. Prices are available upon request.  Remember, all of this will come down on November 1st, so it is an amazing opportunity for collectors or if you see a piece that you would love to own. The exhibition at the WAA Gallery featuring the "studies" from many of our exhibiting sculptures opens August 11th and runs through September 15th. It is called  "Maquette: The Art of the Model". The work for this exhibit is coming in and it is just fantastic.  We are hoping that the sale of some of these works will help kick off phase II of our renovation of the Washington Art Association.
(Left: Julian Schnabel / Barbara Bush Skipping Down The Champs-Elysees / 1989 / Bronze with patina and oil paint; Right: Joy Brown / Kneeler / 2016 / Bronze)
We want to thank Barbara Talbot and Mark Mennin for giving us a behind the scenes look into this very exciting public art exhibit. To view a map of WAA Sculpture Walk 2018 and to learn more about the featured artists, visit WAA's Sculpture Walk website.
Exhibit Opens: July 1st and runs through November 1st.
Public space is open daily, 9am to Dusk
Opening Reception: July 14th, 2 to 6pm
Want to stay in the loop about the WAA Sculpture Walk and other special events happening in Washington?