Out and About in Washington for Mother's Day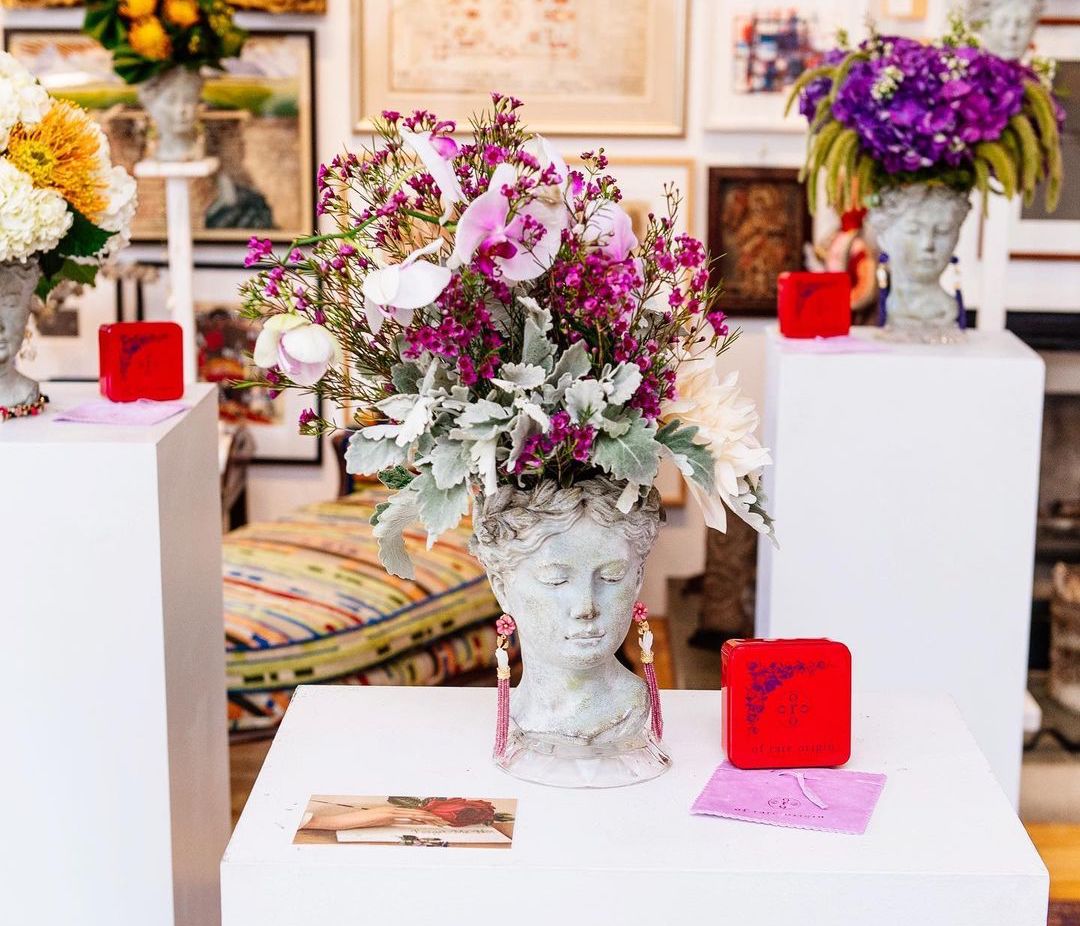 Photo credit: @mayflowerauberge
Mother's Day weekend will be here before we know it and it's the perfect time to get out and visit some of your favorite places in Washington. Plan a special day for mom and make it an occasion to remember. Here is our guide featuring experiences to enjoy together and where to shop for that token of love and appreciation for all the wonderful moms out there!
Experiences to enjoy together
Spending time outdoors is a beautiful adventure in Washington! Take the day to enjoy the stunning garden design and beautiful spring flowers blooming at Hollister House Garden. All the secret nooks in this classic garden always make for a magical experience for all its visitors.
For some art and culture, stop by the Judy Black Memorial Park & Gardens to see the latest artwork on display and the diverse selection of plantings in the garden. They will also be hosting a Plant Sale on May 8th, a perfect opportunity to enjoy annuals and perennials in full bloom and treat mom to fresh spring flowers.
@byalexandrabarnes
Judy Black Memorial Park and Gardens
For a weekend filled with relaxation and fun, join the Mayflower Inn & Spa for a Mother's Day in the Countryside weekend, complete with a festive Garden Party with Mother-Daughter Duo Candice Bergen and Chloe Malle including craft cocktails dreamed up by their expert beverage team and bites from Chef-in-Residence April Bloomfield. And explore the mother-daughter jewelry brand, Of Rare Origin at their traveling truck-show and more memorable jewelry.
If mom is up for a challenge, take a hike up to Waramaug's Rock or to the Steep Rock Summit to get a beautiful panoramic view of Litchfield County and Lake Waramaug. Or simply enjoy a leisurely walk across the Thoreau Bridge at Hidden Valley Preserve or a stroll through the meadow at Macricostas Preserve. No matter which path you choose, nature's beauty will surely delight.
@mayflowerauberge
@jacquielittlejohn
On your day together in Washington, enjoy a special shared meal – and there are plenty of options to dine al fresco in town! Enjoy a picnic at Washington Depot by picking up a meal from The Pantry, Marty's Cafe, or Washington Food Market. Or head over to New Preston, where you can enjoy the rush of the waterfall by New Preston Falls with a waterside picnic (and dessert) from The Smithy Cafe at 9 Main.
For dinner, make a reservation at any one Washington's amazing restaurants, including The Community Table, the recently expanded Owl Wine & Food Bar, or the G.W. Tavern. For a more casual afternoon, stop by Hopkins Vineyard for a little red and white and enjoy the view overlooking Lake Waramaug. And while you're there, you can order your dinner to-go with a special Mother's Day takeout menu from The Hopkins Inn.
@fineterroirselections
Hopkins Vineyard @the_counterintourists
And don't forget dessert! The Po Cafe is your place to go for extraordinary cakes and pastries. Try their new gluten free Pineapple Upside Down Cake, a vegan Chocolate Mousse Cake, Apple Fritters, and more. Or place an order for a custom cake or dessert from The Pantry and indulge in the sweet time spent with mom.
Surprise mom with a gift
There are many beautiful shops in town with something for every taste! Pick a special gift for mom to show her a little extra appreciation on Mother's Day. First, start with a beautiful arrangement of flowers by Beth Fowler of Loam Floral Design – tulips make for a beautiful bouquet this time of year! Or pick up flowers and plants at the Washington Food Market.
Make sure mom gets a real chance to unwind and relax on her special day. The salons and spas in Washington provide top of the line service. Make an appointment for two or pick up a Mother's Day bundle for mom from the Byrde + the b, make an eye brow and make up appointment with Pilar BLLaC, or a spa treatment at Gina Hansel, LMT.
@loamfloraldesign
@byrdeandtheb
Be sure to stop by Privet House for lotions and soaps that she'll love, followed by a sweet treat of her favorite chocolates at Sweeets, and a hand-poured soy candle from English Teacher Candle Co. Over at D.K. Schulman Design, pick up a set of Bon Bon bath soaps made in Australia, and let Dana put together a beautiful custom Mother's Day Gift Box for you!
To add to the bundle, pick up a Mother's Day BritsBrand Tea Package from The Smithy, and get mom a new novel she will enjoy. Our beloved independent bookstore in Washington is a destination in itself, let the staff at Hickory Stick Bookshop help you pick the perfect Mother's Day book based on her interests.
@englishteacher_candleco
@dkschulmandesign
For upscale fashion clothing and accessories of the utmost quality, look no further than Plain Goods. Think beautiful dresses, summer flats, and straw hats – perfect for the warmer months ahead. J. Seitz & Co. has many new spring offerings in beautiful colors, patterns and textures that you won't find elsewhere. For a truly special gift, visit New Preston's newest gem of shop, Hays Worthington where you can find one-of-a-kind period jewelry as well as stunning contemporary designs by Hays Worthington themselves.
Another fun shop to explore, Five Janes is a charming boutique chock full of fashion accessories, jewelry, bags, and many special gift ideas for mom. Find a great new summery tote or a natural gemstone bracelet (or a stack of them for full effect!). At the new and uber-chic Friedrichs Optik in the Depot, surprise mom with the ultimate fashion-forward frames, a handcrafted and unique gift to see and be seen.
@haysworthington
@shop.fivejanes