10 of Our Favorite Fall Adventures in Washington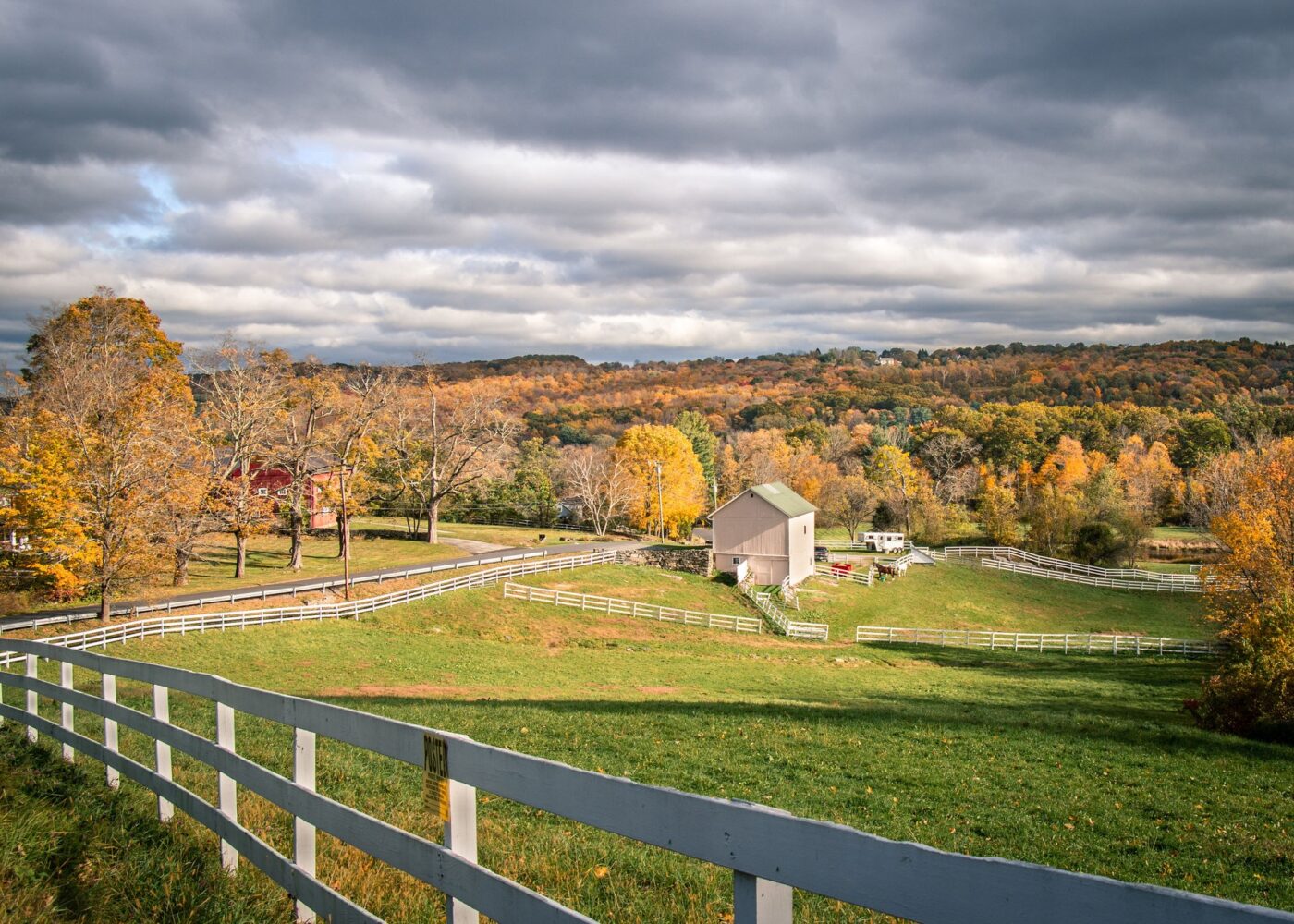 View from New Preston Hill Road. Photo credit: Alexandra Barnes @byalexandrabarnes
Washington is the epitome of New England charm during the fall season. There's no better way to embrace this crisp and crunchy season than going on the ultimate fall adventure, and we have just the spots for you! Take a look at the best fall activities around town for a delightful day of autumn adventure and memorable experiences.
1. Bike around Lake Waramaug
Scenic views and the crisp fall air are the perfect combination for a bike ride, and you can get the best of both worlds by taking the route along Lake Waramaug. The picturesque New England views will be worth it, especially the sight of autumn foliage shimmering around the lake!
2. Step back in time
The colonial architecture in the historical districts of Washington are a dream to the history buff. The Washington Green is dotted with original architecture from the 1700's and you can glimpse several properties designed by noted architect, Ehrick Rossiter. Also stunning in the fall, the New Preston Hill Historic District was added to the National Register of Historic Places in 1985. And be sure to check out the beloved Gunn Historical Museum to see their award-winning exhibit, Washington, Connecticut – An American Story.
Lake Waramaug. Photo credit: @balancedsociopath
First Congregational Church on the Washington Green. Photo credit: @xthree_photography
3. Climb to the summits
Grab a friend and your pup to enjoy the fresh air as you hike up one of Steep Rock Association's preserves! With varying levels of trails, there's a path for everyone and your four-legged friend will love the outdoor adventure.
4. Go wine tasting at the vineyards
Enjoy some wine and cheese at Hopkins Vineyard, overlooking Lake Waramaug, while enjoying live music on the weekends. Over at Spring Hill Vineyards, experience a private tasting and tours of this historic location.
Hiking at Steep Rock Preserve. Photo credit: @andy_the_doodle
Hopkins Vineyard. Photo credit: @kstein1584
5. Retrace the steps of the Gilmore Girls
For any Lorelai and Rory fans, we have the ultimate guide to experiencing Washington as a Gilmore Girl, including drinking lots of coffee, window shopping, stopping by the bookstore, and dessert!
6. Picnic by the water
On a sunny day, bring a blanket and set up a sweet picnic by Washington Depot's Shepaug River or by the waterfall in New Preston. Grab a lunch to-go from The Pantry or The Smithy for a delicious meal. Or have the Mayflower Inn create your very own picnic experience!
@byalexandrabarnes
Picnic at the Mayflower Inn. Photo credit: @mayflowerinnandspa
7. Go on a hunt for the outdoor sculptures
If you stroll through Washington Depot, you may spot outdoor sculptures that add an artistic touch to our town. Go to Judy Black Memorial Park & Gardens to enjoy Mark Mennin's undulating "Currents" sculpture in the park, see if you can spot the larger than life "Susan" sculpture by Phillip Grausman, and take a look at what other pieces you can find!
8. Drive the top scenic routes
If there's a place for leaf peeping, it's Litchfield Hills and you can get some of the very best views in Washington. Take a look at which roads will lead you through the most beautiful sights in The Leaf Peeper's Guide to Washington's Fall Foliage.
Sculpture in Washington Depot. Photo credit: @explorewashingtonct
Top of of New Preston Hill Road. Photo credit: @byalexandrabarnes
9. Visit local farms for autumn bounty
Our local farms in Washington have plenty of options for pick your own, from apples and pumpkins (and don't forget the fresh cider donuts!) at Averill Farm, to a wide variety of vegetables and locally sourced produce. You can pick up fresh goods at the farm stands or come to the Judy Black Memorial Farmers Market every Saturday through October.
10. And finally, end with a culinary adventure
Washington is well known for our incredible restaurants, including the White Horse Country Pub & Restaurant, Hopkins Inn & Restaurant, Community Table, and GW Tavern, all with outdoor dining available. After a full day of exploring Washington, a delicious meal al fresco will be well deserved. And dessert is a must!
Averill Farm. Photo credit @explorewashingtonct
Community Table. Photo credit: @communitytablect